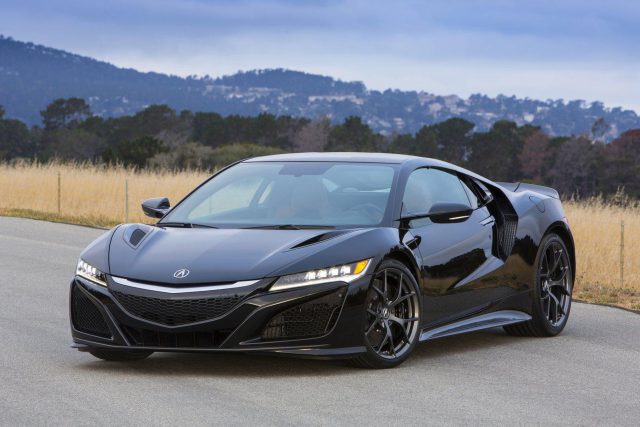 Acura finally released the pricing for the long-awaited 2017 NSX.
The 2017 NSX is not cheap at all: MSRP starting at $156,000, and will go all the way up to $205,700 if you check all the boxes in the option sheet.
The first production unit will be sold at the Barrett-Jackson collector car auction in Scottsdale, AZ at the end of next month. Order bank will be opened Feb.25, 2016.
Below is a brief recap of the 2017 NSX's specifications:
Twin-turbocharged 3.5L 75-degree V6 engine, 500 hp and 406 lb-ft
Rear electric motor: 50 hp, 109 lb-ft
Front electric motor: 36 hp, 54 lb-ft X 2
Total system output: 573 hp, 476 lb-ft of torque
9-speed dual-clutch transmission
Top speed: 191 mph (more than 300 km/h)
Curb weight: 3,803 lbs
Please enjoy the below gallery and get more information from the following press release.
Click to view press release
Acura Shares Details of Next-Generation Acura NSX Sales Plan
– 2017 Acura NSX U.S. MSRP set at $156,000
– First 2017 NSX to be auctioned for charity at Barrett-Jackson in January
– Online configurator and customer order taking to begin Feb. 25
TORRANCE, Calif. (Dec. 18, 2015) – Acura today announced additional launch details for the next-generation 2017 Acura NSX supercar, coming to market next spring, including pricing and the order taking process. Acura also revealed plans to auction off the very first serial production NSX, VIN 001, at the Barrett-Jackson collector car auction in Scottsdale, Ariz. the last week of January 2016. All proceeds from the auction sale will go to a pair of children's charities: the Pediatric Brain Tumor Foundation and Camp Southern Ground, the passion project of Grammy Award-winning artist Zac Brown.
Designed, developed and manufactured in America, the 2017 Acura NSX will have a Manufacturer's Suggested Retail Price (MSRP)1 of $156,000 in the U.S. and will top out at $205,700 when equipped with all available factory features and options1. As Acura's first build-to-order vehicle, customers will be able to design their NSX by selecting one of eight rich exterior colors and four interior color schemes available in three different seating surface options. Customers can further customize their NSX through several exterior and interior features including three wheel designs with painted or polished finish, carbon-ceramic brake options, a carbon fiber interior sport package, carbon fiber roof, and more.
"The NSX is the pinnacle expression of Acura precision crafted performance and we're thrilled to take the next step toward bringing it to market," said Jon Ikeda, vice president and general manager of the Acura Division. "We're creating new space within the supercar realm, pushing the envelope beyond the conventional thinking about supercars – just like the original NSX."
Customer order taking for the new NSX will begin on Feb. 25, 2016 at authorized NSX retailers, in concert with the launch of a vehicle configurator on Acura.com. The configurator will be the first engagement point for customers interested in exploring the process of ordering a vehicle from an authorized NSX retailer and enthusiasts who want to configure their dream NSX. Once customers have customized their vehicle online, they can schedule an appointment with an authorized NSX retailer to finalize the order.
The 2017 NSX will be the first all-new Acura vehicle to be auctioned for the benefit of charitable organizations – certified to be the very first serial production NSX. The winner will be able to customize their NSX to their choosing.
"The very first production NSX will be such a special and historic vehicle, so we wanted to make sure we treat the sale of it in an equally special way," said Ikeda. "It will be available for purchase by anyone – anyone that is, who submits the highest bid for VIN number 001 at the world famous Barrett-Jackson auction. And we're pleased to be able to sup

Comments
comments