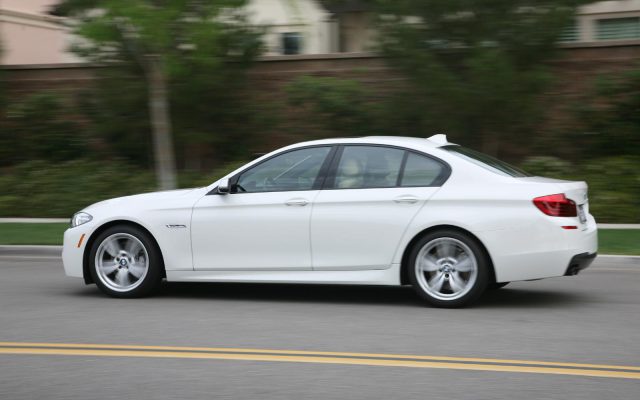 Believe or not, even though the current F10 generation of the BMW 5 Series is going to be replaced by the all-new G30 5 Series for the 2017 model year, the 2016 5 Series is still the best sedan within BMW's sedan lineup.
By saying "best", it means best quality compared to its price – the current 5 Series is unbelievably rigid and solid (even much better than the F01 7 Series!), comes with abundant choices of drivetrain options (4/6/8-cylinders, gas/diesel/hybrid, RWD/AWD).
Since it is reaching the end of its lifespan, BMW dealerships across the US are offering huge discount on most of its 5 Series in-stock inventories. In southern California, some of our readers reported they they have managed to get around 18% off MSRP for the 528i and 535i, with just a little bit of haggling.
BMW is also famous for its generous leasing program, this is exactly the same case for the 2016 5 Series at this moment: for the 36-month, 10k/miles per year term, BMW USA is offering a residual value of 67% and money factor = 0.00130.
As mentioned in our BMW Buying Guide, low selling price plus high residual value typically makes a great lease deal. Let's take this 2016 535i as example: it comes with popular options such as the M Sport package, heated seats. MSRP is $60,945.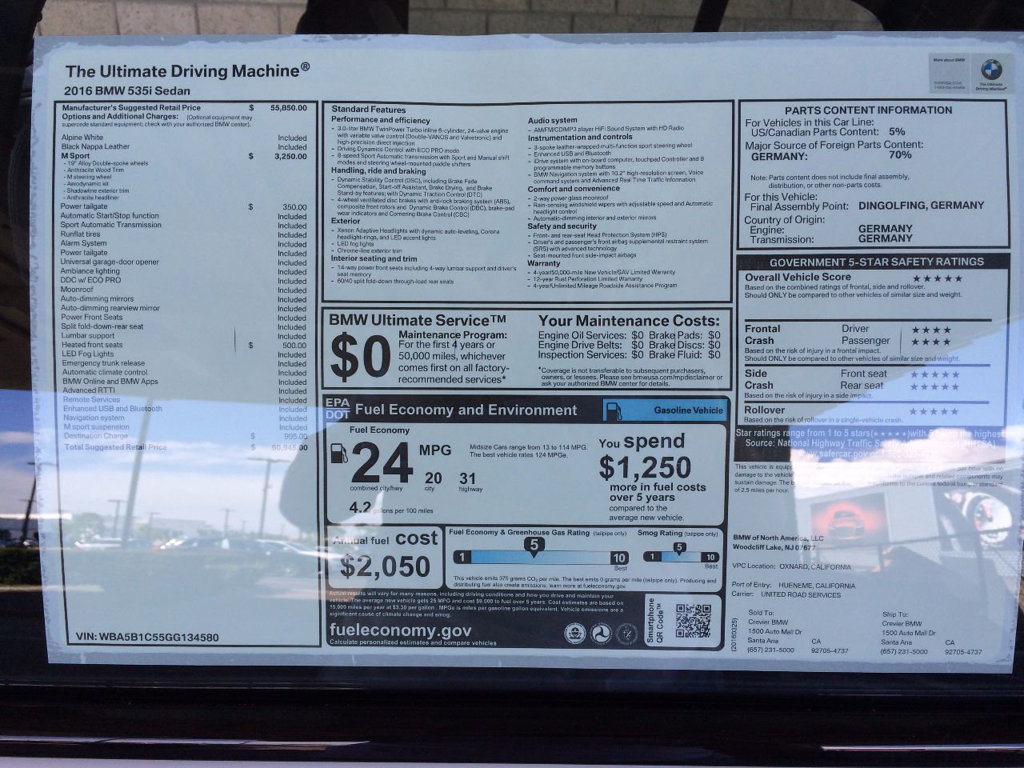 Assume we slash 18% off, and put down 7 MSDs to lower the money factor to 0.00081 (see explanation here), enter the below numbers into our lease calculator:
MSRP: 60,945
Negotiated Price: 49,974
Acquisition Fee: 925
Residual Value: 67
Term: 36
Money Factor: 0.00081
Dealer Misc Fee: 80
Government Fee: 400
Tax Rate: 8
Then click "Submit", the following is the calculation result: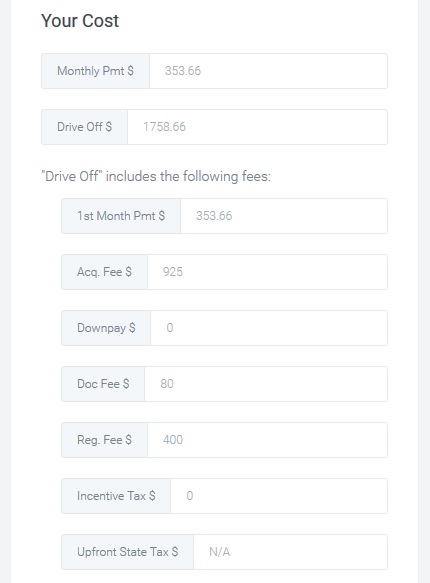 Monthly payment comes out to be around $353/month. Please note that the above "drive off" does not include the 7 MSDs (around $2,500), which will be refunded to you after lease end.
Remember, our lease deal standard is:
Monthly payment > 1% of MSRP

: only take this deal when you really like that car;

Monthly payment ~ 1% of MSRP

: a deal which is lukewarm;

Monthly payment ~0.9% of MSRP

: a good deal worth your money;

Monthly payment ~0.8% of MSRP

: I will take the deal in a heartbeat;

Monthly payment ≤ 0.7x% of MSRP

: go to sign the contract now!
For this 535i lease, the monthly payment is only 0.58% of the MSRP, so you should really act now if you want a mid-size luxury sedan.
If you do not deposit the MSDs, using the original MF = 0.00130, the monthly payment goes up to $402. You see, not putting down MSDs will cost you $50 more each month, so you will pay $1,800 more for your whole lease term. Let's put it this way: by "depositing" $2,500 into BMW Financial Service, you earn $1,800 over 3 years, and then you get the $2,500 back. So I strongly recommend you to put down MSDs when leasing new cars.
Comments
comments