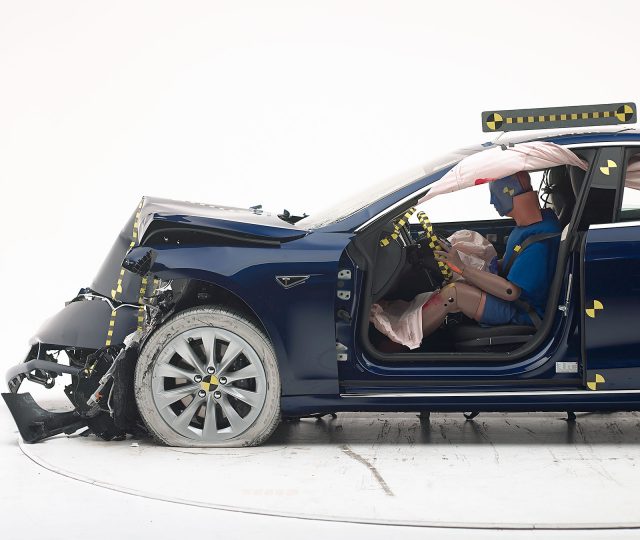 With some hearsay such as "Tesla saved my life in traffic accident", it is still a myth that exactly how safe is the Tesla Model S is, in terms of actual measurement data.
Today IIHS unveiled the truth for us – all test data are published, including moderate/small overlap front, side impact, roof strength and also the (irrelevant) headlight sections.
In the frontal crash tests, safety cage of Model S only received minor intrusions. However in the moderate overlap test, we notice the vehicle came out with a very high HIC-15 value (over 300).
HIC indicates how severe of the impact your head will undertake within the crash period. The smaller the better.
A well-above 300 HIC is quite abnormal (cars nowadays usually get a HIC result in the 100-200 range). A small cabin deformation, plus high HIC typically signifies a weak front crumple zone, but strong safety cage.
Although Model S's result still falls in IIHS "good" rating range, the high HIC result is a valid concern for consumers.
Model S performs well in side impact test too, the result is -20.5 cm. Numerically it is more than enough, buy this is partially contributed by the Model S front seats, which are mounted much closer to the center of the floor plan, thus leaves abundant gaps between the seat back and B-pillar. When we look at the actual inward deformation of the B-pillar, from the photo published by IIHS, the intrusion is somewhat large.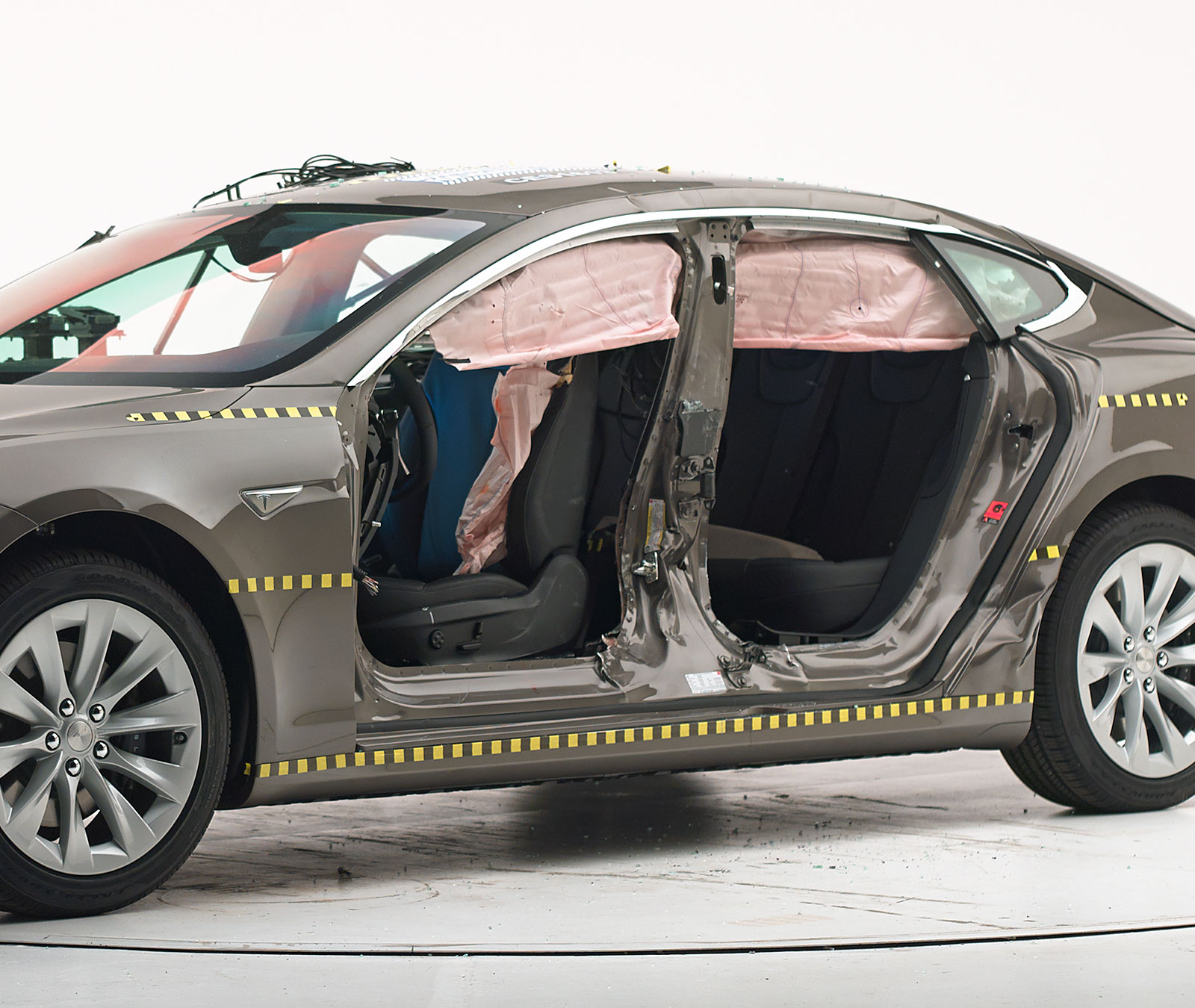 When looking at the roof strength test, it becomes more intriguing.
Back in 2013, Tesla issued an official report. When talk about the Model S's roof, it says (cited below):
Of note, during validation of Model S roof crush protection at an independent commercial facility, the testing machine failed at just above 4 g's. While the exact number is uncertain due to Model S breaking the testing machine, what this means is that at least four additional fully loaded Model S vehicles could be placed on top of an owner's car without the roof caving in. This is achieved primarily through a center (B) pillar reinforcement attached via aerospace grade bolts.
The testing machine used in the above mentioned test must be an outdated model, since as the IIHS standard, a strength-to-weight ratio of 4.0 is the minimum requirement for a test vehicle to score a "Good" rating in the roof strength test. The test machine should be able to handle much load to fully test modern vehicles.
In IIHS's test, it is shown that the Model S's roof strength is only 19,271 lbs. For your comparison, the latest Hyundai Genesis has already scored a much better result of 21,387 lbs in the same test. Therefore, how Model S performs seems to be not so impressive for a luxury car, not to mention the fact that Tesla always emphasis how rigid of its products, and as shown above, advertising its breaking of the roof testing machine.
The root cause of these test results mainly lies in its unique body architecture: Model S uses a skateboard type of framework, which means only the flooring (battery box) of its passenger cabin is the load-bearing structural component; the upper structures (A/B/C pillars and also the roof rails) are not load-bearing. This is dramatically different than other "normal" sedans, whose unibody construction is similar to the 3-dimensional spaceframe, and is very strong on each side. Tesla simply cannot strengthen the upper cabin components (and also the front crumple zone), because that will put more weight on an already-overweighted Model S.
Therefore, when the upper cabin component is tested and stressed (i.e: side impact and roof strength), its crash performance is far from being outstanding.
Generally speaking, the Model S is still a very safe vehicle, but not on par with other competitors in the mid/large luxury sedan sector.
Comments
comments