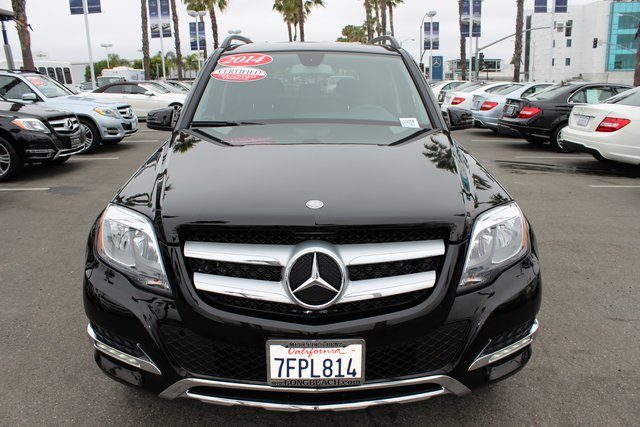 2014 Mercedes-Benz GLK350
Status: Available
Vehicle ID: LBMB21767P
VIN: WDCGG5HB0EG321767
Mileage: 13,338
Asking Price: $$39,345
Major Packages/Options:
Redeem Instruction:
Call our service hotline: 1-888-48-ASKYW (1-888-482-7599). Tell us the Vehicle ID, we will assign you an Unique Coupon ID, and tell you the Best Negotiated Price the dealership will accept.
Go to the below dealership and ask for David Gonzalez (sales manager), simply mention the offer from YouWheel with the Unique Coupon ID.
Dealership:
David Gonzalez (o: 562-988-8284)
Mercedes-Benz of Long Beach
2300 E Spring St, Signal Hill, CA 90755
(562) 988-8300
Photo gallery after the below build sheet.
---
Build Sheet
| Option Code | Description |
| --- | --- |
| ID number (FIN) | WDC2049571G321767 |
| VIN | WDCGG5HB0EG321767 |
| Baumuster | 204957 |
| Sales name | GLK 350 |
| Permanent link | Link |
| Order number | 0 4 715 64785 (Destination: smart USA) |
| Delivery date | 14 03 2014 |
| Exterior Color | 040U BLACK |
| Interior Color | 121A IMITATION LEATHER – BLACK/ANTHRACITE |
| Engine | 276957 30 658969 |
| Gearbox | 722906 05 520534 |
| Option Code | Description |
| --- | --- |
| 01A | DAS 3 |
| 03A | OIL OFFSET AMOUNT +300 ML OIL |
| 040U | BLACK |
| 054 | YOM 13/2 |
| 120A | IMITATION LEATHER |
| 121A | IMITATION LEATHER – BLACK/ANTHRACITE |
| 1U2 | SNOW GRID |
| 211 | EPS STEERING (ELECTRIC STEERING) |
| 212B | OP. INSTRUCT. AND MAINT. BOOKLET-ENGL. FOR USA/CAN |
| 222 | RIGHT FRONT SEAT, ELECTRICALLY ADJUSTABLE |
| 240 | LED DAYTIME RUNNING LIGHTS |
| 264 | LICENSE PLATE ATTACHMENT AMERICA |
| 275 | MEMORY PACKAGE (DRIVER SEAT, STRG. COL., MIRROR) |
| 280 | LEATHER STEERING WHEEL AND LEATHER GEAR SHIFT KNOB |
| 284B | AIRBAG LABEL – ENGLISH FOR USA |
| 291 | PELVIS AIRBAG (PELVISBAG) |
| 294 | KNEE AIRBAG |
| 2U5 | PAINTED SIDE SKIRT |
| 301 | ASHTRAY PACKAGE |
| 342B | INSTRUMENT CLUSTER/HU LANGUAGE – AMERICAN |
| 345 | RAIN SENSOR |
| 348 | EMERGENCY CALL/SUPPORT SYSTEM |
| 35A | VGS D4-0, D3 PATTERN |
| 427 | AUTOMATIC TRANSMISSION 7-SPEED |
| 428 | STEER.WHEEL GEARSHIFT BUTTONS/SHIFT PADDLE PAINTED |
| 440 | TEMPOMAT (CRUISE CONTROL) |
| 442 | MULTIFUNCTION STEERING WHEEL (12 BUTTONS) |
| 461 | INSTRUMENT WITH MILES IND. AND ENGLISH LEGEND |
| 475 | TIRE PRESSURE MONITOR (TPM) HIGH LINE/MID LINE |
| 485 | (COMFORT RUNNING GEAR) |
| 494 | U.S. VERSION |
| 508 | NAVIBOX PREINSTALLATION |
| 523 | RADIO AUDIO 20 |
| 551 | ANTI-THEFT/ANTI-BREAK-IN WARNING SYSTEM |
| 580 | AIR CONDITIONER |
| 584 | ELECTRIC WINDOW REGULATOR |
| 58U | ROOF INTERIOR TRIM GRAY FABRIC |
| 59R | LIGHT ALLOY WHEEL 5 DBL-SPOKE DESIGN 19″ ALL-ROUND |
| 634 | DELETION – FIRST AID KIT |
| 636 | DELETION – WARNING TRIANGLE |
| 668 | PRODUCT PROT.F.TRANSPORT VEH. W/ TIE-DOWN HOOKS |
| 669 | SPARE WHEEL / FOLDING WHEEL |
| 705L | UNITED STATES (USA) |
| 720 | ROOF RAILING |
| 722 | EXTENDED LUGGAGE COMPARTMENT COVER |
| 731 | TRIM PIECES – WOOD BURRED WALNUT VENEER |
| 763 | RADIO REMOTE CONTROL W/ PANIC SWITCH (315 MHZ) |
| 7XXL | NORTH AND SOUTH AMERICA |
| 804 | YOM 13/1 |
| 840 | DARK TINTED GLASS |
| 900 | EXTERIOR CHROME PACKAGE |
| 909 | ALTERNATOR MANAGEMENT |
| 916 | FUEL TANK WITH GREAT CAPACITY – VOLUME 1 |
| 917 | PZEV EMISSION USA |
| 919 | AIRCON COOLING POWER PACKAGE |
| 986 | DEVIATING VIN WITH MODEL YEAR |
| 989 | IDENTIFICATION LABEL UNDER WINDSHIELD |
| A20 | DIRECT START |
| A21 | SHIFT BY WIRE |
| A63 | FE TORQUE CONVERTER HOUSING-0 |
| A64 | FE CONVERTER 0 MM |
| A89 | REDUCED-FRICTION |
| A99 | U-VALVE BODY ASSEMBLY WITH VGS 4-0 |
| B03 | DIRECT START / ECO START/STOP FUNCTION |
| B09 | REFRIGERANT COMPRESSOR WITH MAGNETIC COUPLING |
| B12 | WHEEL REPLACEMENT TOOL |
| F204 | MODEL SERIES 204 |
| FX | SPECIAL VERSION |
| G906 | TRANSMISSION CODE VERSION 06 |
| GA | AUTOMATIC TRANSMISSION |
| HA | REAR AXLE |
| J4A | DSM: STAR1 FBS3 UPDATE |
| J81 | JUNE RELEASE |
| K15 | CONTROL CODE FOR SERVICE INTERVAL 15000 KM |
| L | LEFT-HAND STEERING |
| M007 | CHASSIS WITH 4X2 DRIVE |
| M276 | V6-GASOLINE ENGINE M276 |
| M35 | DISPLACEMENT 3.5 LITER |
| ND8 | CONTROL CODE BREMEN PLANT |
| P76 | BASE PACKAGE, EXTERIOR |
| R02 | ALL SEASON TYRES |
| U10 | FRONT PASSENGER SEAT WITH WEIGHT SENSING |
| U12 | FLOOR MATS – VELOUR |
| U22 | LUMBAR SUPPORT ADJUSTMENT |
| V13 | SPEED- + LOADINDEX 99H |
| VL | FRONT AXLE HALF, LEFT |
| VR | FRONT AXLE HALF, RIGHT |
Gallery
Comments
comments