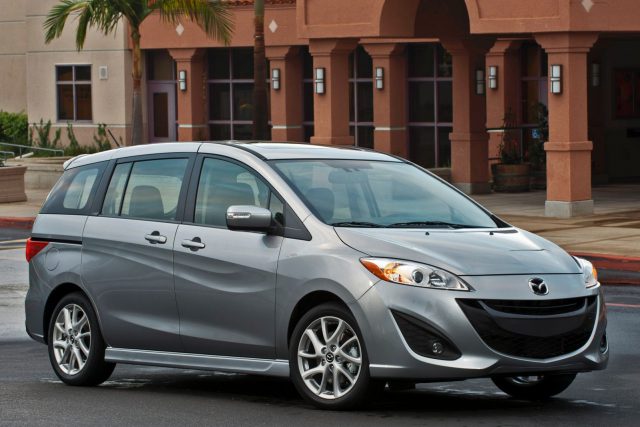 In the US market, the Mazda5 occupies a very unique market called "mini-minivan". More specifically speaking, the Mazda5 is a minivan-like, 3-row seat vehicle that can seat 7 people, however it is smaller than a "standard" minivan.
Obviously the Mazda5 is aiming at a somehow niche market: people have the need to haul more passengers (thus requires the 3rd-row-seat), limited budget, but still want a fun drive.
Mazda has spent quite a lot efforts in this. For example during its earlier model years, the Mazda5 was even offered with a manual transmission. One notable thing about the Mazda5 is its odd option/feature combination: you can have modern luxury features such as the  HID headlights, rain-sensing wipers, moonroof, leather seat etc; however, it is impossible to have GPS navigation on the Mazda5.
The Mazda5 has its own selling point. However, the issue is there are few consumers in the market that have those needs. With a relatively low MSRP (starting only a little bit north of the $20k mark), this means the market is too "niche" to justify the business case. For example Mazda just only managed to sell 11,613 units of the Mazda5 in 2014. Competitors such as the Toyota Sienna, has an annual sales volume of 124,502 in the same year, more than 10 times of the Mazda5.
Today we got the Mazda product lineup for the 2016 model year, and the Mazda5 is officially announced as "There are no plans at this time to bring a replacement Mazda5 to the U.S. market beyond the 2015 model year". In fact, not only for the US market, the Mazda5 will be discontinued after this model year worldwide.
Comments
comments