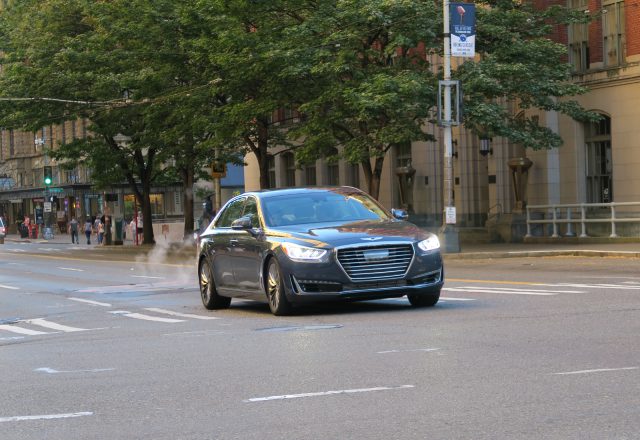 In the past week we have sampled the brand new 2017 Genesis G90. We will provide you a detailed review later, however we would like to briefly share with you our impression on the G90.
We tested the 3.3T V6 AWD trim, and I feel this twin-turbo V6 is amazingly powerful. Given both of the V6 and V8 trims are almost fully loaded as standard, this may make many people hesitate to shed out $10k more to go for the V8 trim.
Since G90's body structure are almost 100% steel, it is 100 – 200 lbs heavier than its competitors. However the G90 chassis has extremely high torsional rigidity: the Korean auto maker claims it is 6% higher than the current Mercedes S Class, which makes it around 42,930 Nm/deg. From our test drive it does feels equivalently (or sometimes even better and more) solid and composed than the S Class.
The G90 spans a wheelbase of 124.4-inch, therefore its cabin is very roomy. Genesis uses many high quality materials in the interior panels: almost anywhere you can touch is wrapped by Nappa leather or Alcantara, decorated by genuine wood trims. And the craftsmanship and assembling quality are of top class.
Wait for our detailed review next week! Meanwhile please enjoy our high-resolution photo gallery, taken live just a couple hours ago.
Comments
comments