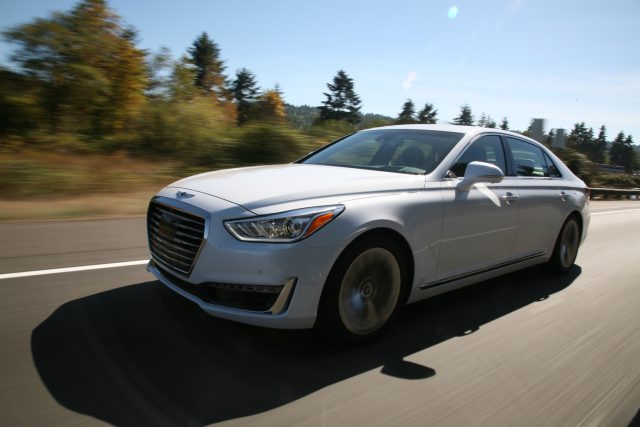 Introduction
Can you still remember the last time when a mainstream auto maker rolls out its luxury brand in the United States? – Not counting Tesla, the most recent event dates back to 1989. Within that year, both Lexus and Infiniti bowed to the public.
Now in 2016 comes another historic moment: Hyundai debuts the Genesis brand in this month. Initially, it consists of two models: the mid-size G80 (a renamed version of the current Hyundai Genesis sedan) and the flagship G90 sedan.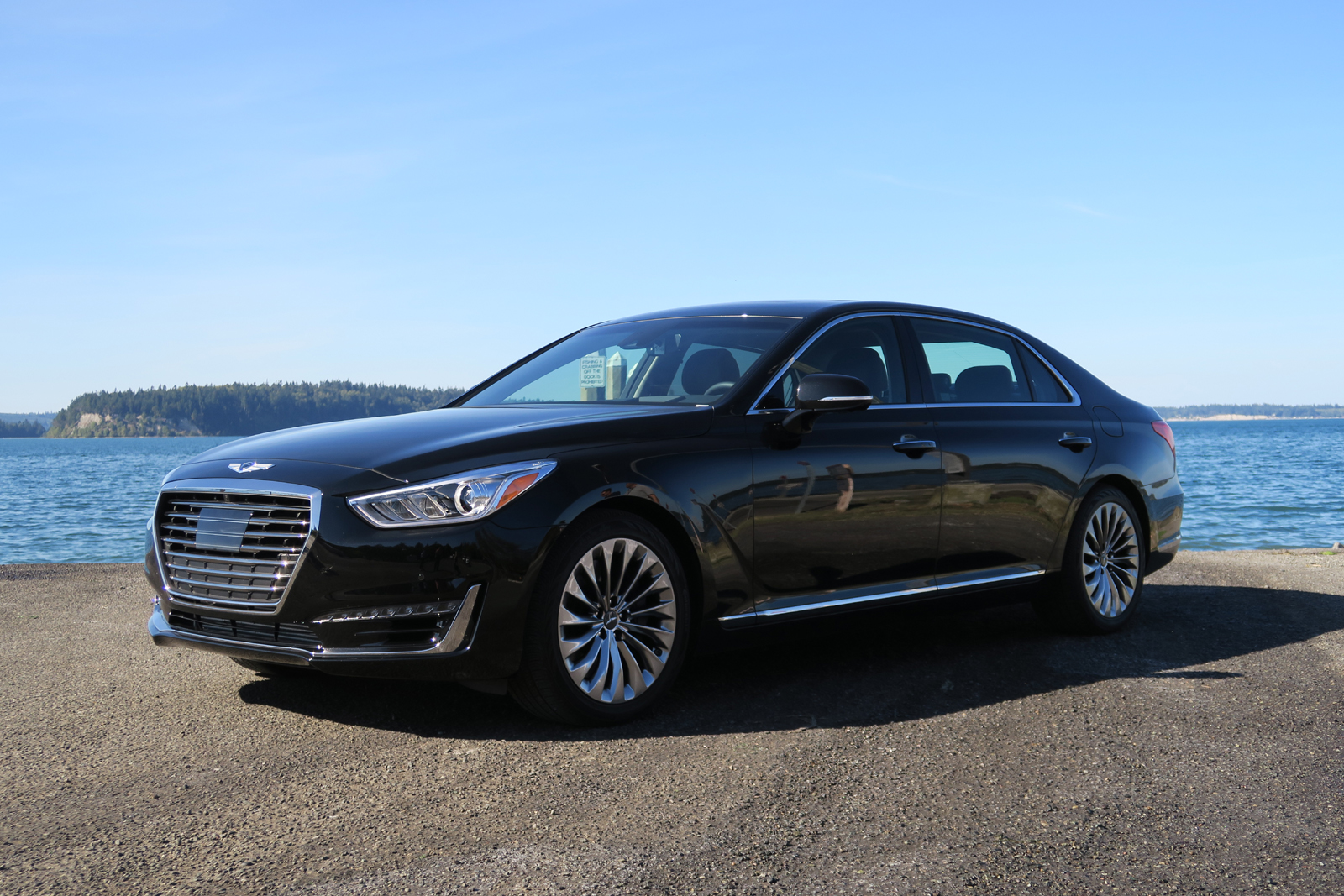 The key point for a luxury brand's success lies on its flagship model. Recently we had a chance to sample the all-new 2017 G90. In the following I will present all I have known, and have experienced during the test drive. Although we do not know whether the G90 will prevail in the market or not at this moment, we can still judge it from the hardware/technical aspect. Generally speaking, G90 is going for this route: given the lowest price, it provides you similar (or slightly superior) user experience to other competitors.
Exterior
Full size luxury sedan all share some design styling in common. For example: the hood should be long enough with short front overhang, and the front axle need to be kept as far as possible from the passenger cabin firewall. Of course, the G90 follows this rule.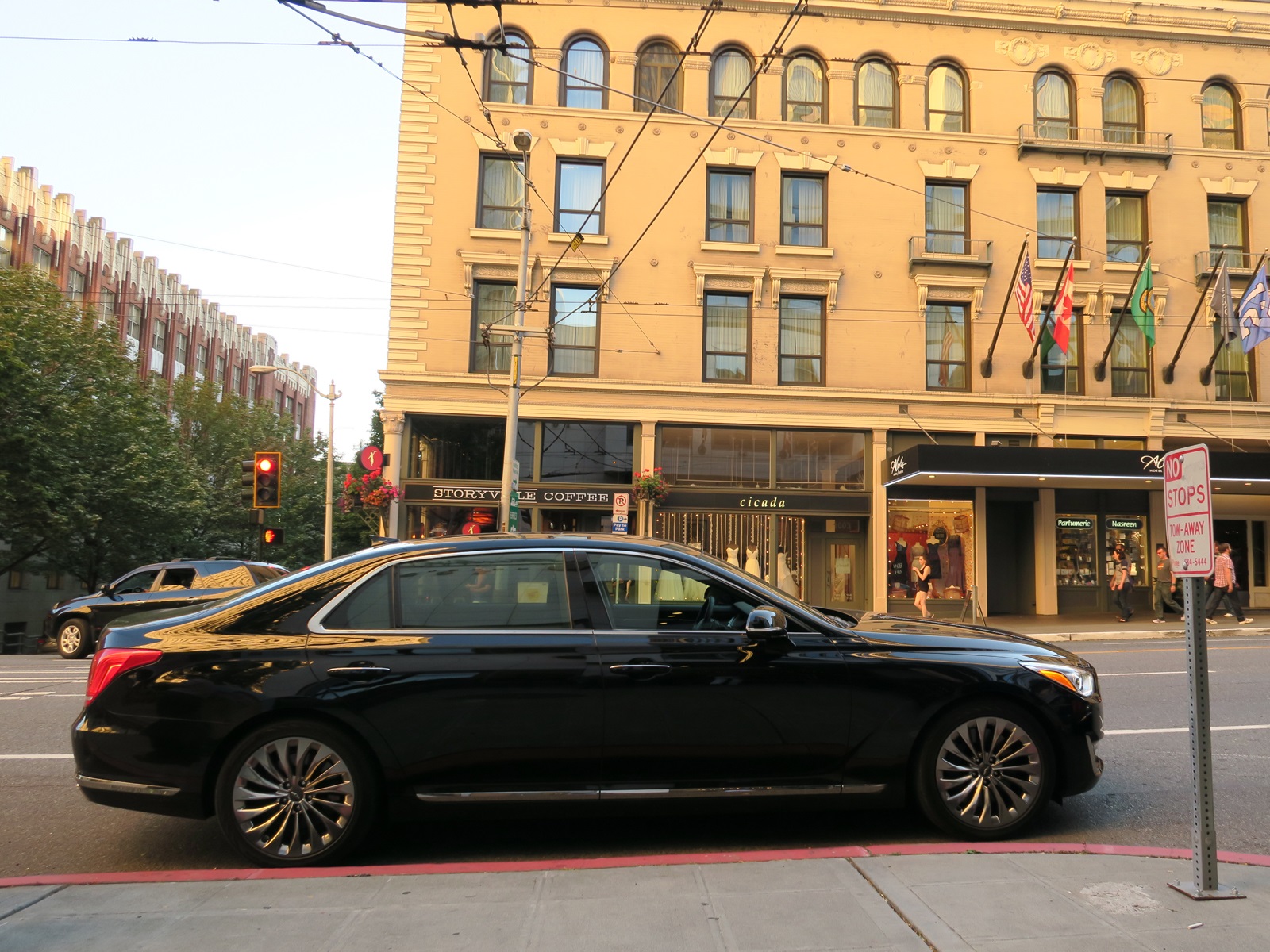 Another key point is the shoulder line: for full size sedan, its shoulder line should be horizontal, and parallel to the ground. Because this will give the large sedan a confident and composed presence. You can also see this design element on the G90.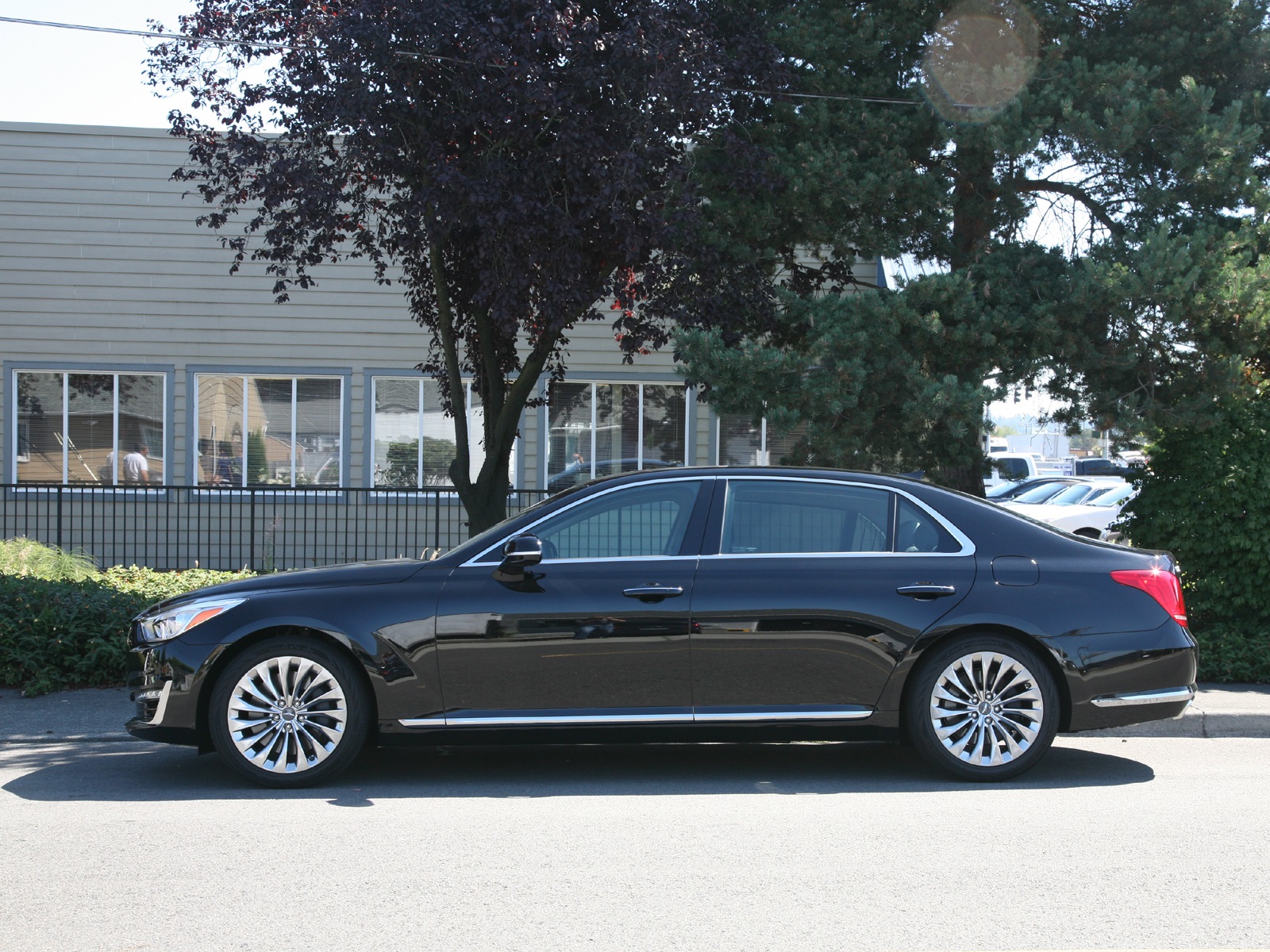 There is very subtle differences between the V6T and V8 trims regarding the exterior appearance – majorly in the headlights: V6T can only have HID lights, while the V8 trim receives full LED headlights.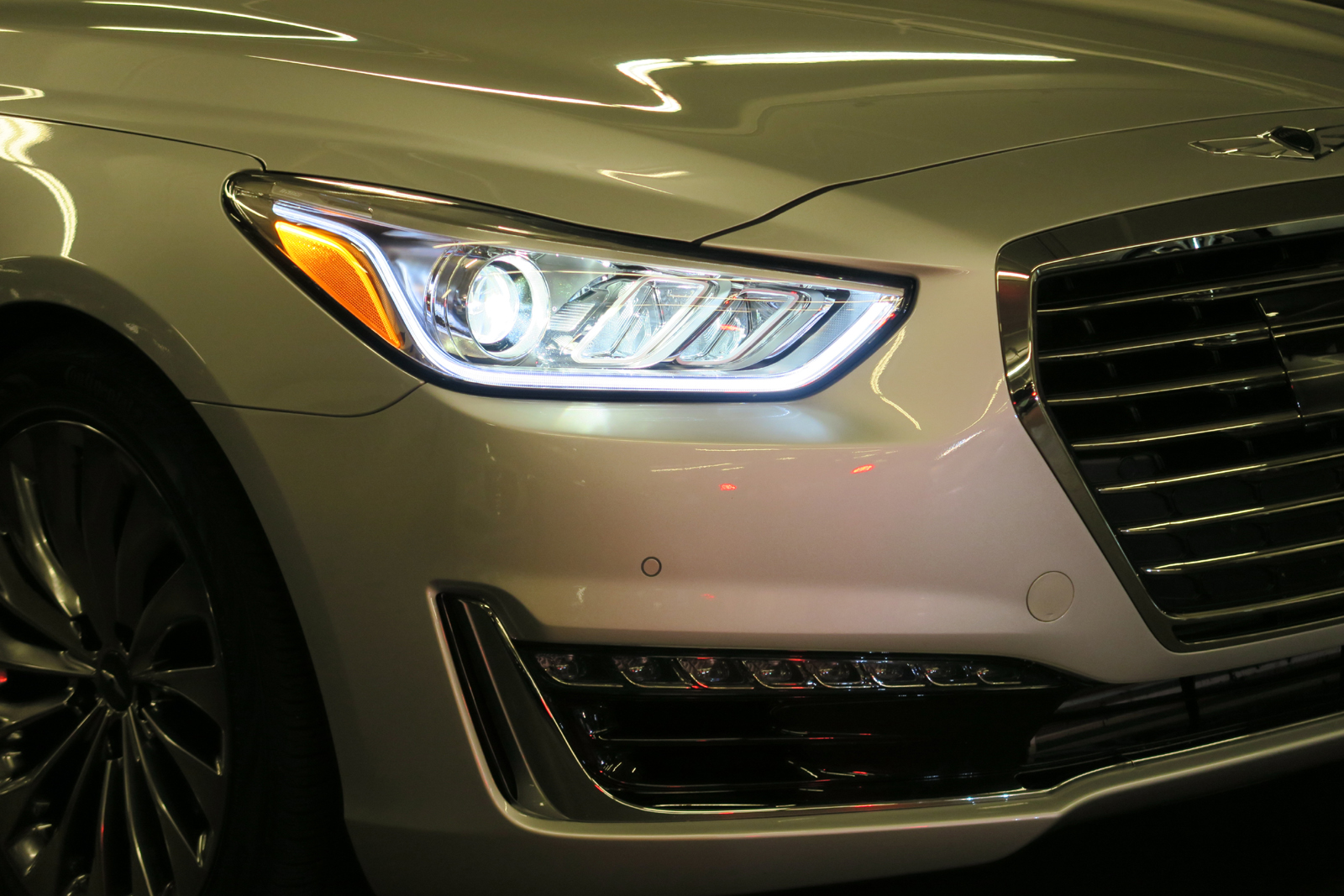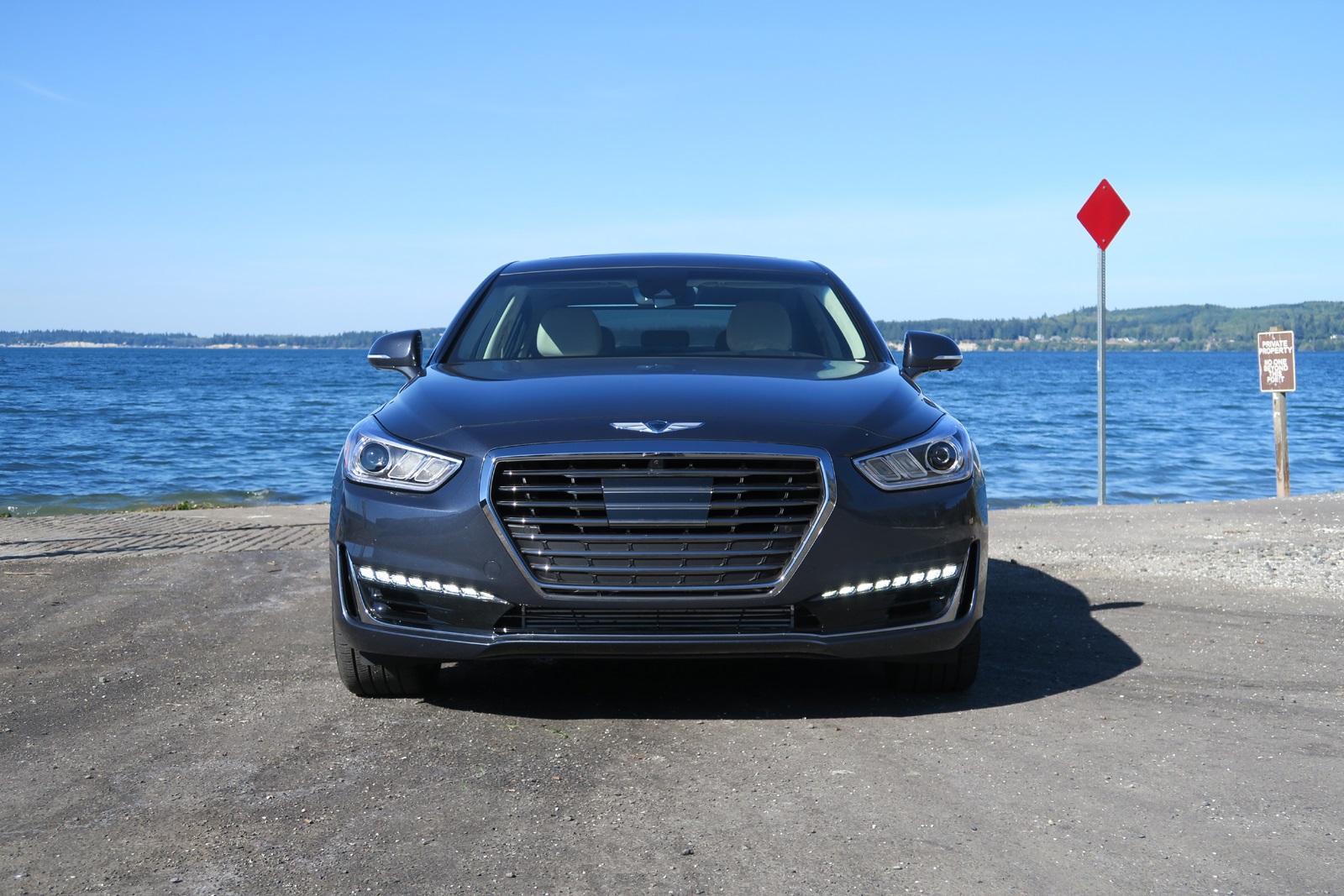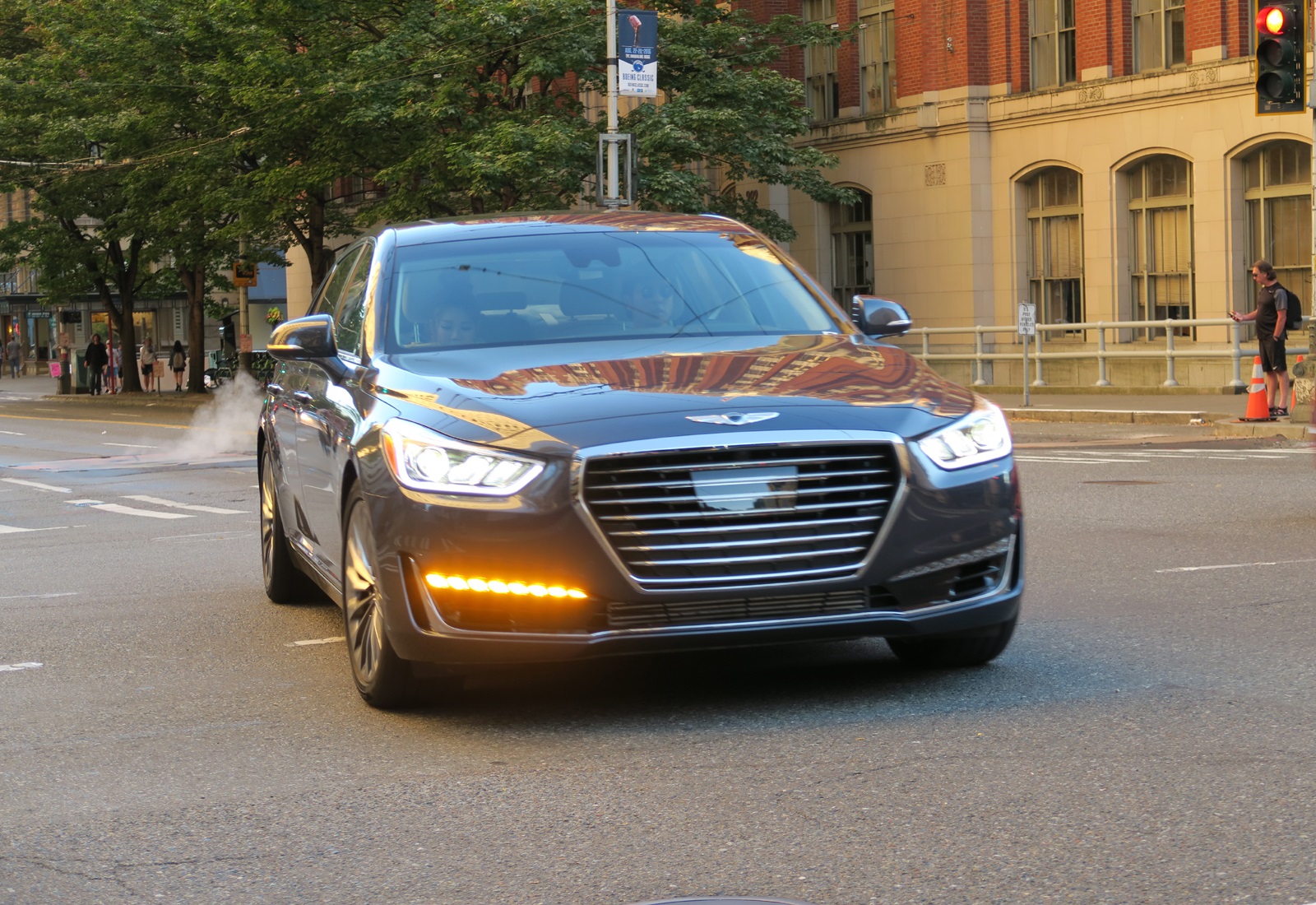 How the G90 looks may reminds you offerings from Mercedes, Audi, Aston Martin, Bentley etc. Yes me too, but this is how I view this: as long as you can recognize this is a new model not from the above mentioned brands, we can say its design has successfully acquired a distinctive characteristics.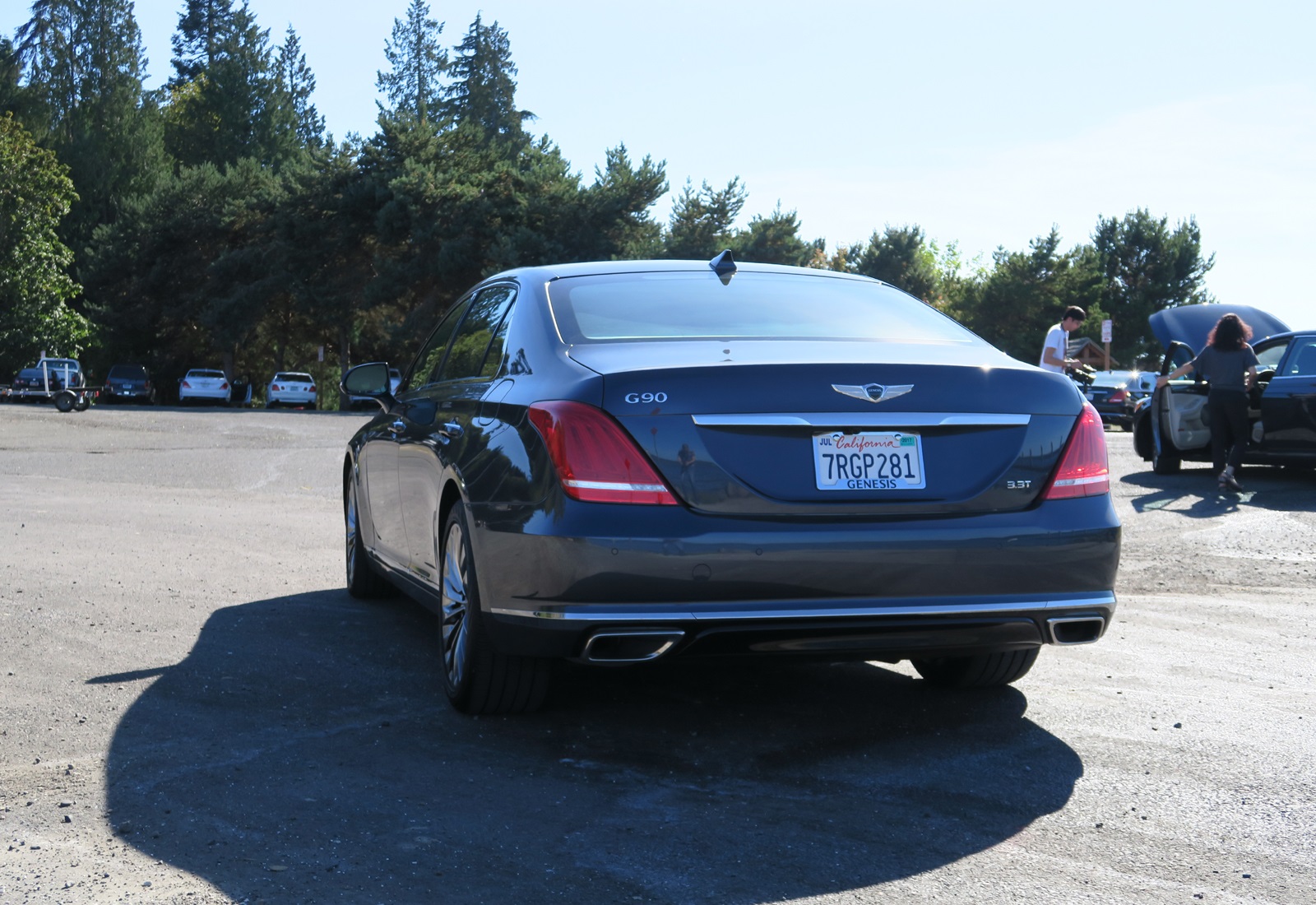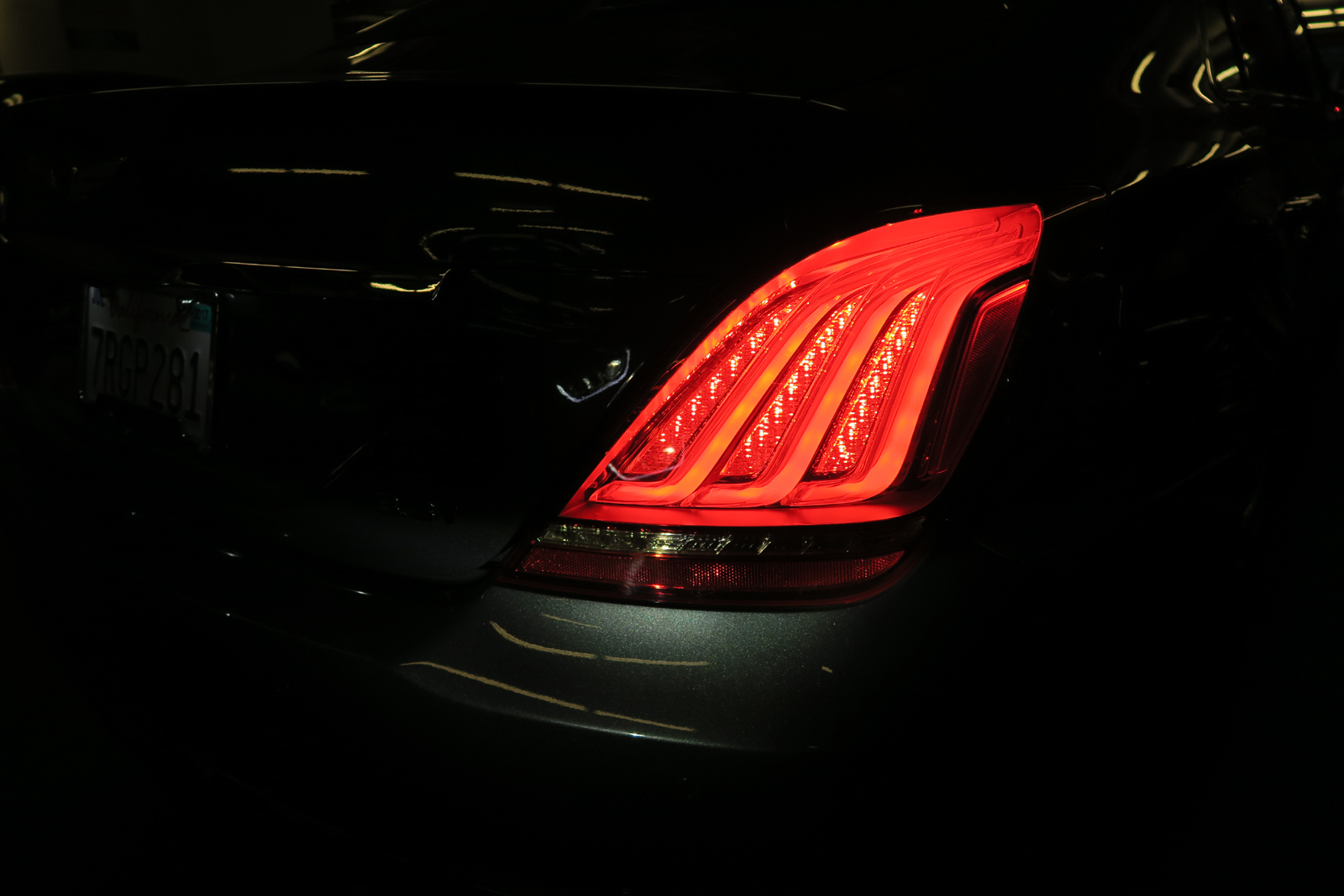 Interior
Similar to other competitor in the class, almost all areas you can touch within the cabin, are wrapped with Nappa leather; some places are also decorated with genuine wood trims.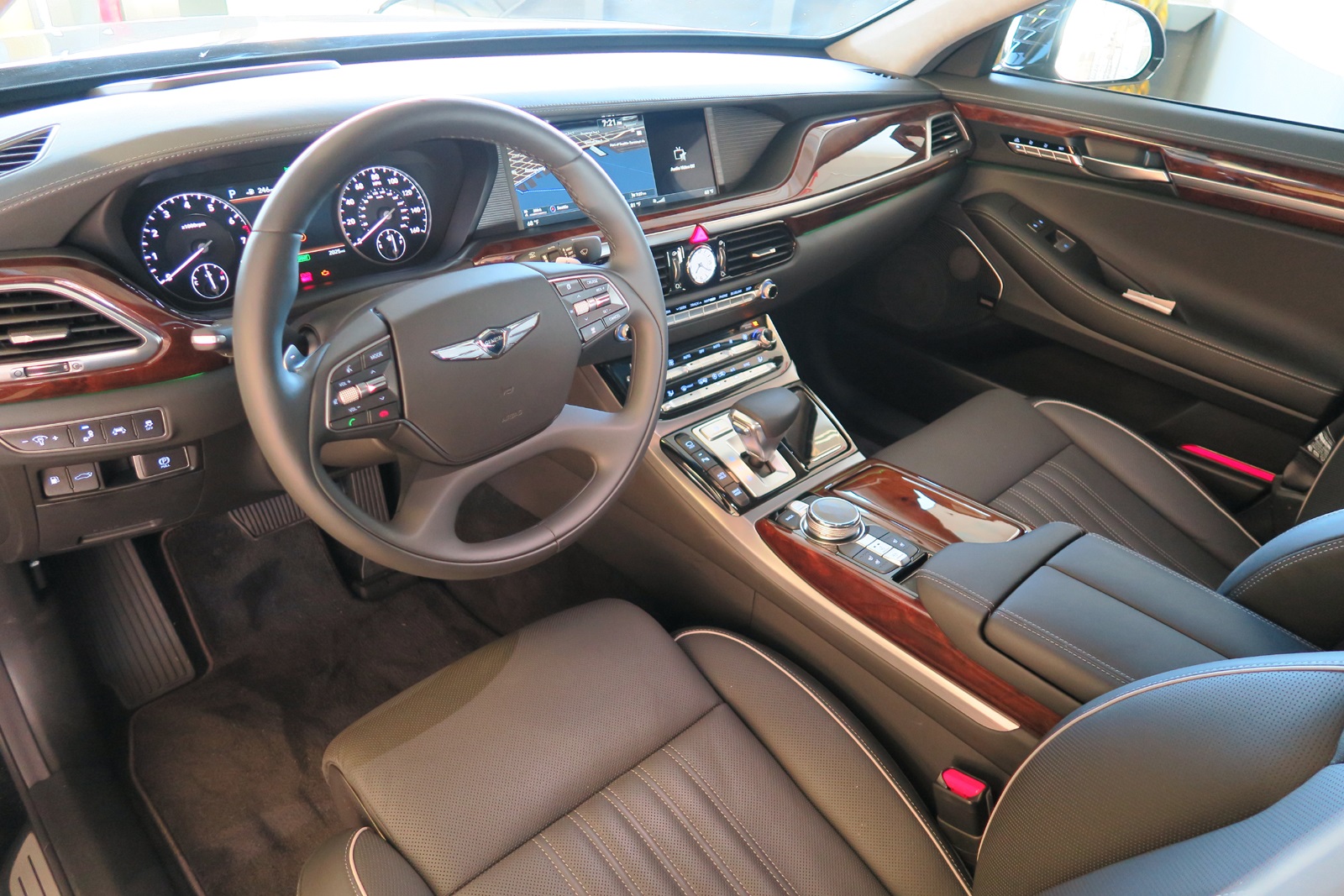 The firmness of the seat cushion/backrest is adequate to let you feel supported and comfortable at the same time. Front driver seat is 22-way adjustable (similar to BMW's multi-contour seat).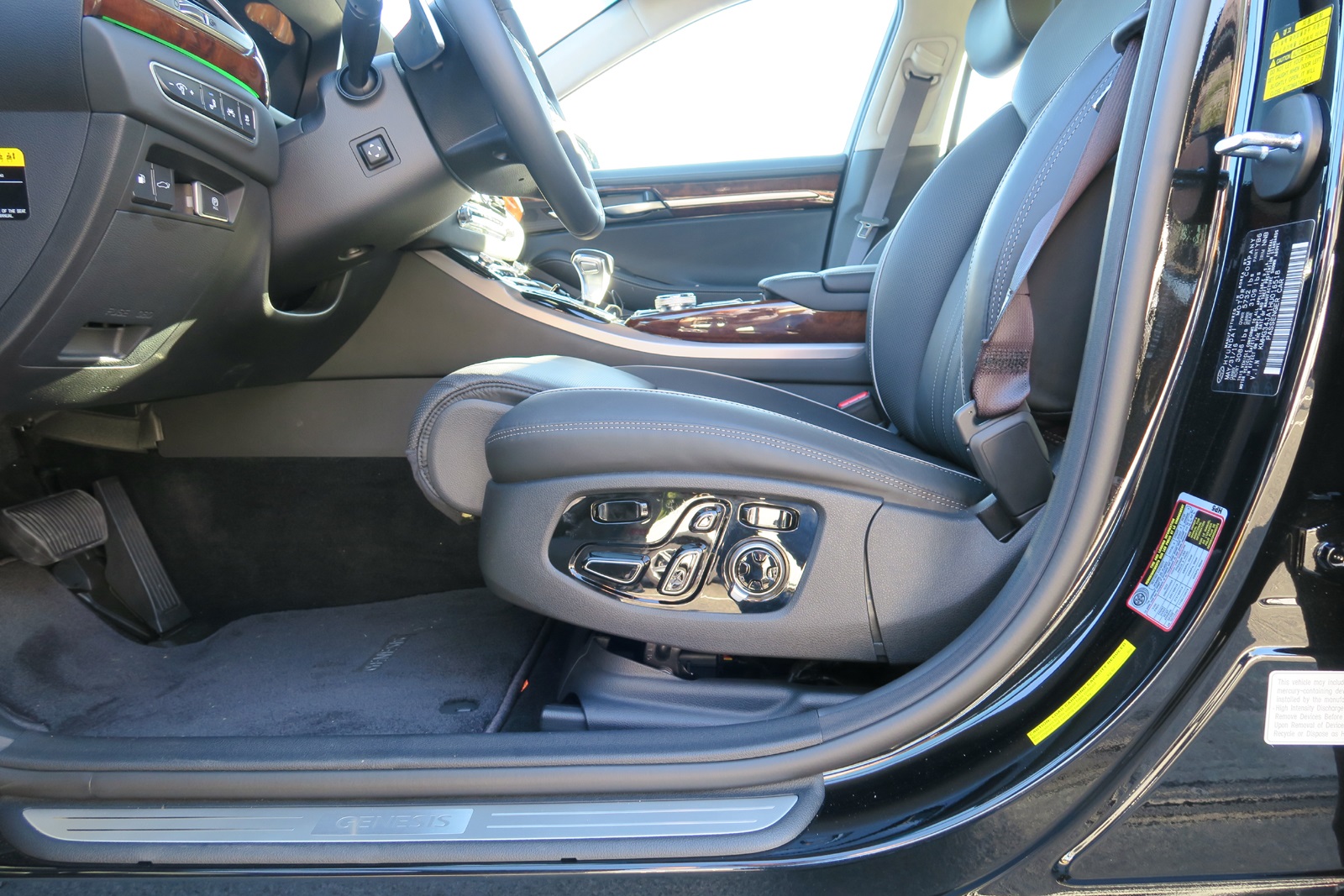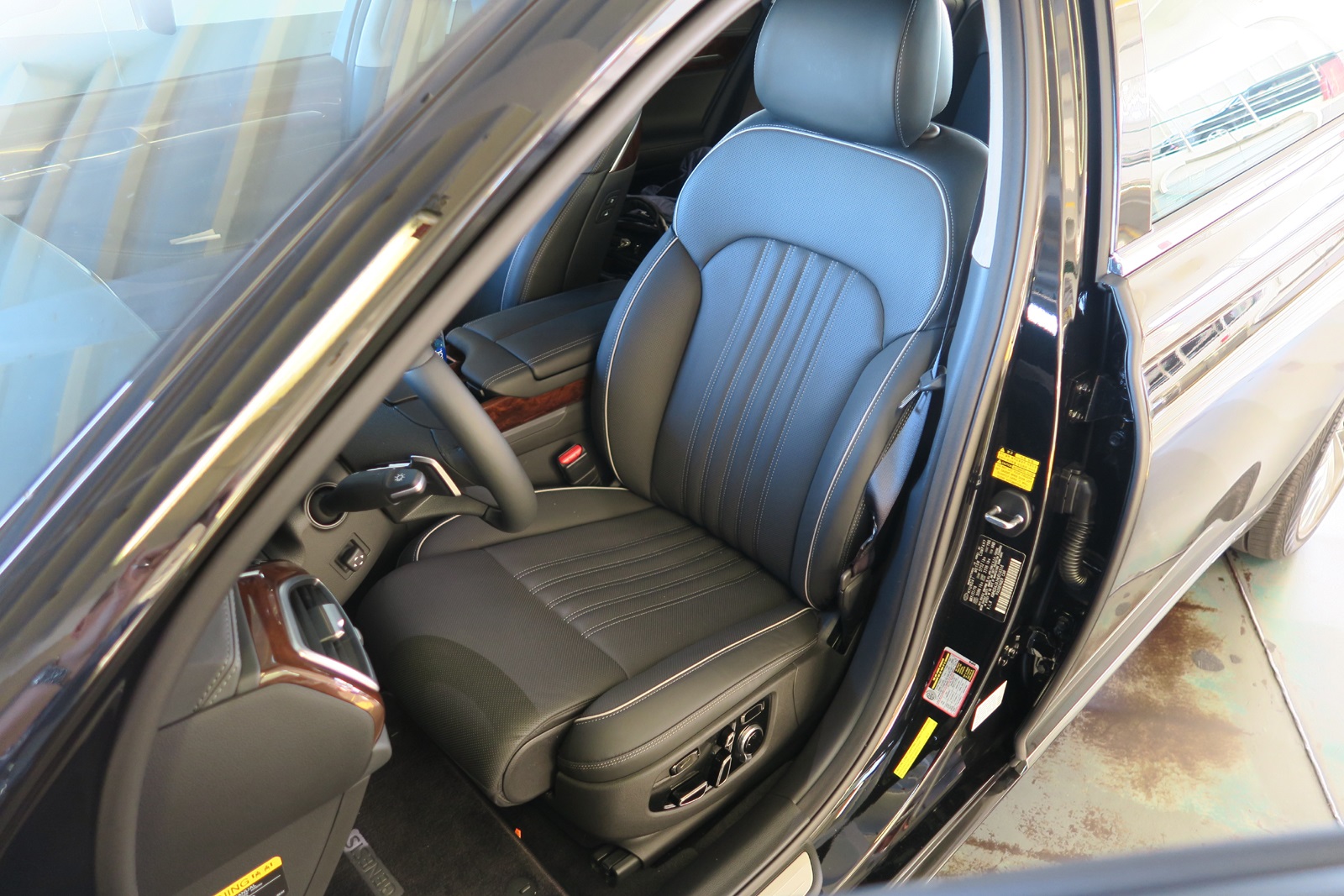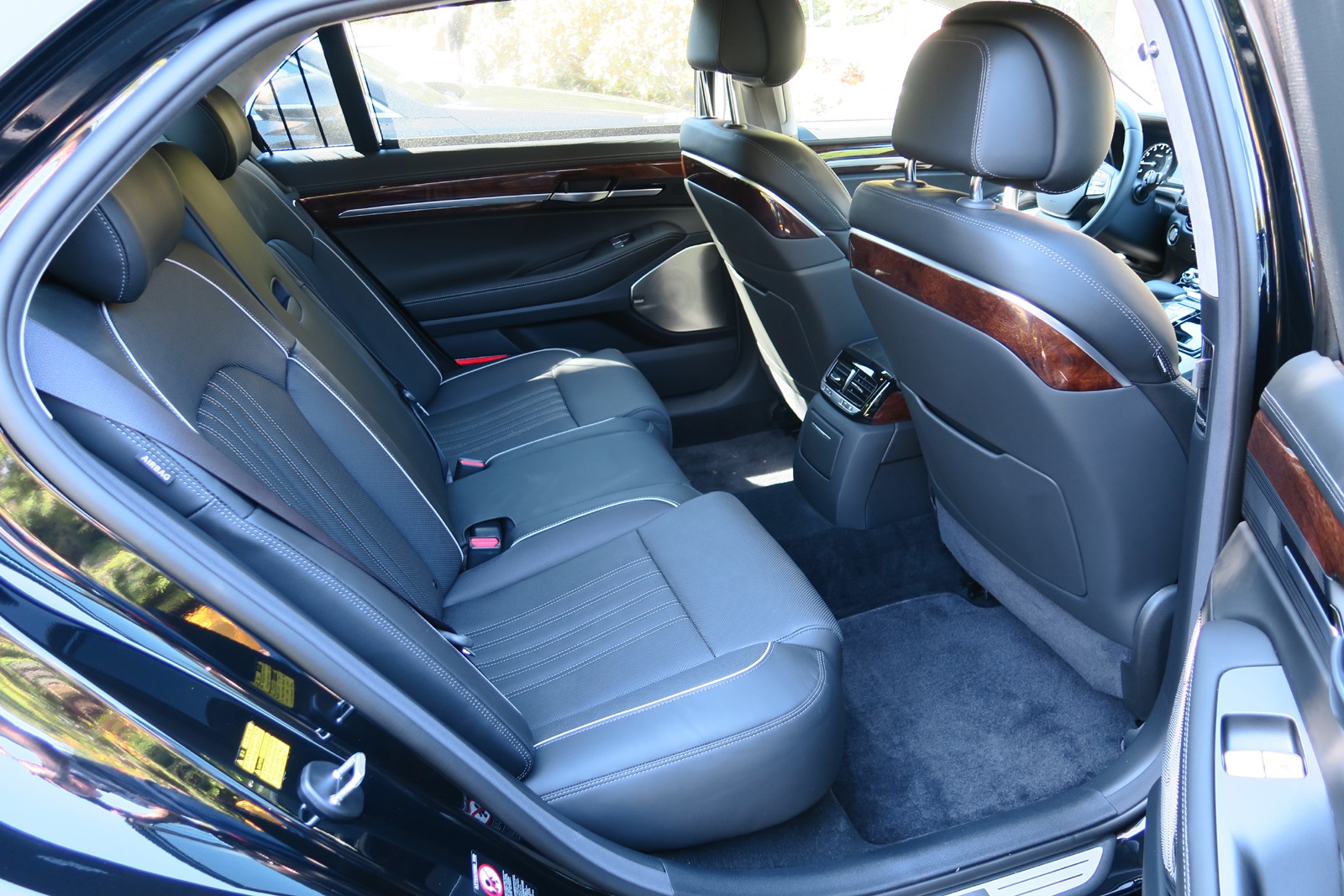 One major selling point of the G90 is its generous standard features, or we can say: almost all options are standard. You can only choose between V6/V8, and RWD/AWD when buying a G90. This means all kinds of fancy functionalities which cost you tons of money in other luxury cars, such as: automatic braking, blind sport detection, lane keeping assist, dynamic cruise control which can also follows stop/go traffic, HUD, automatic closing doors etc., are all standard on the G90.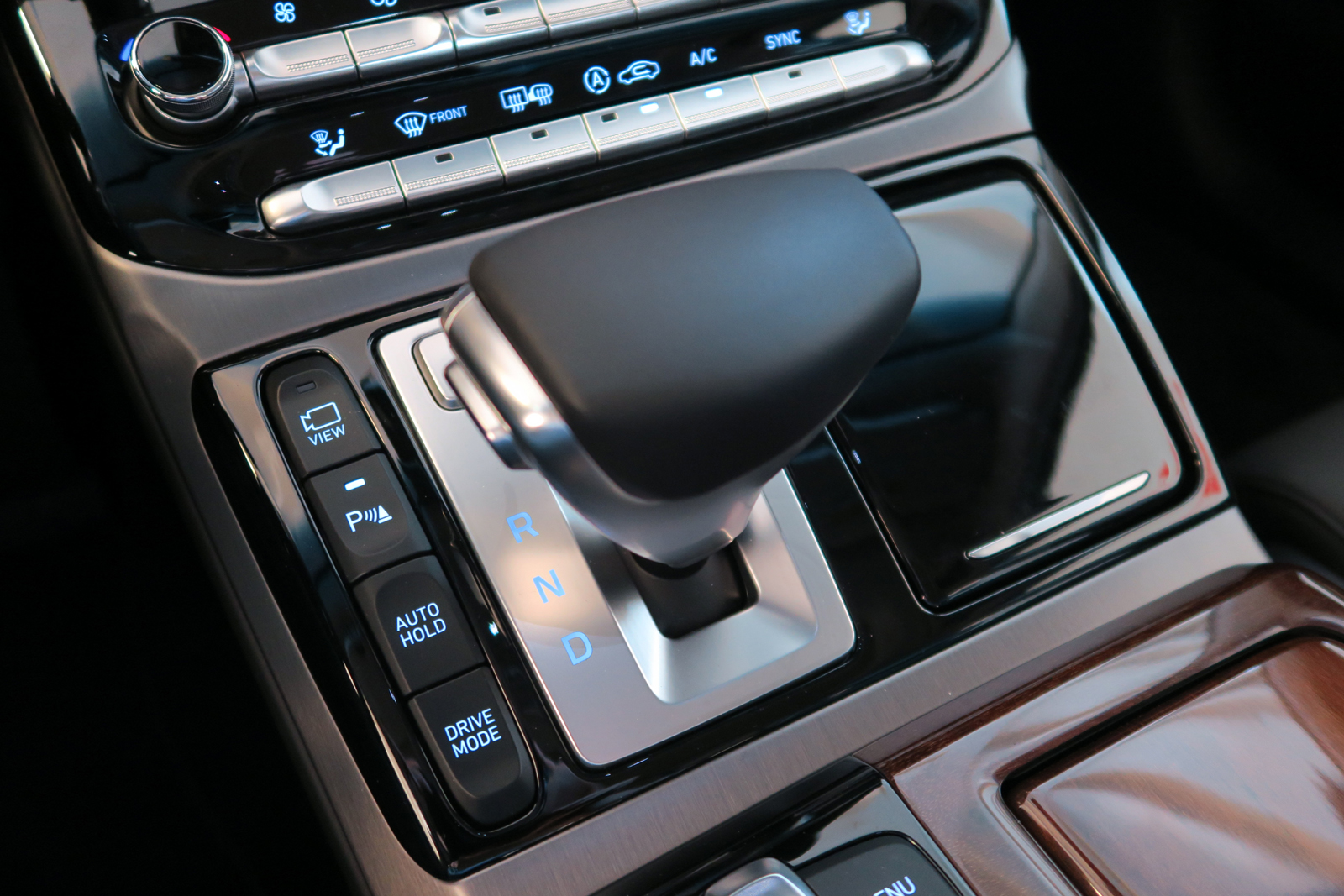 This also makes purchasing the G90 much easier: no need to debate which options to choose – you get all of them.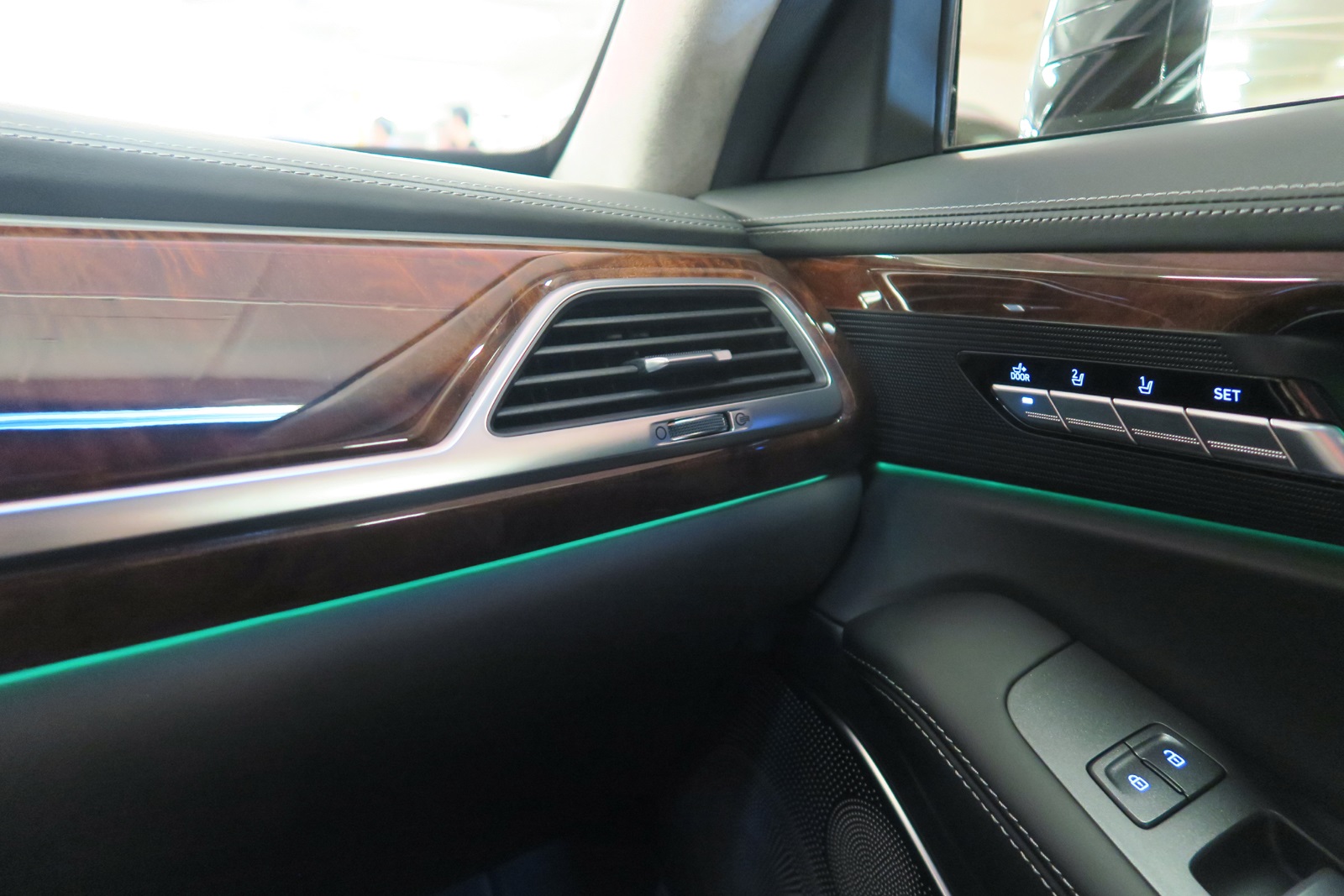 Regarding the interior, I only found two issues:
1. The metal buttons on the tilted section of the center console, will cause too much glare when driving under sunlight;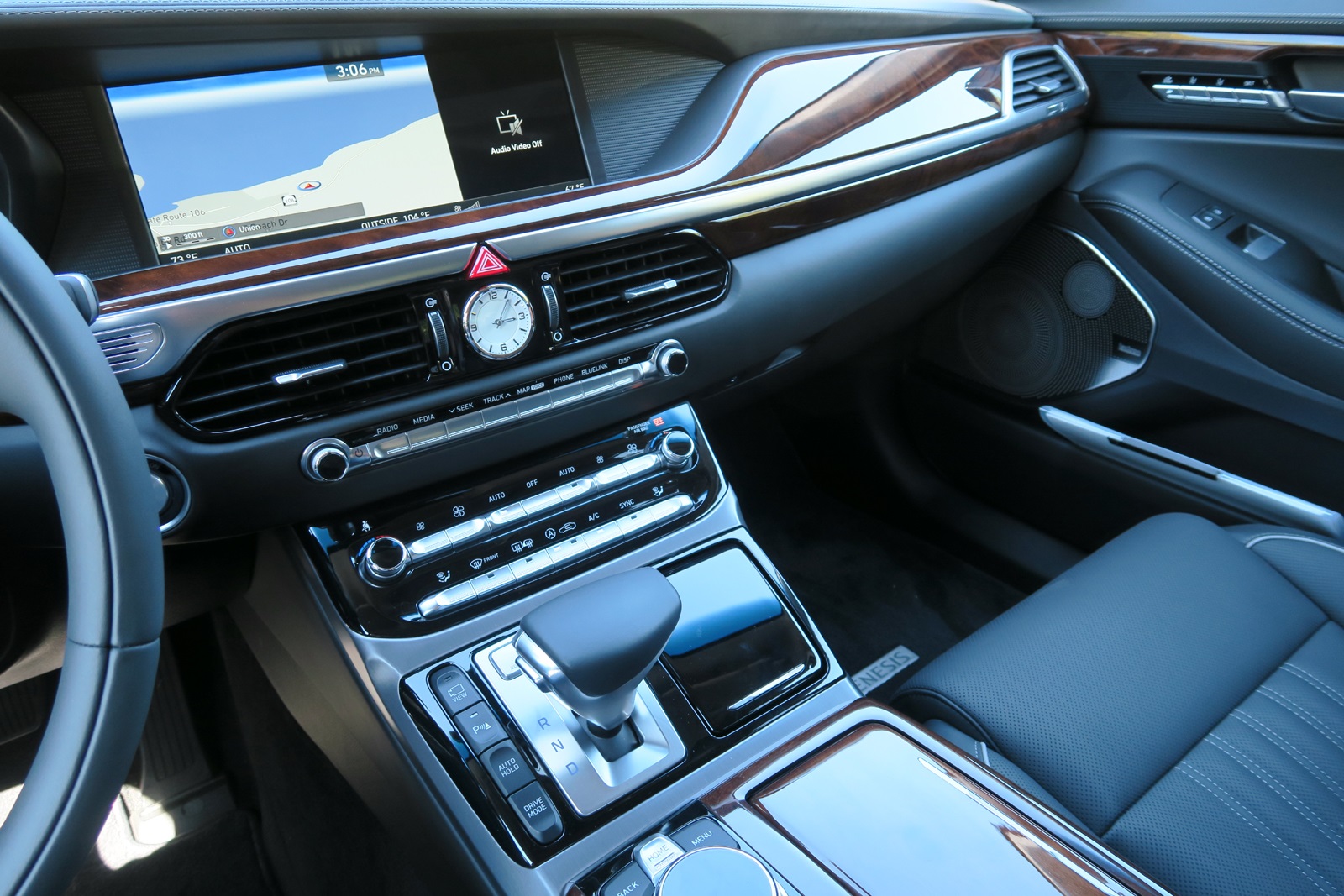 2. To make room for the AWD system's transfer unit, there is a large bulge on the passenger transmission tunnel. This significantly reduce the width of the passenger side footwell, thus makes long distance road trip a little bit inconvenience for your co-pilot's legs.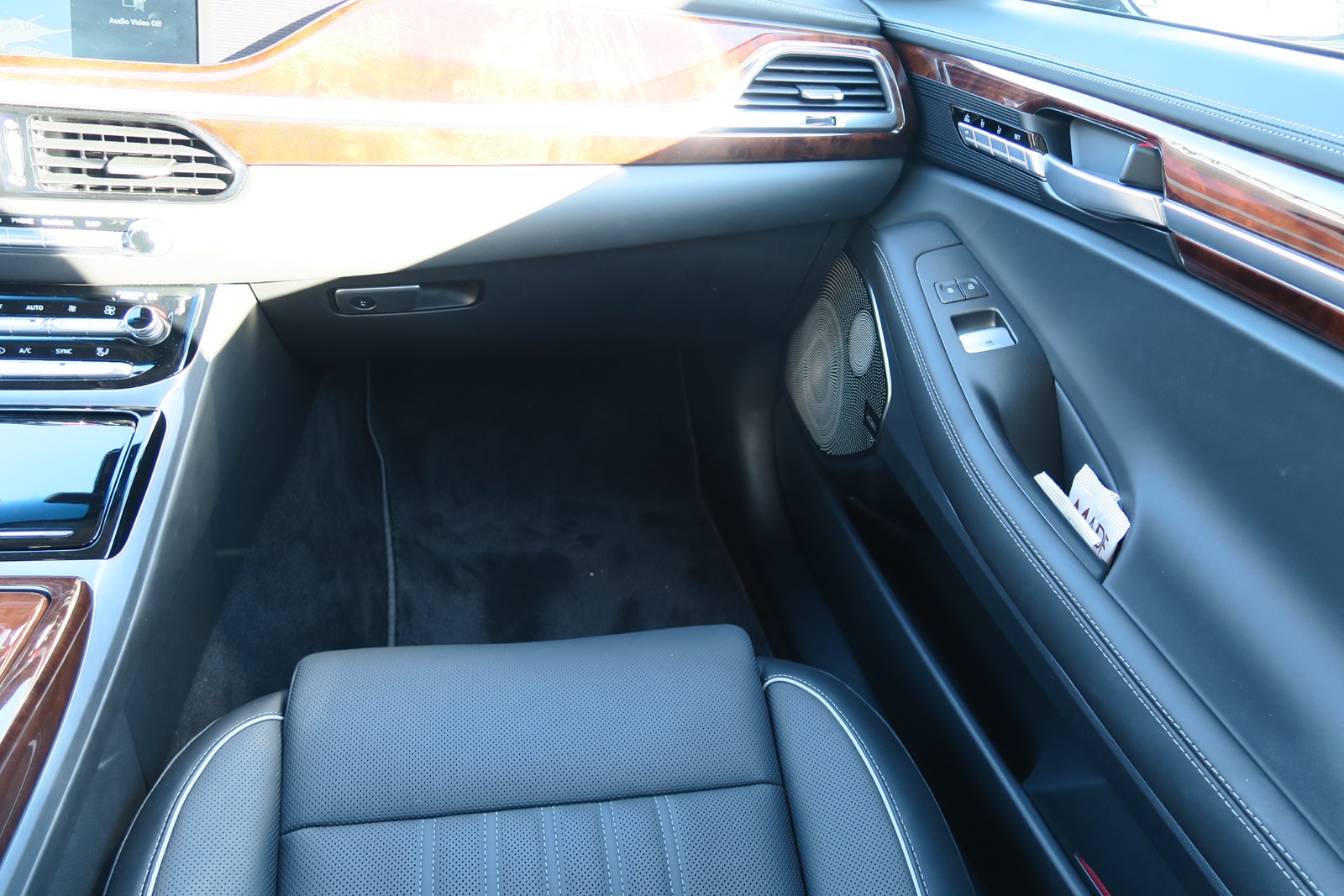 Body Structure and Chassis
Unlike its competitors, which uses advanced materials such as aluminum and carbonfiber, G90 are mainly composed of steels. Not only the load-bearing car frame, but also its skins, including the hood, quarter panel, doors, are all made with steel. This makes G90 to be the heaviest vehicle in its class – on average it is at least 100 – 200 lbs heavier than its competitors.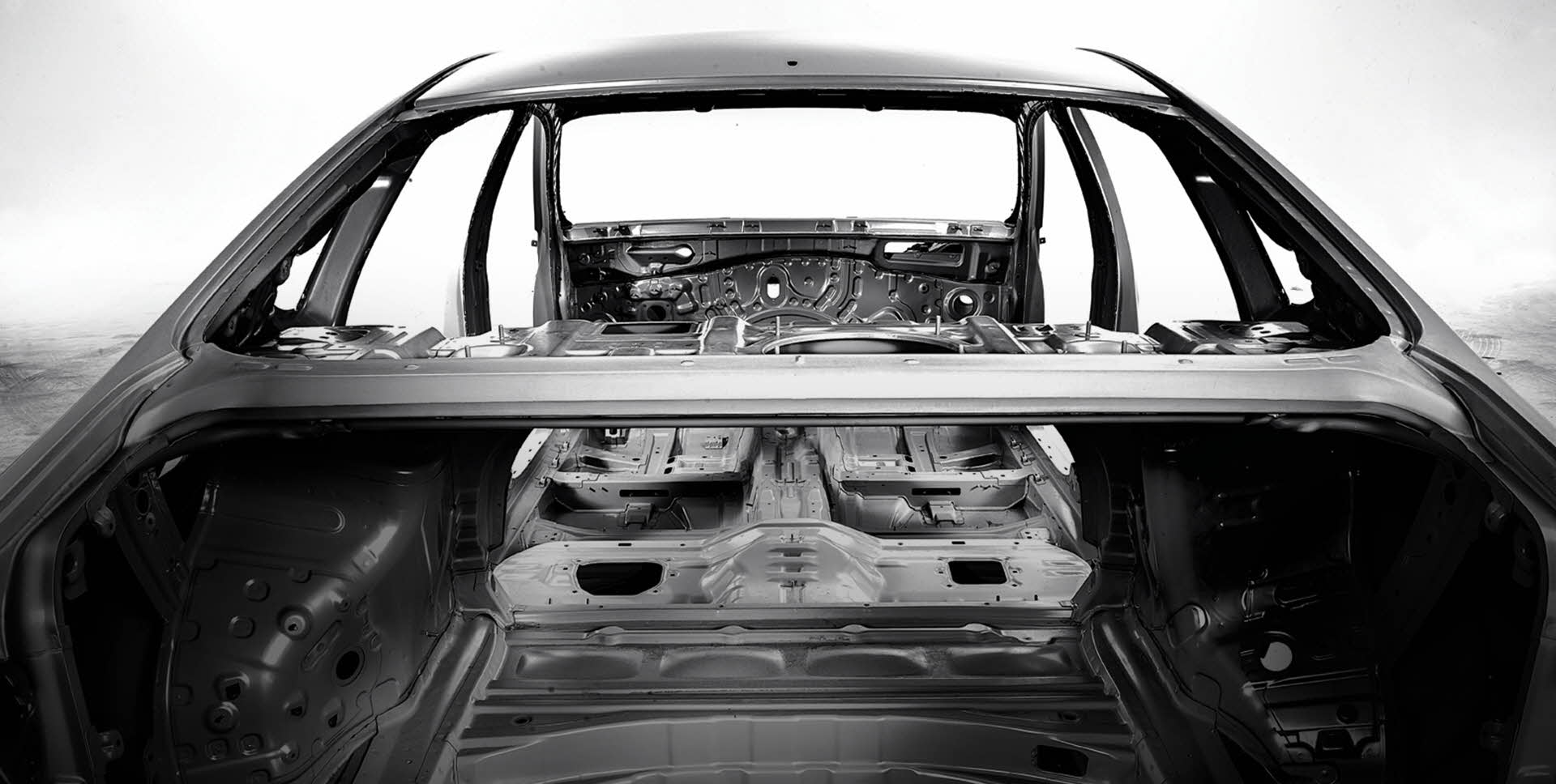 However given its purpose, the heavy body does not affect G90 too much. For a full-size luxury sedan, consumers are more concern with its smoothness, quietness and luxury features; handling/sports car feeling are never on their top priority list.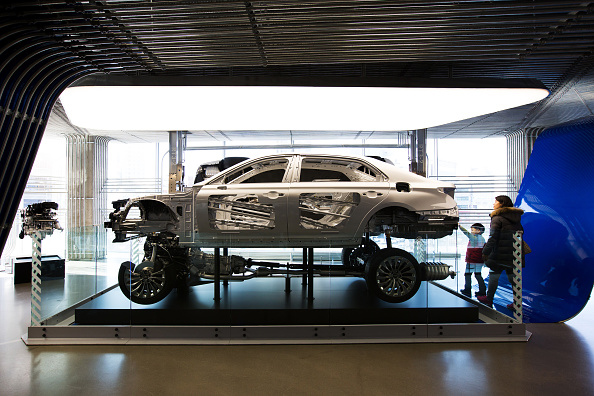 Believe it or not, nowadays it is still a challenge for long wheelbase sedan's car body to maintain a solid feel while driving on bumpy roads. For example, even for the latest W222 Mercedes S class, you can still feel the slight chassis flex and a brief, but notable high frequency shaking emerged from its rear body section. Hyundai claims 52% of G90's BIW are ultra high-strength steel, which boost the G90 body's static torsional rigidity to be 6% higher than the S class. This means G90 is retaining a strength of 42,930 Nm/deg to withstand twisting forces.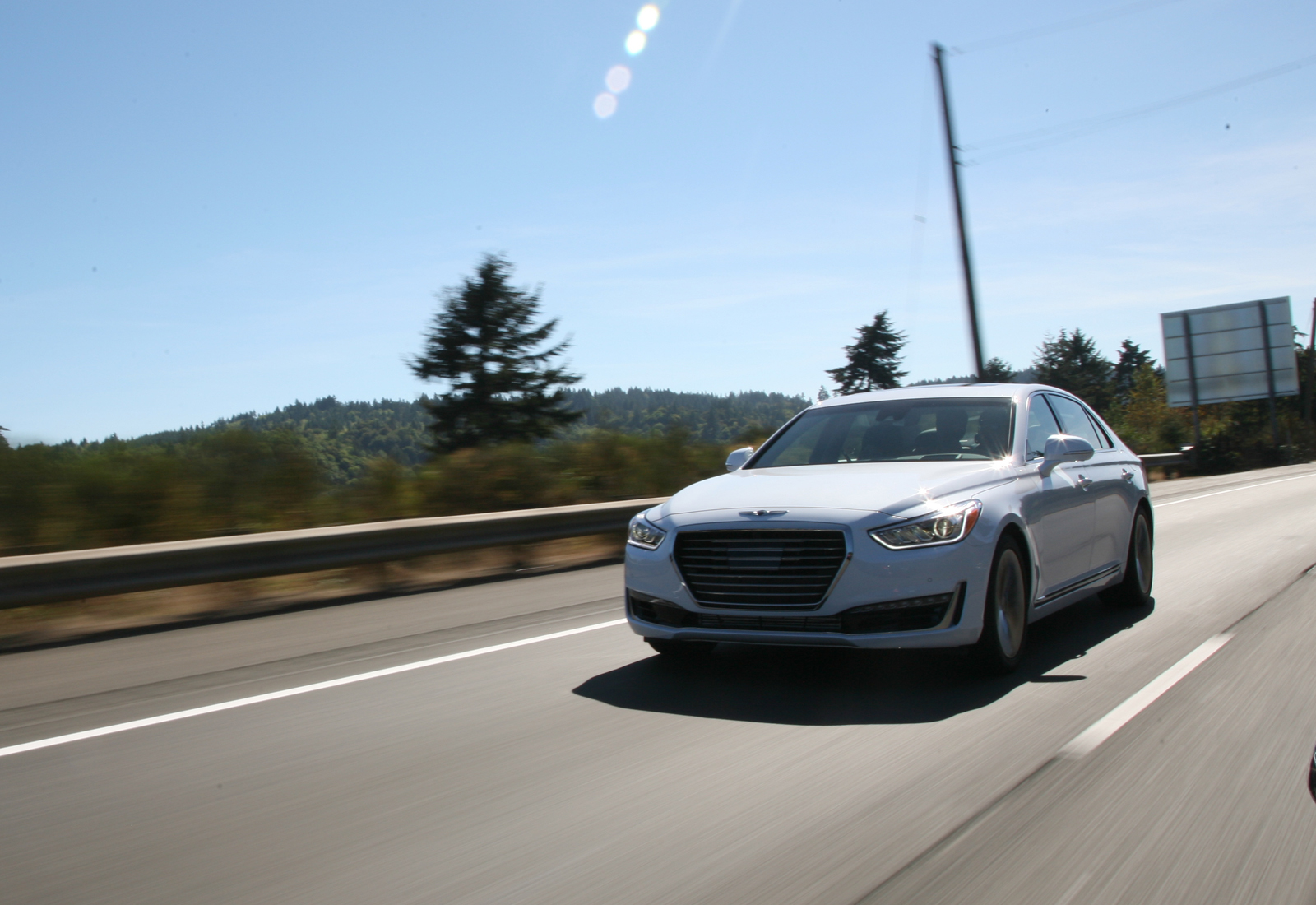 From our test drive, I can say G90 feels as rigid as a short wheelbase sports car, the only way you can tell the difference is when it runs over a pothole, the car body has a slight, but distinct self-vibration. However, I bet unless told to pay attention to, most customers won't even notice this. With that being said, the heavier all-steel car frame does bring one advantage for the G90 over its competitors.
Based on the RWD platform, Hyundai also takes some ways to optimize the G90's front/rear weight distribution: for example large portion of the V6 engine sits behind the front axle, and the battery is placed into the rear trunk.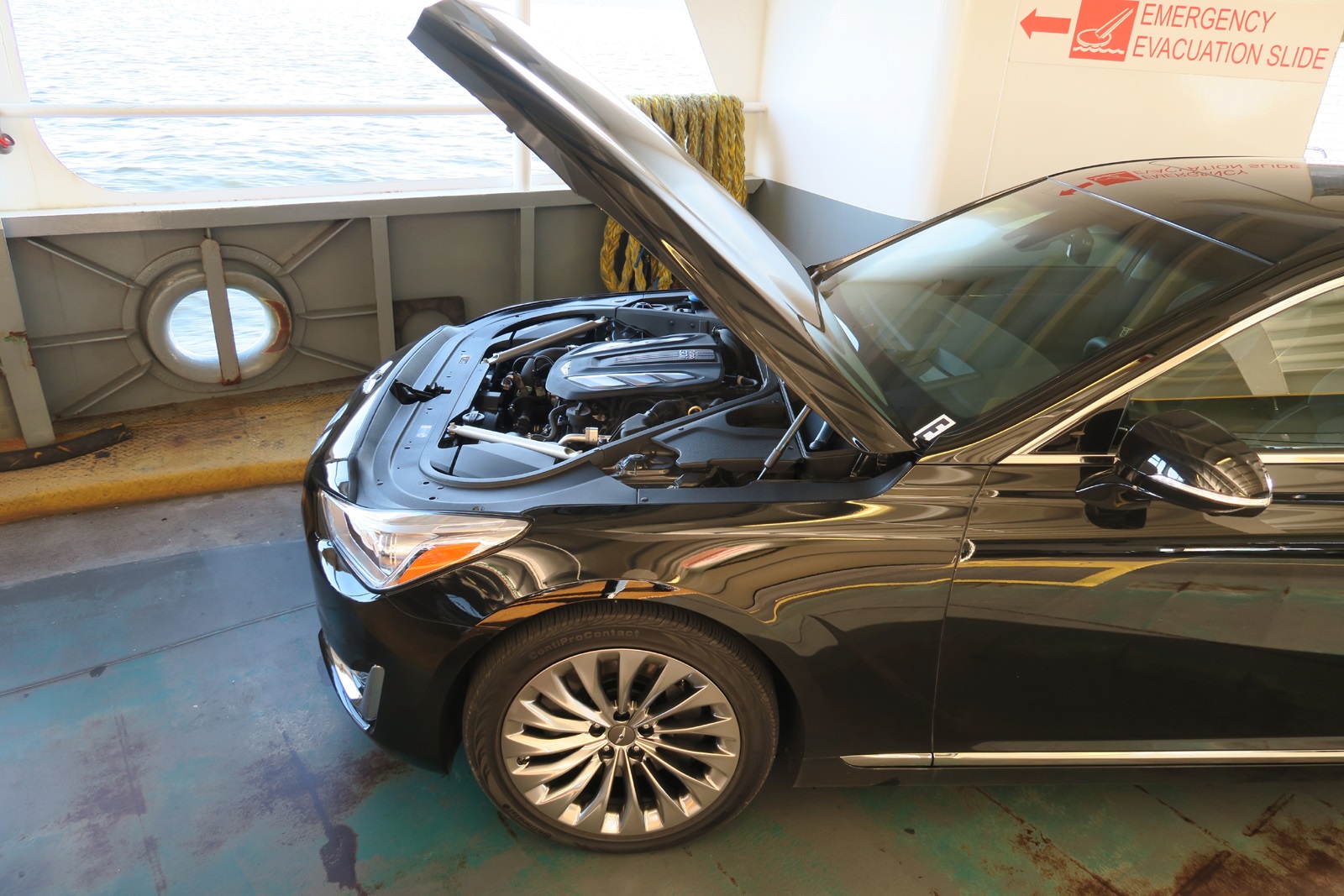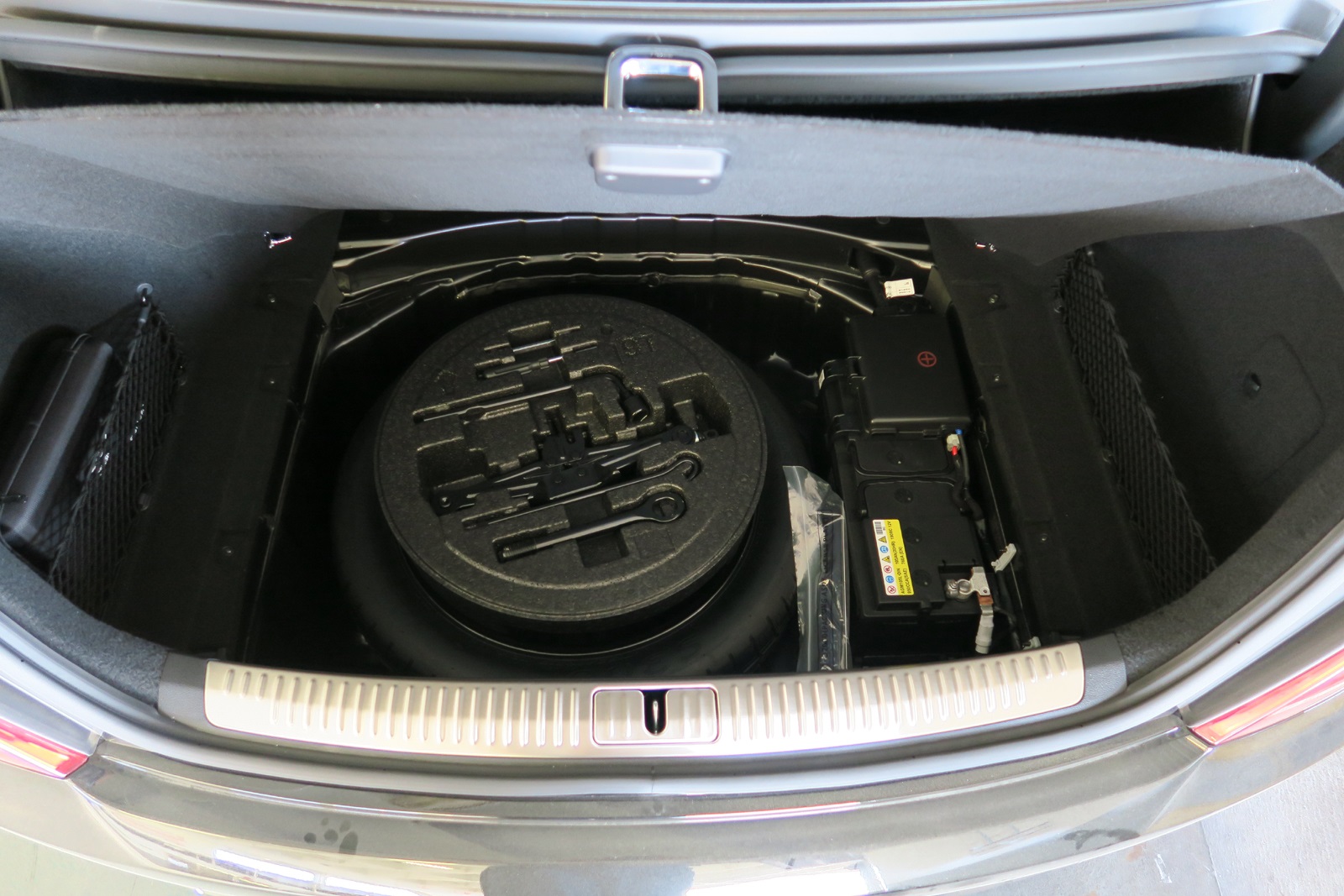 G90 uses a double-wishbone front suspension, and multi-link setup for the rear wheels.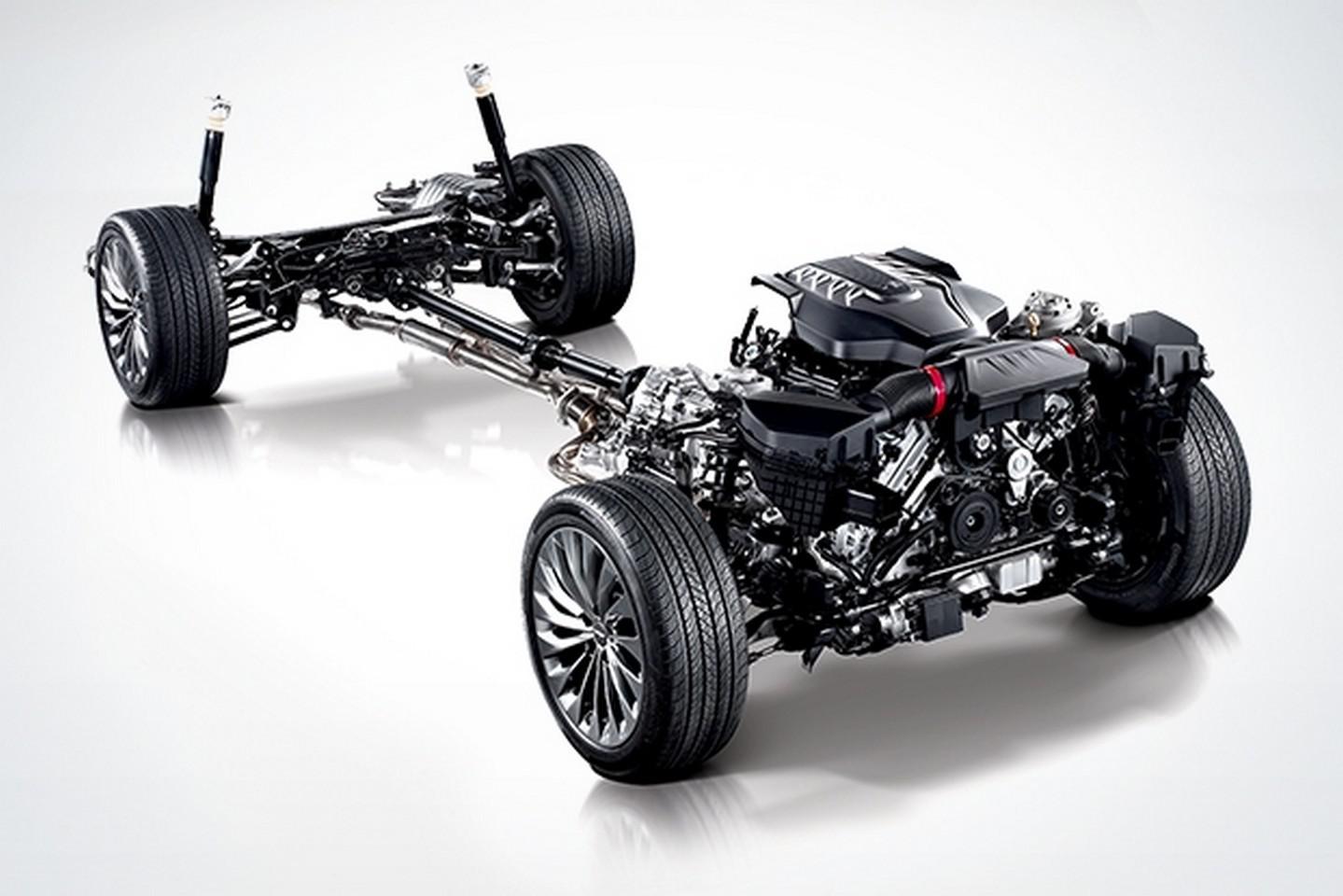 G90 does not use air suspension, which is common in this class. Instead it goes the traditional route of steel spring setup. The shocks are electronic-adjustable, developed by Sachs/ZF. From my test drive experience, the G90's ride is as comfortable as its peers, even you compare them side-by-side. The only obvious disadvantage of the G90 steel spring suspension is its lack of automatic leveling capability – when there are heavy load on the second row seat, the rear of the vehicle will sag a little bit.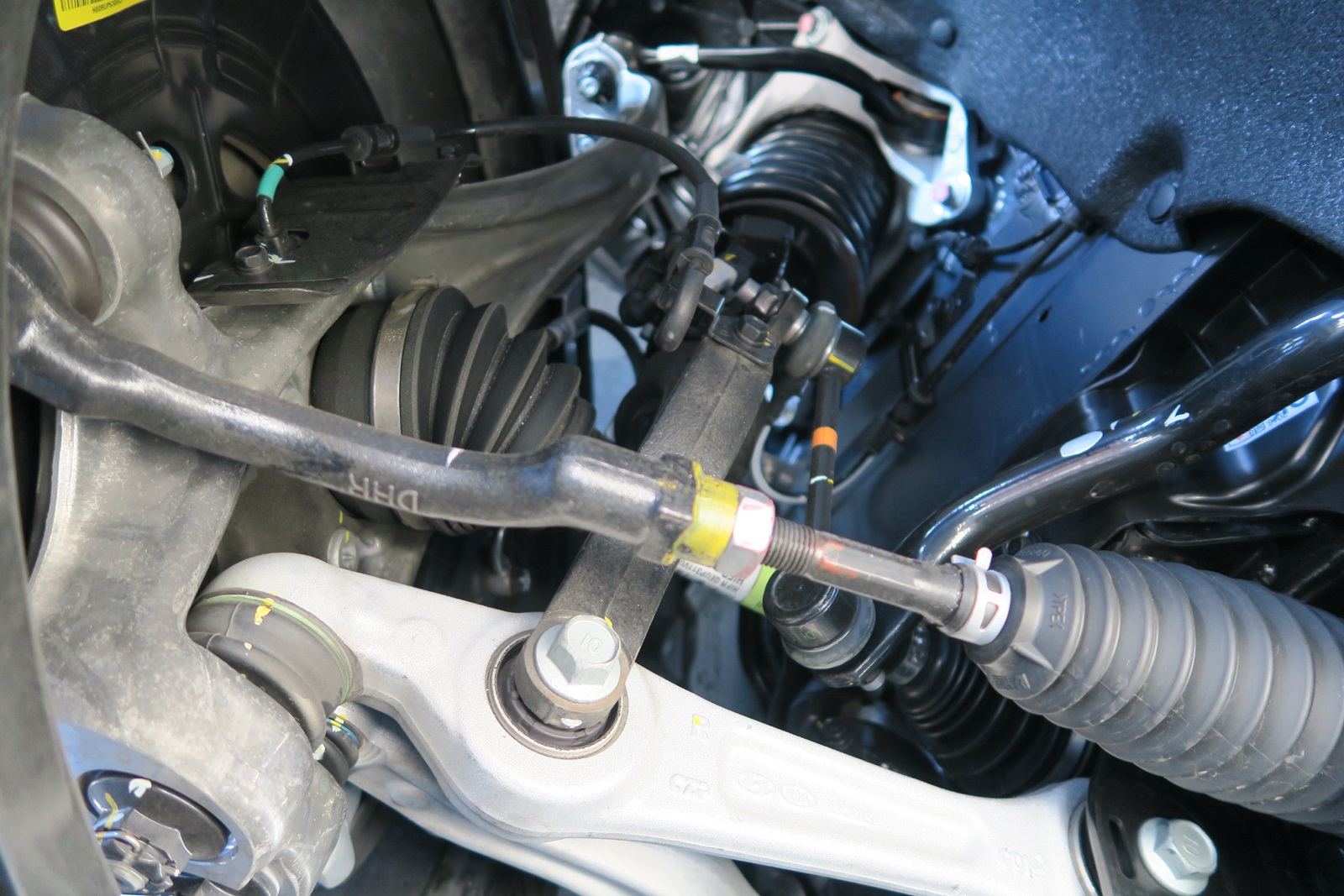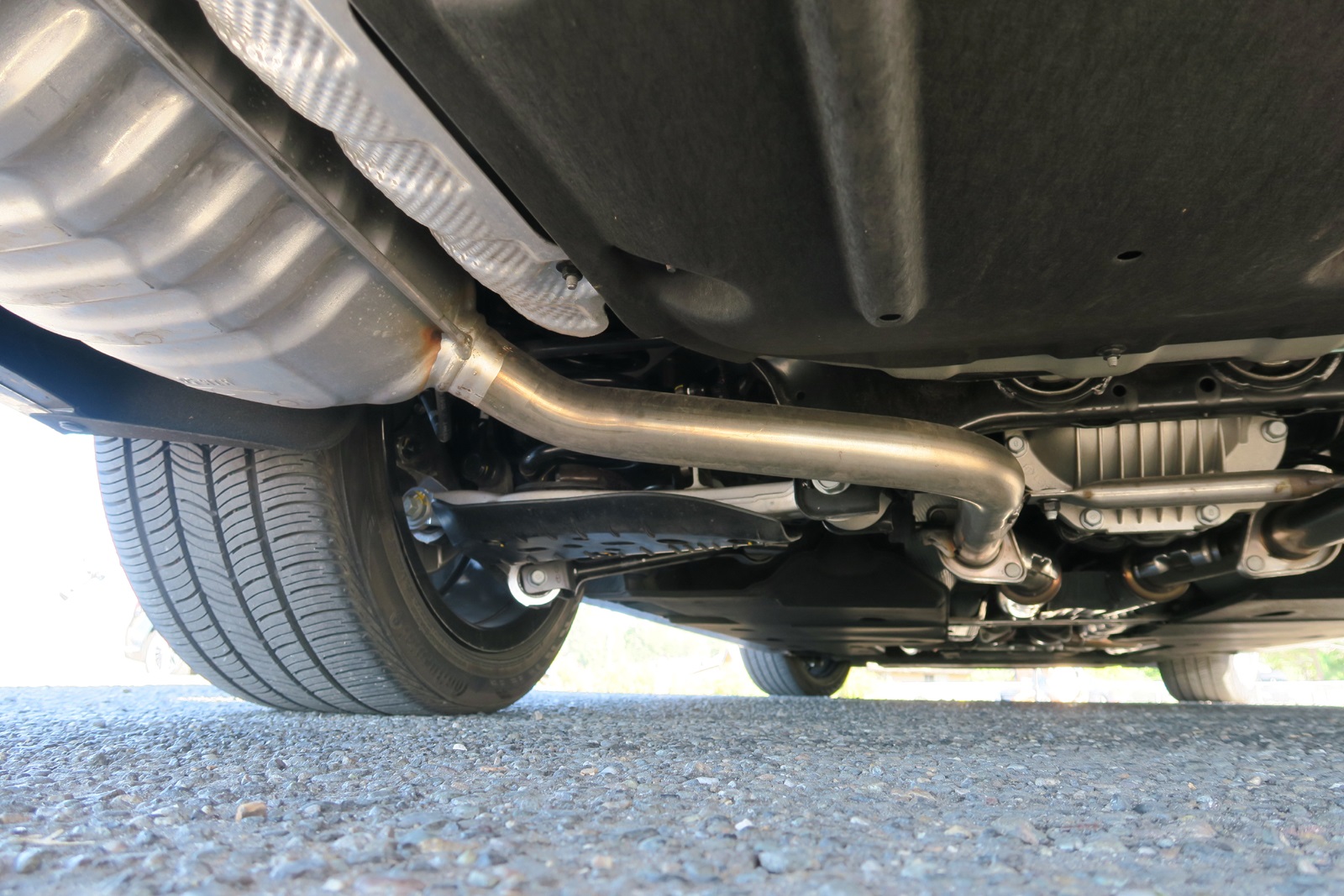 Hyundai uses aluminum for the majority of both front and rear suspension control arms, this helps to reduce the unsprung weight and thus enhance G90's ride comfort.
Engine: A Brief Technical Analysis
The G90 we have tested is equipped with Hyundai's latest 3.3L twin-turbo V6 engine, which is based on the Korean auto maker's Lambda V6 family.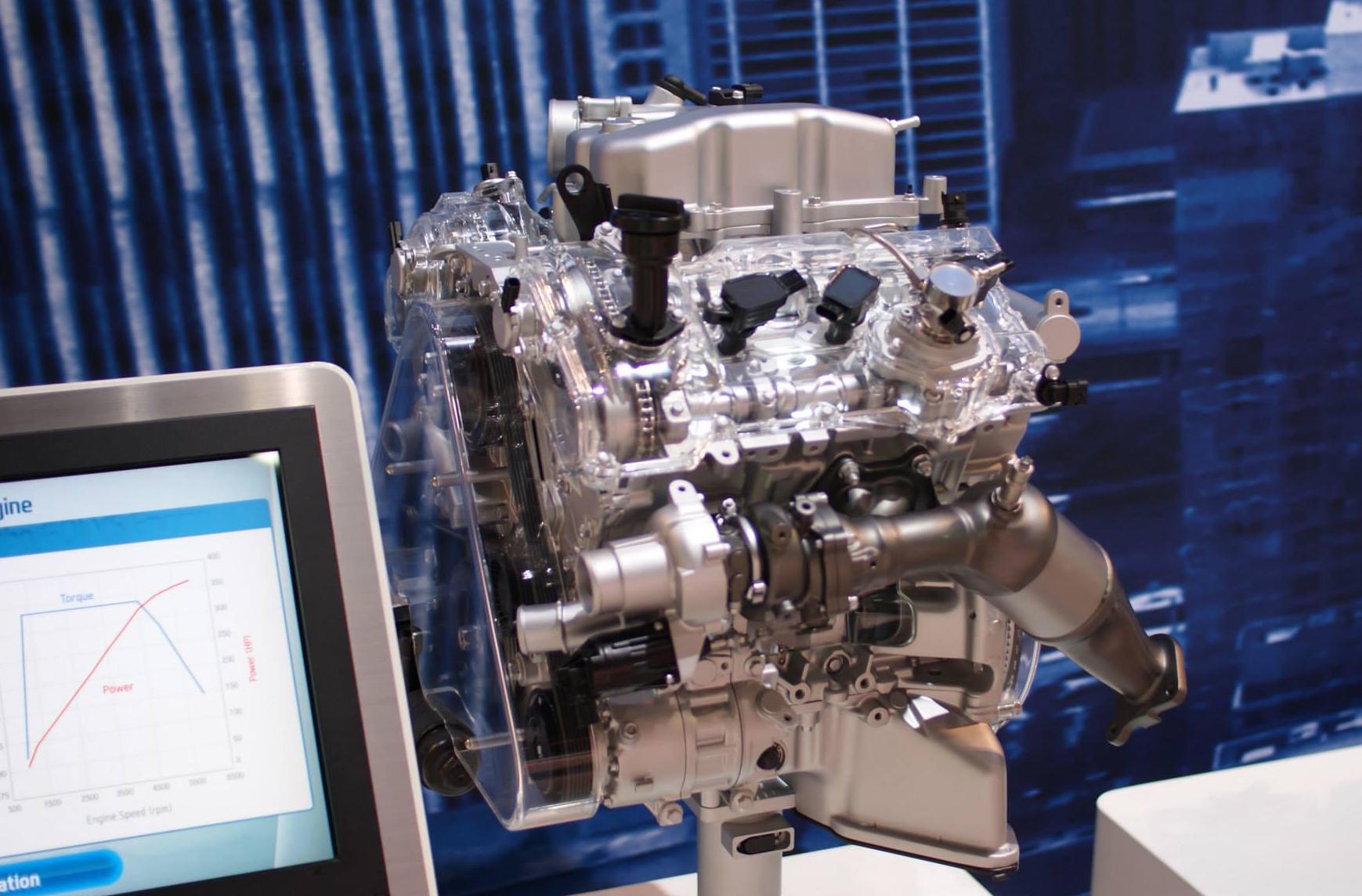 This engine has the same displacement as its naturally aspirated version (3,349 cc, bore/stroke is 92.0 mm x 83.8 mm), peak output is 365 hp with 376 lb-ft of torque available at 1,300 RPM and lasts up to 4,500 RPM.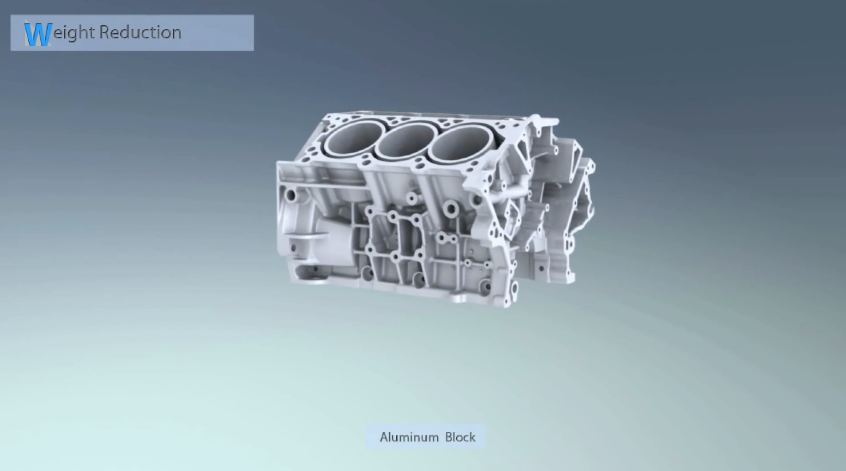 The cylinder block uses very traditional design: open-deck with steel cylinder sleeve.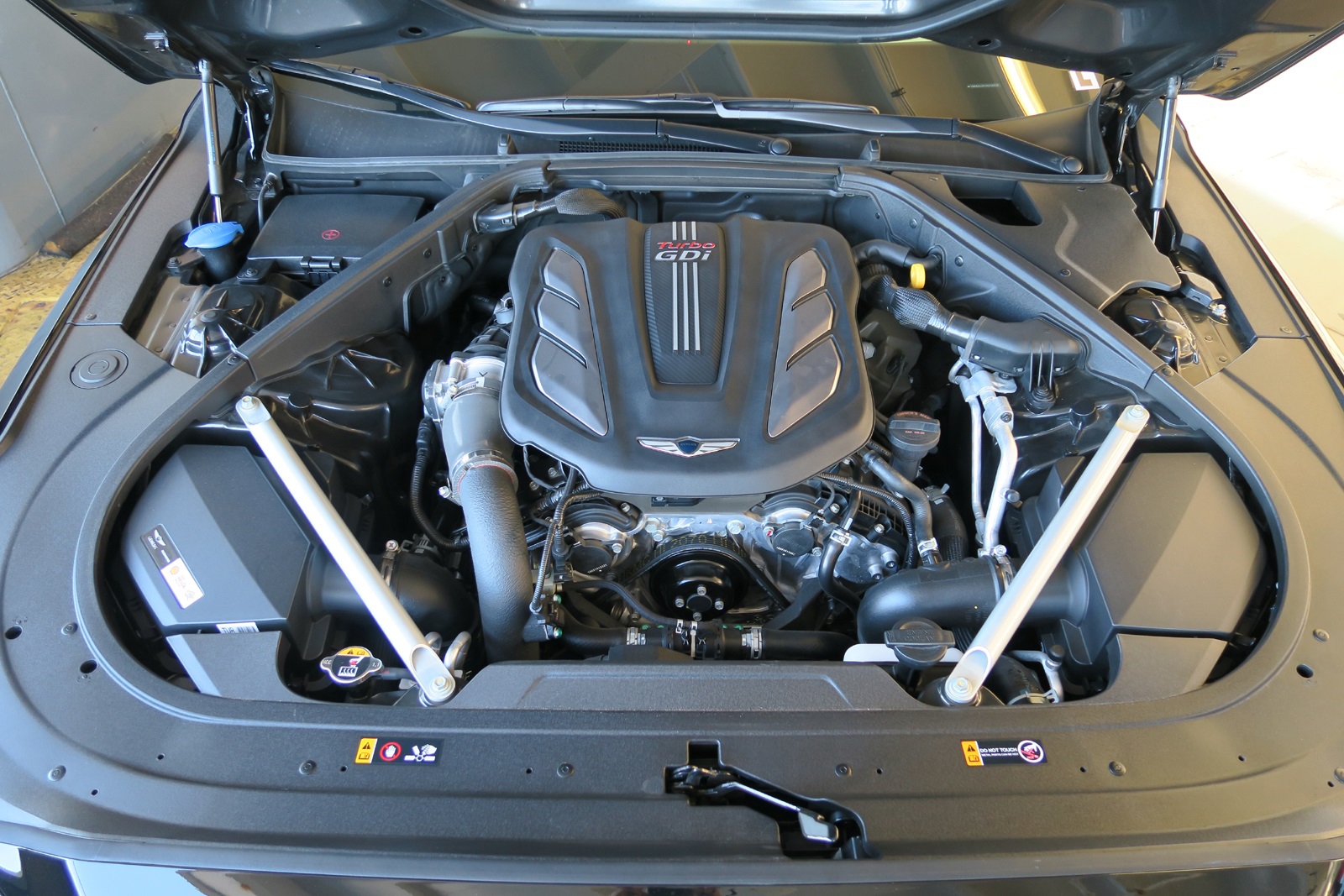 This engine has most major advanced features in the industry. For example:
It has variable valve timing on both of the intake and exhaust ports
The exhaust manifold is fully integrated into the cylinder head, therefore significantly shortens the path length that exhaust air reaches the turbocharger
The turbocharger's bypass valve is electronically controlled
The only major technology that this 3.3T V6 still lacks is the stop-start capability.
Genesis offers this V6T and another 5.0L V8 on the G90. From my test drive, I feel the output and throttle response of the V6T is more than enough to propel our test vehicle (V6T AWD), which Hyundai rates its curb weight to be 4,784 lbs. Most of the turbo lag is hidden by the immediate throttle response, so most consumers are probably unable to sense it.
Since the engine compartment is relatively tight, the air filter boxes are directly under the front reinforce bars. This means you must remove them to change the air filter.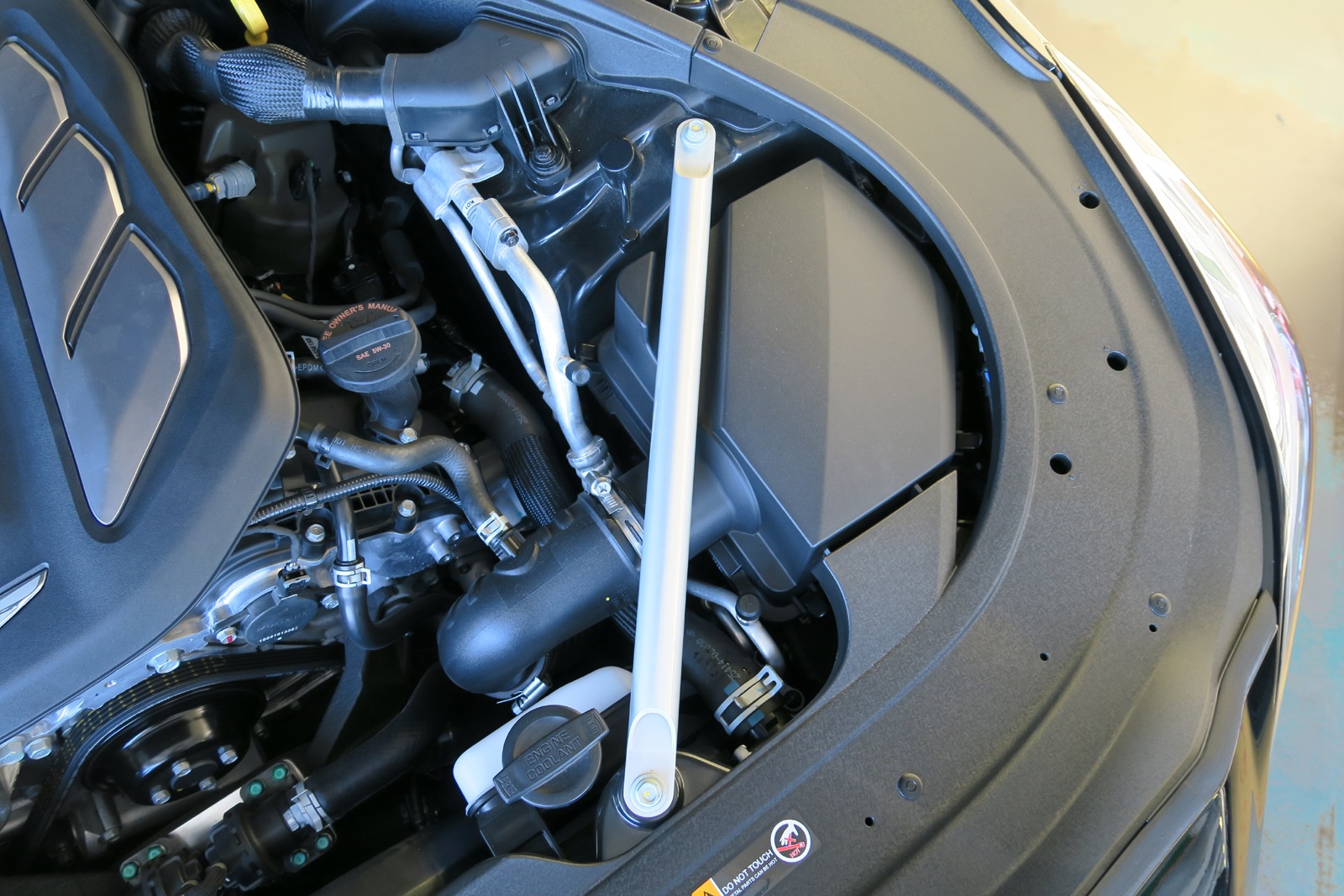 Since the 3.3T V6 has a 60-degree bank angle, its naturally unbalanced. Also, it does not have the balance shaft in the 90-degree V6, therefore the engine exhibits less smoothness which I can definitely tell when driving the G90 – the slight high-frequency vibration is transmitted into the door's armrest and also the driver-seat cushion, which affects the G90's refinement. This is also the reason that why most of other vehicles in this class either use 90-degree V6 or V8 engines.
Transmission and HTRAC AWD System
Both of the V6 and V8 G90s are equipped with the same 8-speed automatic transmission, which is developed solely by Hyundai.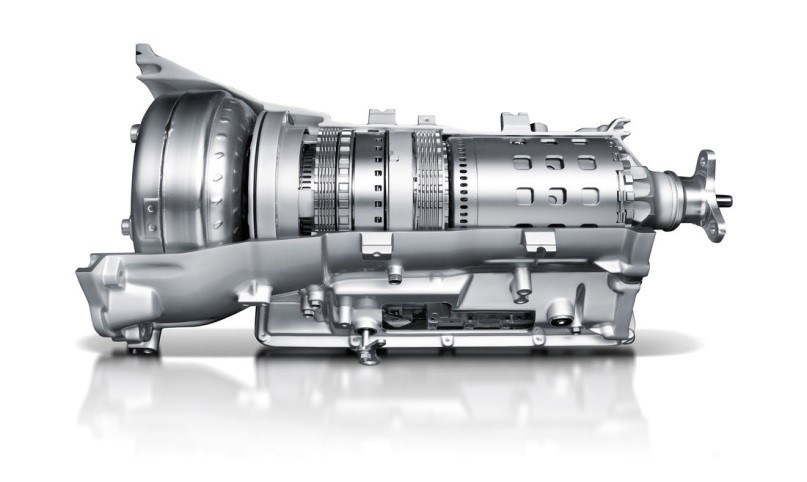 From a US patent (US 7727103 B2) submitted by Hyundai back in December 2007, which clearly shows the design scheme of this 8AT, we can see the differences compared to its peers (ZF 8HP, Aisin AA80, GM 8L series).
We count a compound planetary gear set to be two single gear set, therefore:
Both the ZF and GM 8AT use 4 planetary gear-sets and 5 shift elements; in each gear, only 2 elements are disengaged;
Aisin 8AT uses 3 planetary gear-sets and 7 shift elements; in each gear, 5 elements needs to be disengaged;
The Hyundai 8AT uses 4 planetary gear-sets and 7 shift elements; same as the Aisin unit, it also requires 5 shift elements to be opened in each gear.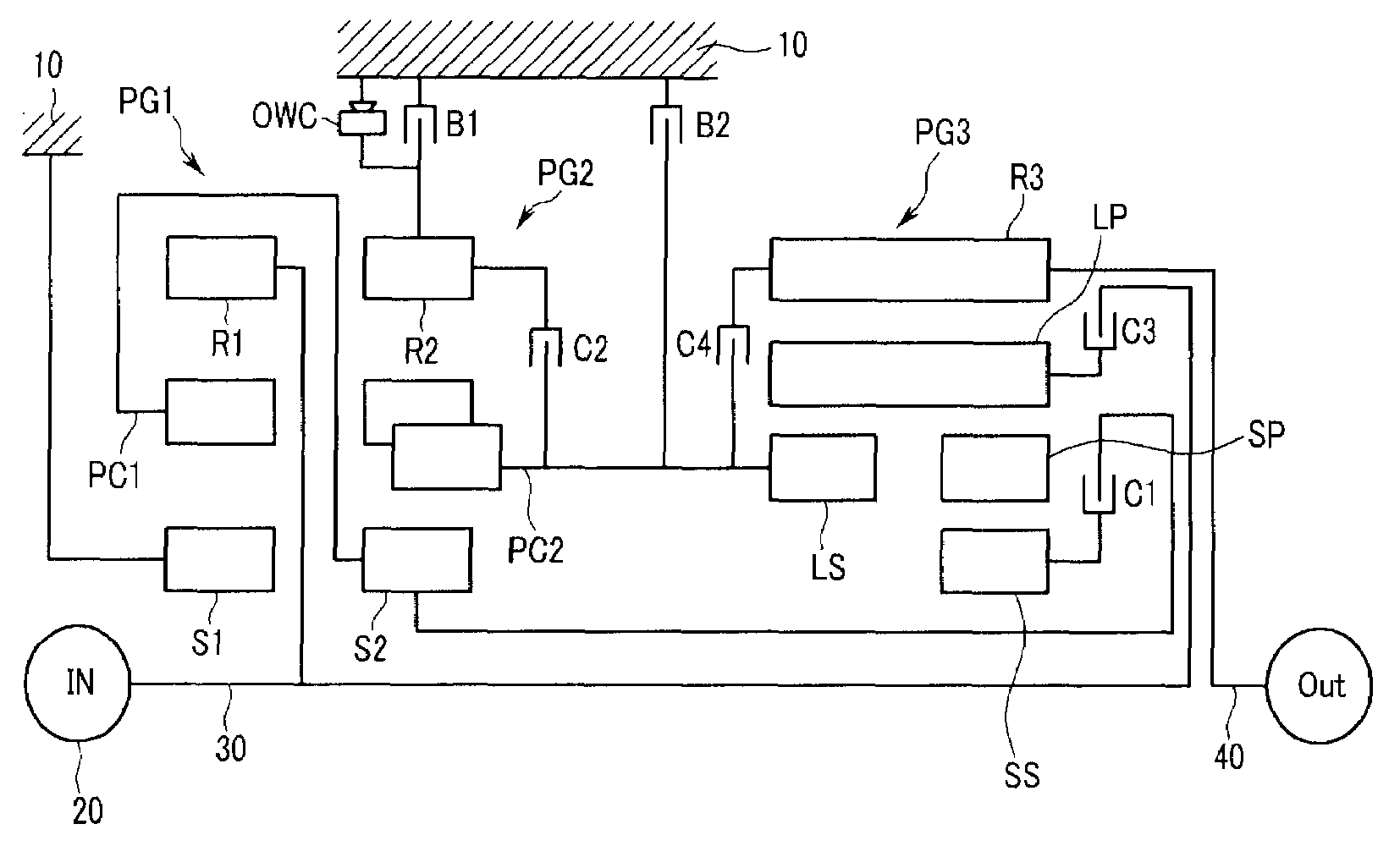 Since disengaged shift element will incur drag effect, the ZF and GM designs have the highest energy efficiency; the Aisin is worse in this aspect, however it is still better than the Hyundai design (because it has one fewer planetary gear-set).
This means: the Hyundai 8AT uses the most complicated design, but gets a non-ideal energy efficiency.
However this is still a respectful achievement for Hyundai, given the fact that it relies only on its R&D to come out with such product, and has reasonable strength to compete with other companies which have been recognized as 1st-class experts in the automobile transmission industry.
During my test drive, the shift speed and quality of the G90's 8AT is as good as its major competitors, you can't tell the difference. For consumer, the above-mentioned disadvantage probably will only show up in the EPA mpg numbers.
Next let's take a look at the HTRAC system, which Hyundai co-developed with Magna.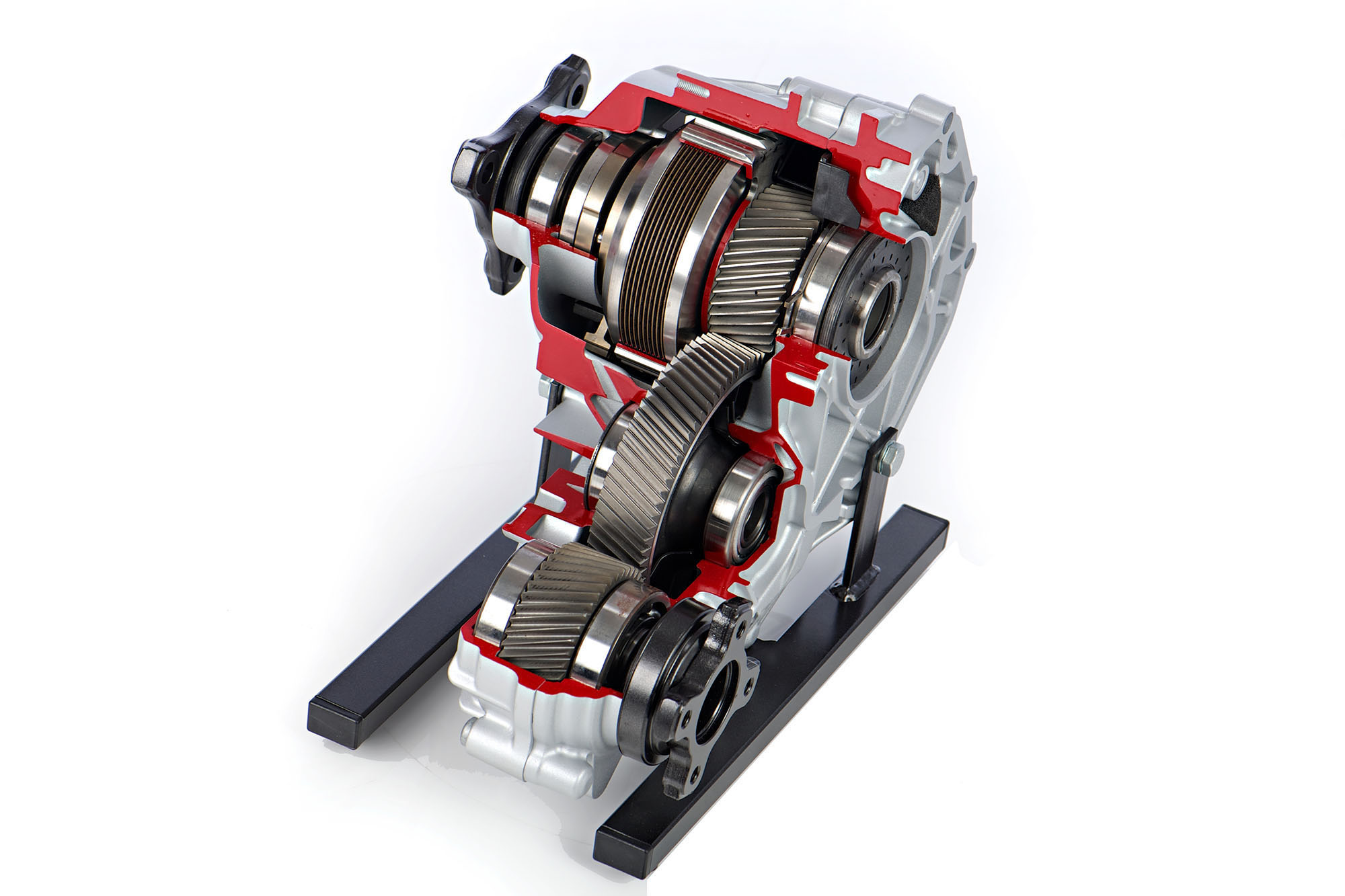 From the hardware aspect, the HTRAC AWD is similar to BMW's xDrive, which uses an electronically controlled multi-plate clutch as power coupling. For every moment during driving, ECU will use data collected from various sensors to determine the optimal front/rear torque split, and varies the pressure within the clutch plates to adjust the power distribution ratio.
There are a total of 4 different drive modes on G90, each mode will have its own transmission shift logic, shock damping rates and also AWD torque distribution settings, for example:
ECO mode: engine will keep RPM low as frequent as possible, and transmission upshifting happens sooner. Also, under normal condition, HTRAC system will disconnect the front wheels, and sending 100% power to the rear wheels;
SMART mode: ECU will collect and analyze your driving habits, and dynamically adjust the transmission shift point and AWD front/rear torque split;
SPORT mode: engine RPM will be kept higher, gear upshifting is later; HTRAC will by default apply 10% torque to the front wheels;
INDIVIDUAL mode: you can customize settings for shock damping rate, transmission/throttle response settings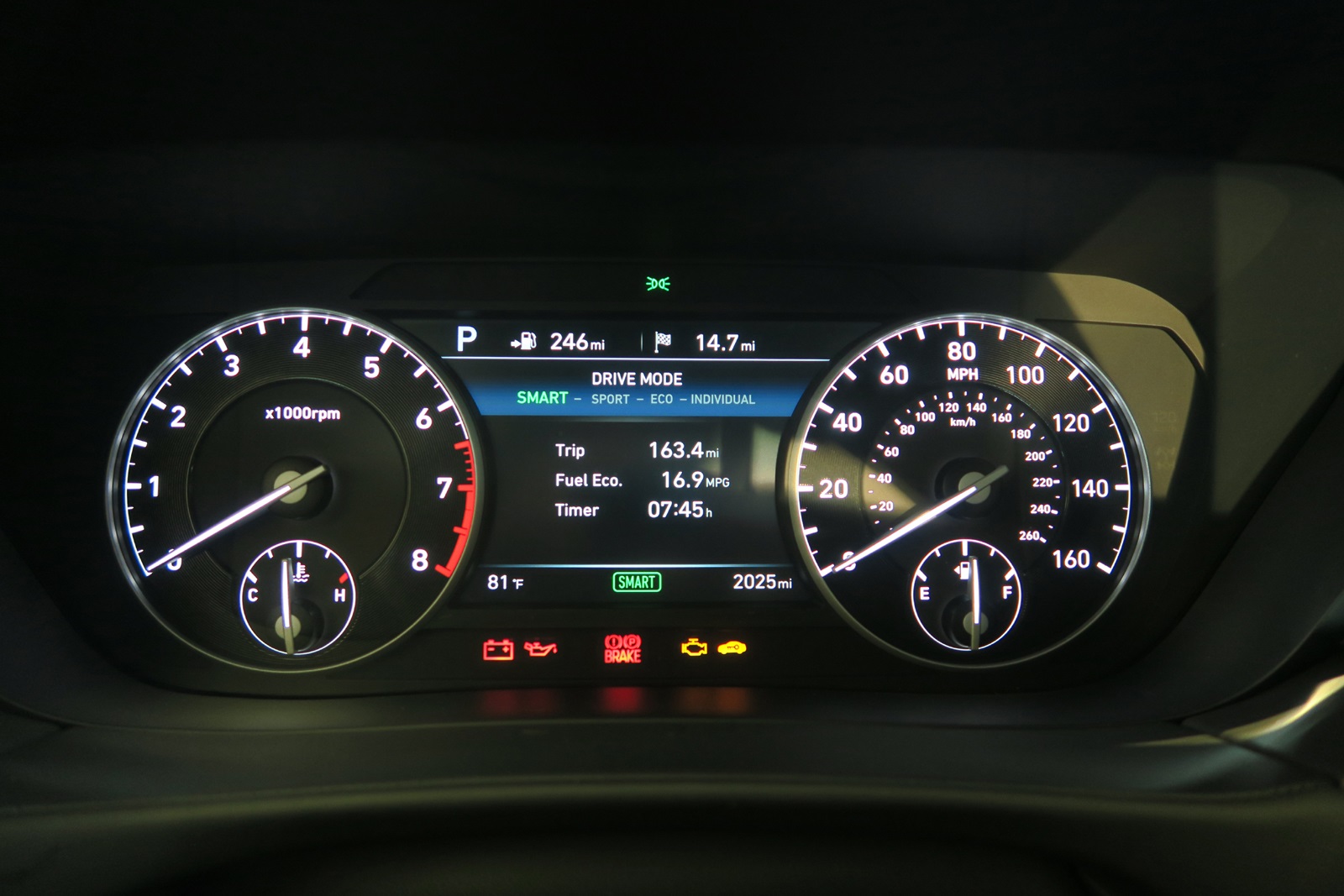 If ECU detects the G90 is running on rough surfaces (for example, road surface has lots of small rocks), the multi-plate clutch will be firmly locked up, which means a 50:50 equal torque distribution.
Briefly speaking, the advantage of the HTRAC system is its quick response (clutch plates are electronically controlled), and also it can achieve full lockup in case both of its rear wheels lose traction.
On the other hand, HTRAC also has its limitations. Since most of the time, both front and rear wheels will not rotate at the same speed, therefore clutch plates in the transfer case will slip frequently. Under long time heavy load, there will be a large amount of wear and heat generated. Therefore this AWD system is not suitable for serious off-roading.
Subjective Test Drive Review
What G90 impress me most is its solid and stable feel. The rigid car body absorbs road surface imperfection perfectly.
Its handling is more tilted to the responsive side. However the ride never has a hint of harshness. This car achieves an delicate balance between comfort and sporty.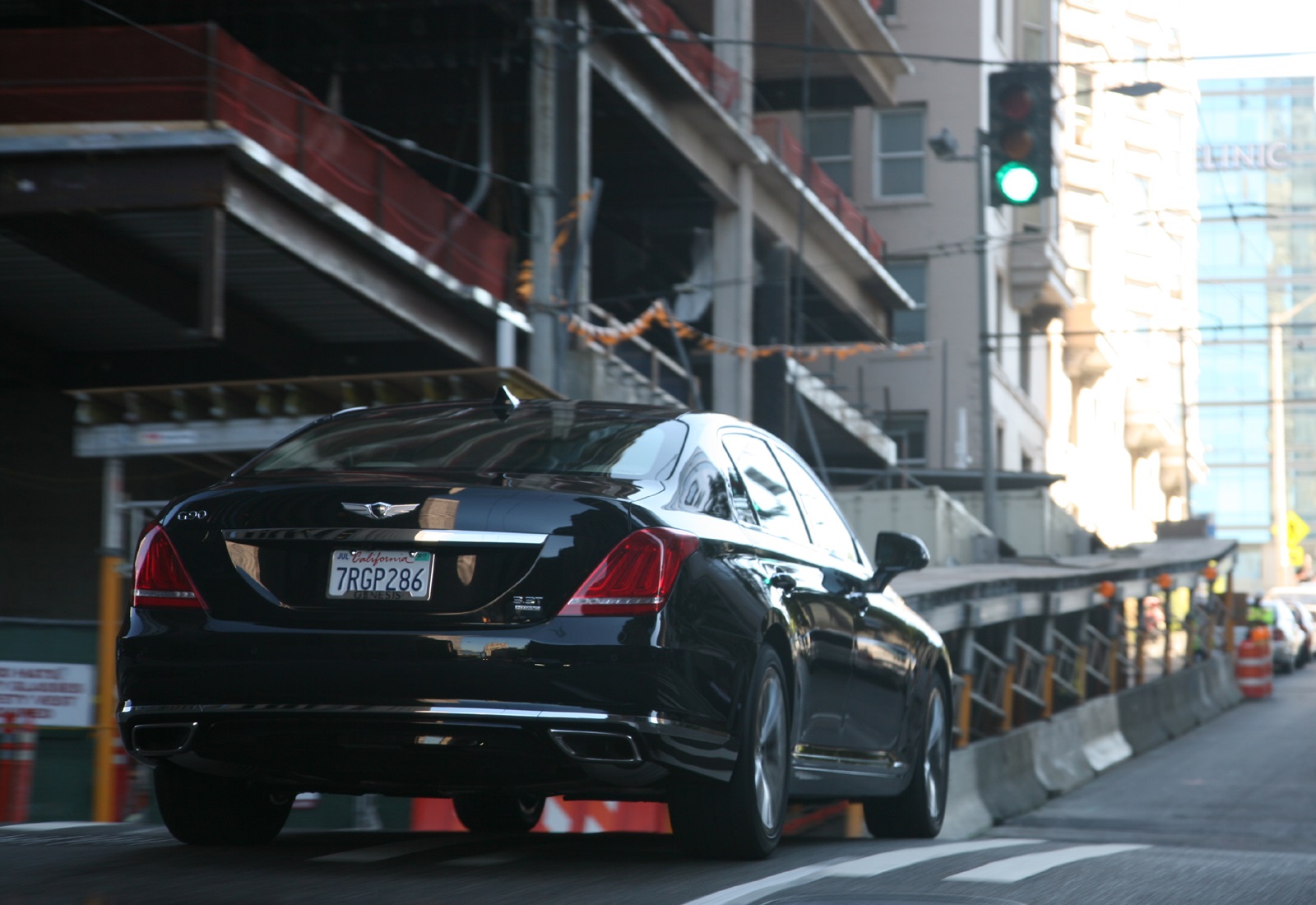 During my test drive, winds are blowing on the Washington State Highway 16. Sitting inside the G90 cabin is like being in another world: the only way you can tell the outside high wind is looking at the swaying trees besides the highway. The cabin is so tranquil that you may even able to hear a needle dropping on the carpet.
All glasses on the G90 are double pane and insulated, which helps to shield the interior cabin from the heat of summer sunlight.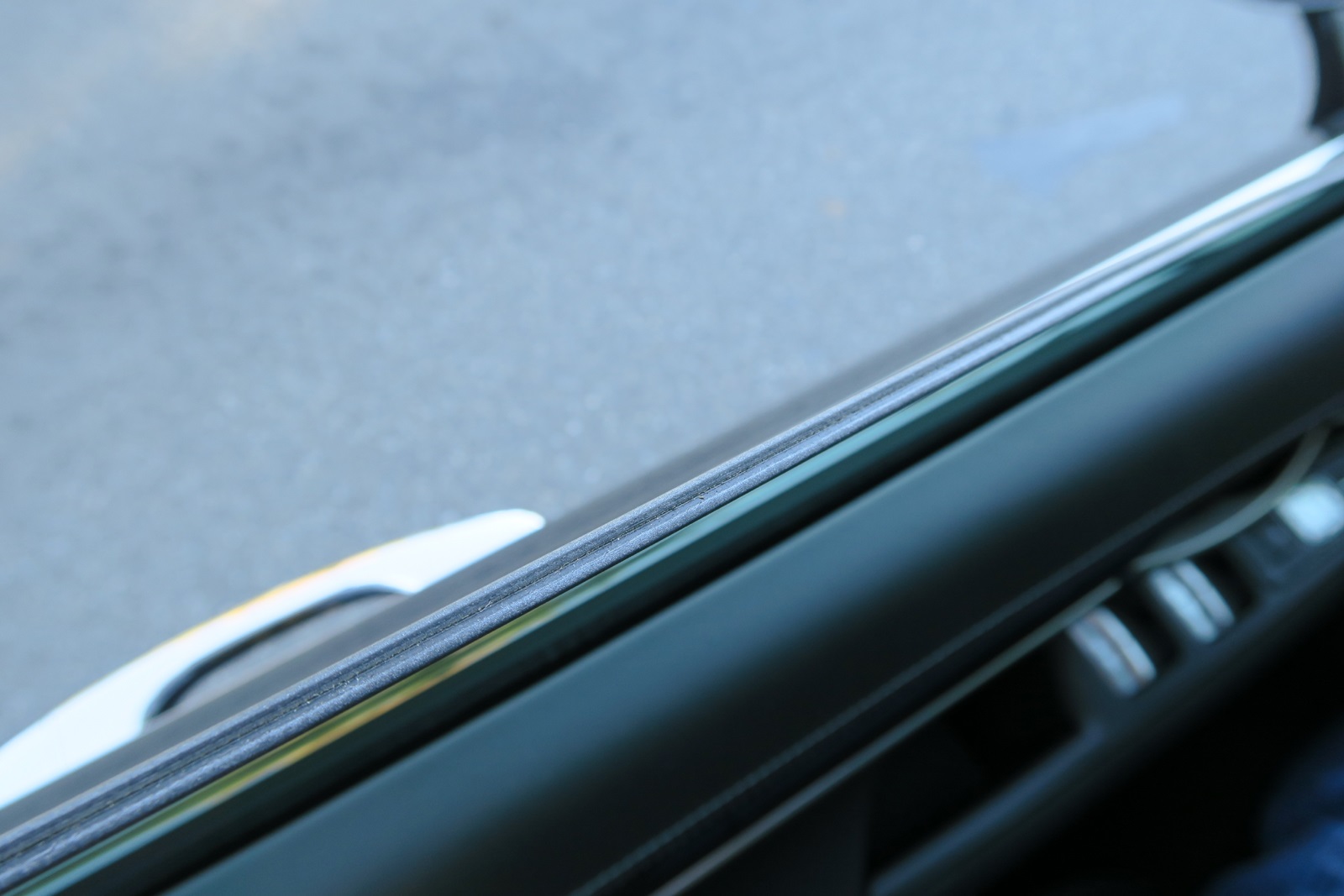 I also like how silent and elegant the seat adjustment works, and how gentle the window glass raise and lower.
Although professional driver will notice the turbo lag, the twin-turbo V6 has very quick throttle response: the engine/transmission will react almost immediately when you depress the gas pedal. In fact during the whole test drive period, unless I want to test its full acceleration ability, the RPM needle seldom passes the 3k mark. So if you are not a person who want the quickest 0-60 time, the V6 trim is more than enough to satisfy you.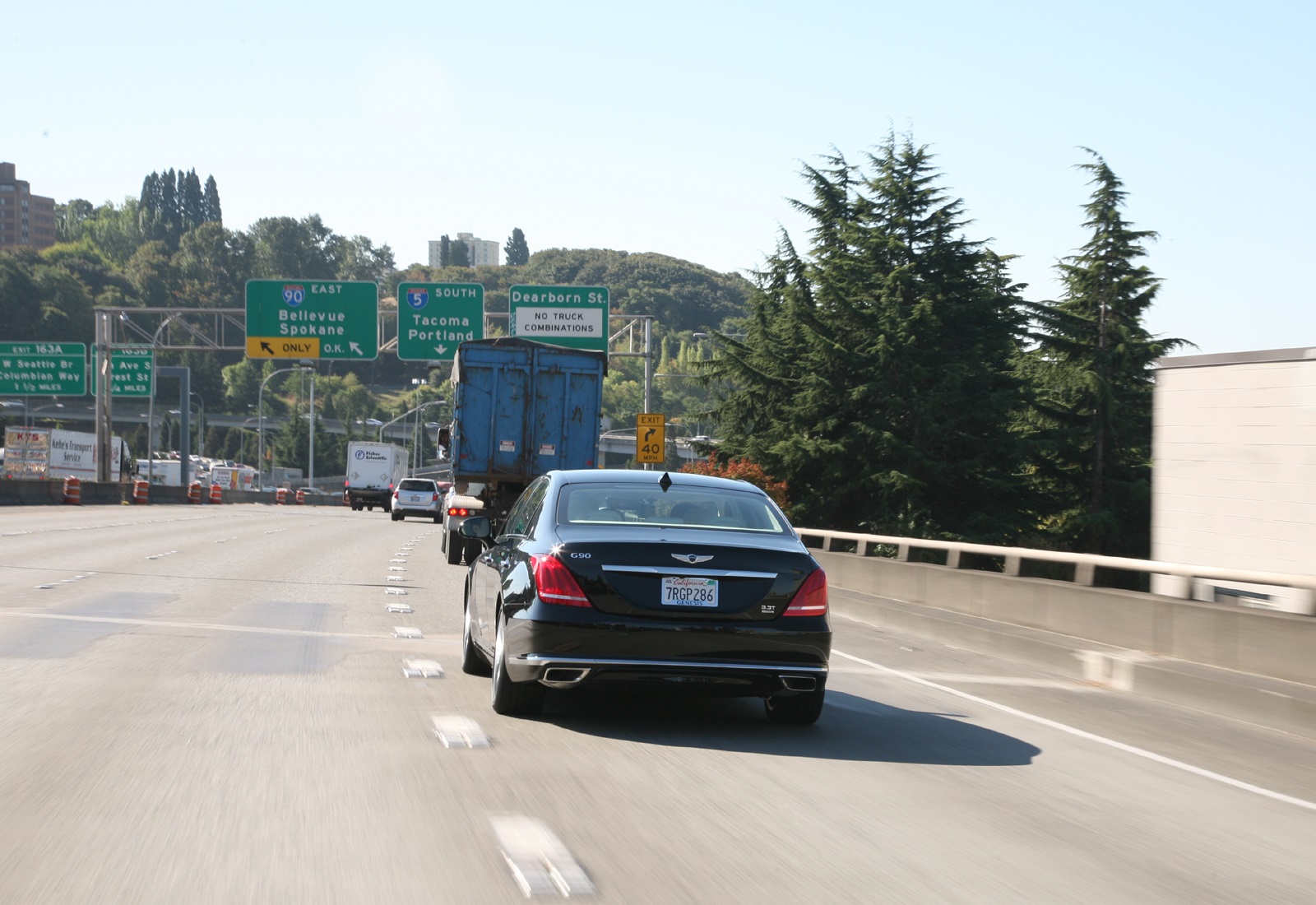 Generally speaking, from the hardware aspect, G90 is very competitive within the class. It gives you equal user experience as other models such as Mercedes S class/BMW 7 Series/Audi A8 etc. Its major weak point mainly lies on its relatively short history and people's unfamiliar with this new brand. Therefore its ultimate success boils down to one factor: pricing. For your reference: both of the G90 V6 and V8 trims starts near $70k, and it undercuts competitors for around $20k – $30k.
Enjoy our high-definition gallery below.
Comments
comments