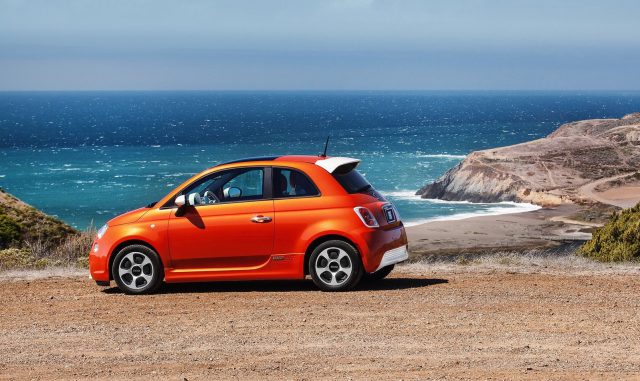 The FIAT 500e is a pure electric car with a 24 kWh liquid-cooled Lithium Ion battery and equipped with an electric motor good for 111 hp and 147 lb-ft of torque.
The 500e can go around 84 miles when fully charged, it is very suitable for most people's daily commute – you save money on gas, plus the benefit of carpool lane sticker (if you live in California, you will understand the importance of having the privilege to use carpool lane anytime you want).
Typical in-stock 500e's MSRP is around $32k to $33k, and it is only for sale in the state of California and Oregon. Benefit from multiple manufacturer and government incentives, you can now drive a 500e with minimum money, or even earn hundreds of dollars! No need to calculate the residual value, money factor etc., below is a lease deal from LA local dealership.

See, you pay NOTHING when take delivery, and then in each of the next 36 months, you only need to pay $49 + your local sales tax, to drive a 2016 500e with MSRP of $32,795. Super good deal, right?
But please pay attention: there are some culprits inside this deal. In fact the $0 drive-off does not mean you can bring home the 500e without any money. You need to pay $3,500 for the drive off; however if you are qualified for the lease conquest incentive ($1,000), you will only need to pay $2,500 on the scene.
But, you can get this $2,500 back from CA state's Clean Vehicle Rebate Project (CVRP rebate), so this effectively equivalent to the $0 drive-off shown in the above advertisement. Therefore it means to get this deal, you have to:
Live in California;
Currently is leasing (or just turned-in) a non FCA brand (Alfa Romeo, Chrysler, Dodge, FIAT, Jeep, Ram) vehicles.
This means, if you are not eligible for the above condition #2, $1,000 is the net amount you will pay at signing.
The deal gets even better if you are a resident of these counties: San Joaquin, Stanislaus, Merced, Madera, Fresno, Kings, Tulare and the San Joaquin Valley Air Basin portion of Kern. Because you can also apply for the Drive Clean! rebate program, which brings you another $3,000 cash. In this case, suppose tax rate = 8% and adding in the final $395 disposition fee when the lease ends, the whole lease not only costs you ZERO dollars, but also let you make ~$700! ($3,000 – $49 X 1.08 – $395)
Please note: as of today, this deal is valid until 10/31/2016.
Comments
comments