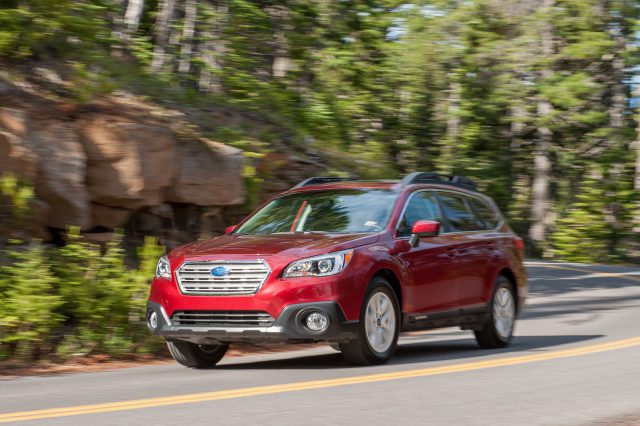 The current 5th-gen Outback started as the 2015 model year back in 2014. As usual, it is now due for a mid-cycle refresh.
We have just heard from Subaru regarding update details of the facelifted 2018 Outback. Compared to the 2017 model, the changes are:
Front and rear styling are revised for a sportier look
Interior trim uses more upscale materials, one more color selection (grey)
Adaptive LED Headlight available as an option
Apple CarPlay and Android Auto are standard, added support for Asian characters in phone book and multimedia title/information display
Added safety features such as: auto door lock with speed, window glass up/down power retained after engine shut off
Upgraded AC compressors with more cooling power; temperature display moved onto the control knob
Added USB ports for the rear seats
Better noise control: window glass thickened, sound isolation enhancements to the wheel wells, new rear view mirror design with less drag coefficient
New chain is used in the CVT which runs quieter under hard acceleration conditions
Generally speaking, changes in the mid-cycle refresh are moderate, but makes the Outback (which is currently the top-of-the-line model within the Subaru brand in US) a more refined vehicle.
The 2018 Outback will be on sale in August this year.
(The featured image is the 2015 Outback, not the upcoming 2018 model)
Comments
comments