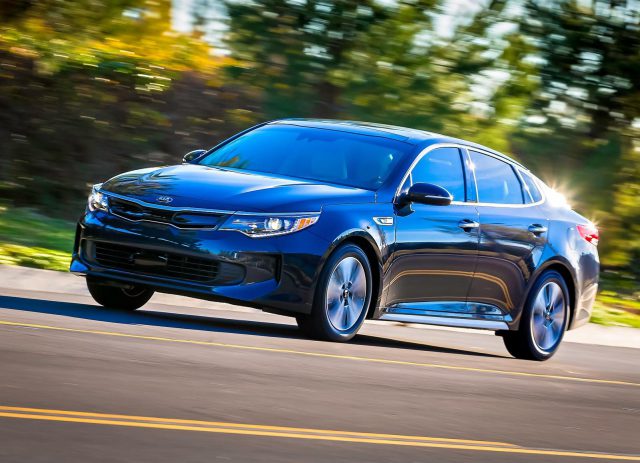 The all-new 2017 KIA Optima will hit the US dealership in 4th quarter this year. To make room for the new inventory, KIA is currently running a test drive event to attract potential consumer to go in-person to test drive the current Optima, and hoping some of them will convert to a buyer.
To make this program more attractive, Kia will give you a $25 Visa Prepaid Card, after you have completed the test drive. Below are steps to guide you through this process:
1. Submit the test drive request online, website link here;
2. After completing the form, you can choose printing out the certificate, or let KIA email you the details. I strongly recommend the email option, for faster processing so you can get your money sooner;
3. If you use the email option, you will receive this email.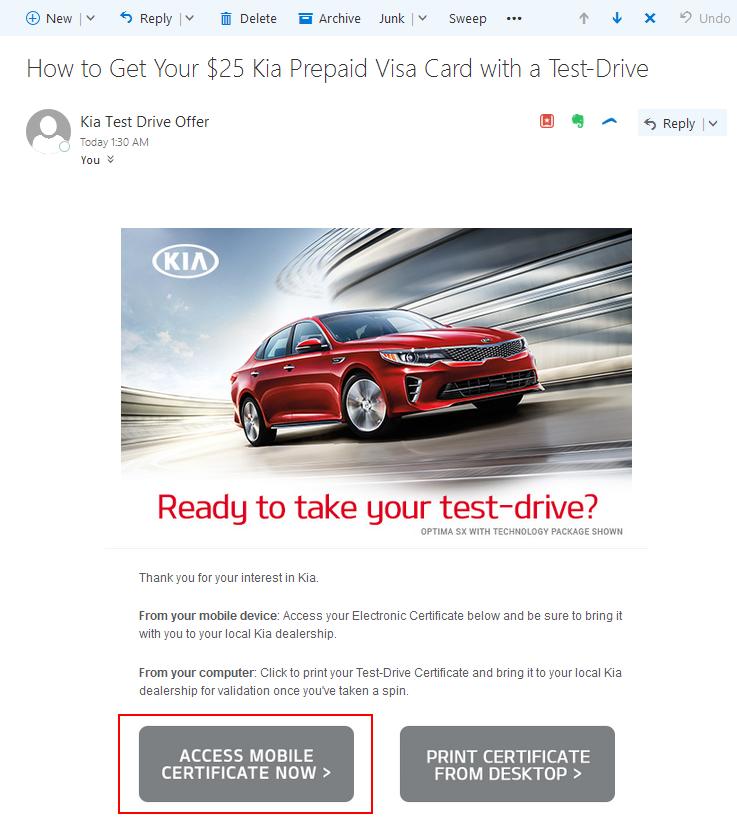 4. Go to your nearest KIA dealership to take a test drive of the Optima or Optima Hybrid; then, click at the above email's "Access Mobile Certificate Now" button, and let the sales consultant fill out the form online, see the next step;
5. You need to put in your email and zip code to verify your information, after that you will come to the below form to proof your test drive. Fill in the form with information provided by the sales consultant (dealer code, sales person name etc.), and click "Submit":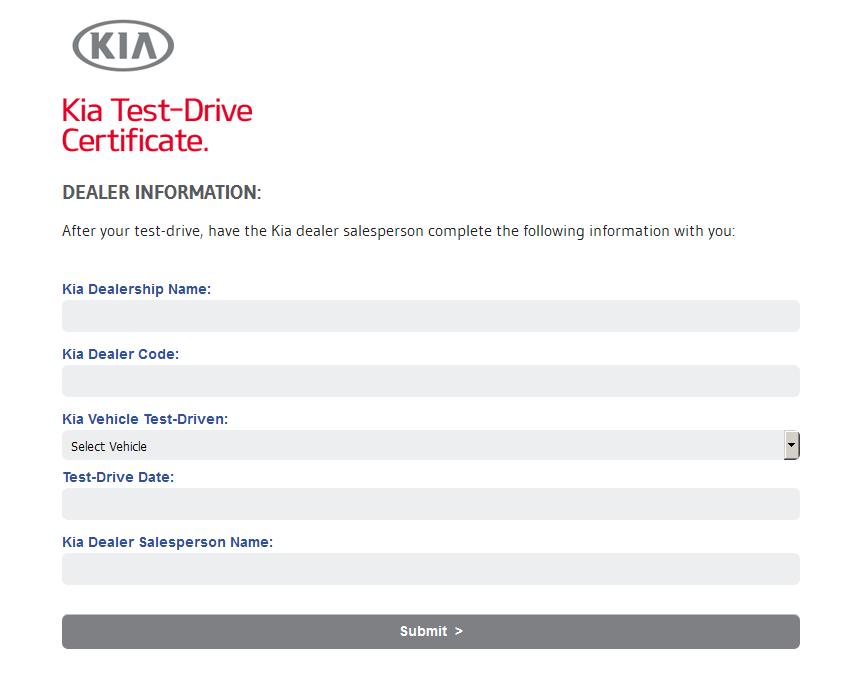 6. You will see this screen if your submission is successful: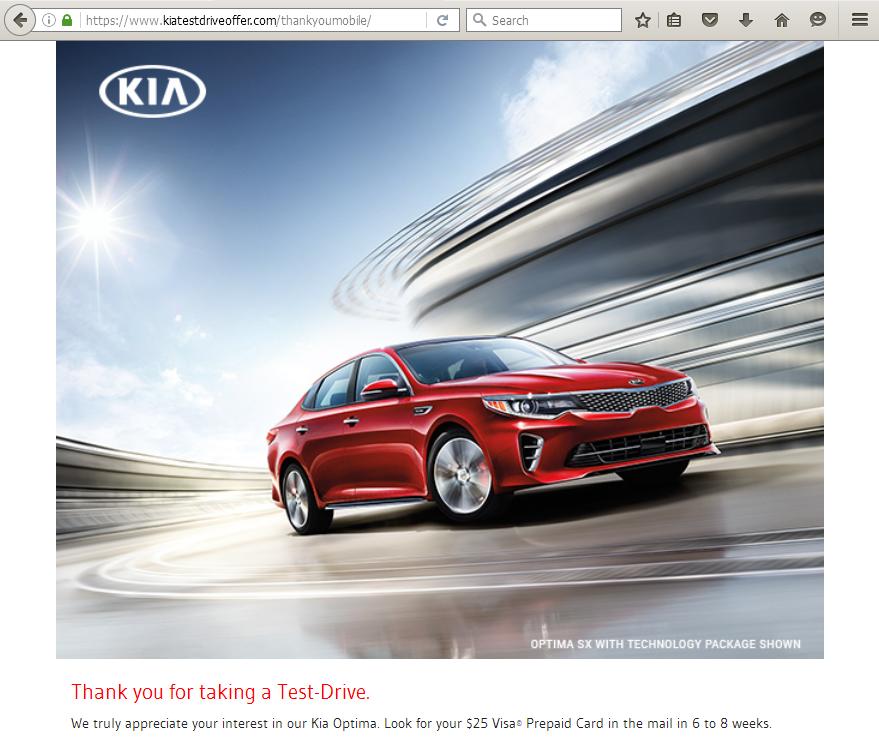 You can check your rebate status by clicking at this link, use the "First Name, Last Name, ZIP" option. Do not worry if you see the status is shown as "invalid", since they need to manually process each rebate so it takes some time to update the status.
In case you forgot to fill out the form at the scene and cannot recall the dealer code, below is a list for your reference:
AK005 – Lithia Kia of Anchorage
AL008 – Dean McCrary Kia
AL012 – East Bay Kia
AL014 – Locklear Kia
AL015 – Serra Kia of Gardendale
AL018 – Crown Kia
AL019 – Bramlett Kia
AL023 – Brewbaker Kia
AL024 – University Kia
AL028 – Riverchase Kia
AL030 – Dothan Kia
AL031 – Kia Store Anniston
AR002 – Bill White Kia
AR004 – Superior Kia
AR007 – Crain Kia
AR012 – Cavenaugh Kia
AR015 – Mark Martin Kia
AZ001 – Royal Kia
AZ019 – Tempe Kia
AZ026 – Peoria Kia
AZ029 – Lawley Kia
AZ030 – Liberty Kia
AZ032 – Mark Kia
AZ034 – Big Bell Road Kia
AZ036 – Desert Kia of Tucson
AZ037 – Oxendale Kia
AZ038 – Zamora Kia of Yuma
AZ040 – Horne Kia
AZ041 – Camelback Kia
AZ042 – Martin Swanty Kia
AZ043 – Salazar Kia
CA058 – Serpa Kia
CA077 – Merced Kia
CA080 – Kia Country
CA081 – Haddad Kia
CA082 – Harper Kia
CA083 – MY Kia
CA085 – Larry Geweke Kia
CA086 – Casa De Gonzales Kia
CA093 – Napa Kia
CA095 – Selma Kia
CA096 – Mother Lode Motors Kia
CA098 – San Luis Bay Motors Kia
CA104 – Geweke Kia
CA107 – North County Kia
CA113 – Fullerton Kia
CA137 – Perris Valley Kia
CA139 – First Kia
CA140 – Glendale Kia
CA144 – Hi-Desert Kia
CA150 – San Leandro Kia
CA159 – Thomason Kia
CA170 – Valley Kia
CA175 – Future Kia
CA185 – Carl Kia
CA186 – Car Pros Kia
CA198 – Kearny Pearson Kia
CA202 – Folsom Lake Kia
CA204 – The Kia Depot
CA205 – Quality Kia
CA206 – Redding Kia
CA207 – Roseville Kia
CA210 – Ball Kia
CA211 – Riverside Kia
CA212 – Citrus Kia
CA214 – Kia of Murrieta
CA215 – Elk Grove Kia
CA217 – Allstar Kia
CA219 – Bay Bridge Kia
CA220 – Swift Kia
CA221 – Covina Valley Kia
CA223 – AV Kia
CA224 – Dublin Kia
CA226 – Kia of Fairfield
CA227 – Kia of El Cajon
CA228 – Kia of Oceanside
CA230 – Kia Sherman Oaks
CA231 – Fuller Kia
CA233 – Valley Kia
CA234 – Michael Stead's Hilltop Kia
CA235 – Kia of Marin
CA237 – Kia of El Monte
CA238 – Weseloh Kia
CA239 – Stockton Kia
CA240 – Kia of Ventura
CA999 – Test Dealer
CO004 – Tynan's Ft. Collins Kia
CO005 – Phil Long Kia
CO007 – Grand Kia
CO009 – Dale Spradley Kia
CO014 – New Country Kia
CO019 – Larry H Miller Kia
CO022 – Shortline Kia
CO023 – Peak Kia
CO027 – Grand West Kia
CO028 – David Solon Kia
CO029 – Longmont Kia
CO031 – Arapahoe Kia
CO032 – Fisher Kia
CO033 – Peak Kia of Greeley
CT006 – Crowley Kia
CT016 – Kia Motors of Old Saybrook
CT017 – Kia of Milford
CT020 – Executive Kia
CT021 – Shaker's Kia
CT022 – Putnam Kia
CT024 – Gary Rome Kia of Enfield
CT025 – Columbia Kia
CT026 – Michael Kia
CT027 – Danbury Kia
DE005 – Martin Kia
DE006 – Selbyville Holly Kia
DE007 – Felton Holly Kia
DE008 – Kia of Wilmington
FL001 – Lee Kia
FL008 – Gatorland Kia
FL010 – Century Kia
FL013 – Gettel Kia
FL015 – Esserman International Kia
FL018 – Coral Springs Kia
FL019 – Galeana Kia
FL021 – Boniface-Hiers Kia
FL025 – Gunther Kia
FL030 – Potamkin Kia
FL039 – Lokey Kia
FL052 – Kia AutoSport
FL056 – Courtesy Kia of Brandon
FL058 – Bill Byrd Kia
FL059 – Friendly Kia
FL060 – Crown Kia
FL062 – Kia AutoSport
FL068 – Alan Jay Kia
FL072 – Family Kia
FL074 – Suncoast Kia
FL075 – Napleton's Kia
FL076 – Kia of Vero Beach
FL077 – Bill Seidle Kia
FL078 – Palm Kia
FL081 – Phil Smith Kia
FL083 – Orlando Kia West
FL085 – Kendall Kia
FL087 – Bob Dance Kia
FL088 – Longwood Carnival Kia
FL090 – West Palm Beach Kia
FL091 – Kia of Leesburg
FL093 – Bev Smith Kia
FL094 – Citrus Kia
FL097 – Key West Kia
FL100 – Precision Kia of Wesley Chapel
FL103 – Premier Kia on Atlantic
FL105 – Hollywood Kia
FL106 – Orlando Kia East
FL107 – Kia of Orange Park
FL109 – Deland Kia
FL110 – Airport Kia
FL111 – Daytona Kia
FL112 – City Kia
FL113 – Regal Kia
FL114 – Delray Kia
FL115 – Huston Motors Kia
GA008 – Kia of Augusta
GA020 – Kia of Union City
GA030 – Kia AutoSport
GA033 – Kia AutoSport
GA037 – Terry Reid Kia
GA047 – Kia at Arbor Place Mall
GA051 – Gwinnett Place Kia
GA053 – Kia Mall of Georgia
GA054 – Kia Atlanta South
GA055 – Kia Country of Savannah
GA061 – Kia of Conyers
GA064 – Carriage Kia
GA065 – Cobb County Kia
GA070 – Mike Murphy Kia of Brunswick
GA073 – Ed Voyles Kia
GA074 – Jeff Smith Kia
GA076 – Terry Reid Bulldog Kia
GA077 – Hutchinson Kia
GA079 – Langdale Kia of Valdosta
GA080 – Pye Kia of Dalton
GA081 – Headquarter Kia
HI001 – Aloha Kia
IA001 – Kia of Des Moines
IA004 – Dick Witham Kia
IA006 – Lake Manawa Kia
IA009 – Kia of Cedar Rapids
IA010 – Shottenkirk Kia
IA011 – Billion Kia of Sioux City
IA012 – Kia of the Quad Cities
IA013 – Mike Finnin Kia
ID007 – Nampa Kia
ID008 – Robert Allen Kia
ID009 – George Gee Kia
ID010 – Dennis Dillon Kia
ID011 – Stone's Kia
IL001 – Arlington Kia in Palatine
IL003 – Liberty Kia
IL008 – Joe Rizza Kia
IL011 – Bill Jacobs Kia
IL014 – Auffenberg Kia
IL016 – Willowbrook Kia
IL017 – Mike Miller Kia
IL027 – O'Brien Kia of Champaign
IL028 – Extreme Kia
IL029 – Courtesy Kia
IL035 – Napleton's Kia of Elmhurst
IL036 – Rock River Kia
IL040 – Evergreen Kia
IL045 – Ogden Kia of North Aurora
IL047 – Green Kia
IL050 – Kia of Bradley
IL051 – Raymond Kia
IL052 – Midway Kia
IL053 – Ward Kia
IL054 – Gerald Kia of Naperville
IL055 – Shottenkirk Kia of Quincy
IL056 – Kia of Schaumburg
IL057 – Gary Lang Kia
IL058 – Classic Kia
IL060 – Grossinger Kia
IL061 – Hawkinson Kia
IL062 – Napleton's River Oaks Kia
IL063 – Bill Walsh Kia
IN001 – Thomas Kia of Highland
IN002 – Southlake Kia
IN003 – Bob Rohrman Kia
IN004 – Ray Skillman Kia
IN006 – Fort Wayne Kia
IN007 – Butler Kia
IN008 – Evansville Kia
IN010 – University Kia
IN013 – Nielsen Kia
IN016 – Kia of Clarksville
IN018 – Ray Skillman Shadeland Kia
IN019 – Gurley Leep Kia on McKinley
IN021 – Burger Kia
IN022 – Ray Skillman Westside Kia
KS001 – Steven Kia
KS003 – Dick Edwards Kia
KS004 – Olathe Kia
KS007 – Shawnee Mission Kia
KS008 – Briggs Kia
KS009 – Frontier Kia
KU004 – KMMG Team Members
KU005 – Technical Education Institutions
KY001 – The Kia Store
KY007 – Mike Smith Kia
KY008 – The Kia Store
KY009 – Martin Kia
KY010 – Jake Sweeney Kia
KY011 – Car Town Kia USA
KY012 – Kia Store East
KY013 – Southeast Kia
KY014 – Bruce Walters Ford Lincoln Mercury Kia
LA001 – Kia of Baton Rouge
LA002 – All Star Kia
LA009 – Barker Kia
LA020 – Kia of New Iberia
LA027 – Sparks Kia
LA032 – Premier Kia of Kenner
LA036 – Sterling Kia
LA038 – Kia of Shreveport-Bossier
LA040 – Ray Brandt Kia
LA042 – Kia of Slidell
LA043 – Kia of Lake Charles
MA006 – Quirk Kia
MA008 – Kia of West Springfield
MA010 – Kia of New Bedford
MA014 – Commonwealth Kia
MA020 – Ron Bouchard Kia
MA026 – Gervais Kia
MA032 – Kia at Sports Auto World
MA033 – Route 6 Automall Kia
MA034 – Wagner Kia of Shrewsbury
MA036 – Courtesy Kia
MA037 – Metro Kia of Raynham
MA038 – Central Kia of Norwood
MA039 – Pride Kia
MA040 – York Kia of Medford
MA043 – Cape Cod Kia
MD002 – Darcars Kia
MD004 – Nationwide Kia
MD006 – Hagerstown Kia
MD008 – Lanham Kia
MD018 – Wheeler Kia
MD023 – Bill Baisey Kia
MD025 – Laurel Kia
MD028 – Bob Bell Kia
MD029 – Sherwood Kia of Salisbury
MD032 – King Kia
MD035 – Thompson Kia
MD036 – Timbrook Kia
MD037 – David Wheeler Kia
MD038 – Bob Bell Kia of Essex
MD039 – O'Donnell Kia
MD042 – M & M Kia of Waldorf
MD045 – Koons Kia
MD046 – Kia of Silver Spring
ME001 – Charlie's Kia
ME002 – Bill Dodge Kia
ME003 – Van Syckle Kia
ME005 – Rowe Kia
ME006 – Prime Kia
MI001 – Glassman Kia
MI002 – Jeffrey Kia
MI007 – Keller Kia
MI008 – Seelye-Wright Kia
MI012 – LaFontaine Kia
MI014 – Thelen Kia
MI015 – Seelye Wright Kia
MI019 – Williams Kia
MI021 – Kia of Ann Arbor
MI022 – Fox Kia
MI023 – Kia of Lansing
MI024 – Summit Place Kia
MI025 – Summit Place Kia of Canton
MI026 – Kia of Grand Blanc
MI027 – Mt. Clemens Kia
MI029 – Tyler Kia
MN001 – Barnett Kia
MN002 – Morrie's Kia of Minnetonka
MN003 – Kia of Brooklyn Park
MN005 – Luther Kia
MN007 – Kia of Duluth
MN008 – Rochester Kia
MN009 – Muscatell Kia
MN010 – Jeff Belzer's Kia
MN012 – Kia of St. Cloud
MN014 – Luther Bloomington Kia
MN015 – Elk River Kia
MO001 – Zeiser Kia
MO003 – Lou Fusz Kia
MO004 – Jack Miller Kia
MO006 – John Youngblood Kia
MO007 – Head Motor Company
MO009 – Auffenberg Kia of Cape Girardeau
MO012 – Roper Kia
MO013 – Anderson Kia
MO017 – Suntrup Kia
MO018 – Bob Sight Independence Kia
MO020 – Kingdom Kia
MO021 – Zeiser Kia North County
MO022 – Jim Butler Kia
MS003 – Kia of Laurel
MS005 – Johnson Kia
MS010 – Kim Beck Kia
MS015 – Dean McCrary Kia
MS016 – Wilson Kia on Lakeland
MS017 – Kia of McComb
MS019 – Pat Peck Kia
MT007 – Rimrock Kia
NC004 – Paramount Kia
NC009 – Bob King Kia
NC016 – Leith Kia of Fayetteville
NC018 – Gerry Wood Kia
NC020 – Deacon Jones Kia
NC024 – Folger Kia
NC025 – Folger Kia South
NC027 – Sale Kia
NC028 – Tri-City Kia
NC031 – Chris Leith Kia
NC032 – Auto Park Kia
NC033 – Pinehurst Kia
NC034 – Stevenson Kia
NC035 – Stevenson Kia of Jacksonville
NC038 – Rogers Kia
NC039 – Paramount Kia of Asheville
NC041 – Lifetime Kia
NC043 – Carolina Kia of High Point
NC044 – Alliance Kia
NC047 – Kia of Monroe
NC048 – Kia of Raleigh
NC050 – Keffer Kia
NC052 – Kia of Gastonia
NC053 – Battleground Kia
NC054 – Lumberton Kia
NC056 – Joe Alcoke's Kia Country
NC057 – University Kia
NC058 – Greenville Kia
ND001 – Grand Forks Kia
ND002 – Bill Barth Kia
NE001 – Kia of Omaha
NE003 – Kia Of Lincoln
NE004 – Kia of Grand Island
NH001 – Peters Kia of Nashua
NH002 – Bournival Kia
NH003 – Rountree Kia
NH005 – Bonneville & Son Kia
NH006 – Berlin City Kia
NH008 – AutoServ Kia
NH009 – Concord Kia
NH010 – Kia of Somersworth
NJ003 – Cherry Hill Kia
NJ004 – Coleman Kia
NJ006 – Maroon Kia
NJ007 – Loman Kia
NJ009 – Mahwah Kia
NJ014 – Fette Kia
NJ026 – RK Kia of Vineland
NJ028 – Burlington Kia
NJ029 – Salerno Duane Kia
NJ037 – Global Kia
NJ038 – Atlantic Kia
NJ043 – Turnersville Kia
NJ044 – Jack Daniels Kia
NJ046 – Kia of Mt Olive
NJ049 – Kia of Hillside
NJ050 – James Kia
NJ051 – Sansone Jr's 66 Kia
NJ052 – Nutley Kia
NJ053 – Jim Curley Kia
NM003 – Jack Key Kia
NM010 – Garcia Kia
NM011 – Cottonwood Kia
NM012 – Hi Country Kia
NM013 – Zia Kia
NV002 – Reno Kia
NV003 – Courtesy Kia
NV008 – Jim Marsh Kia
NV009 – Findlay Kia
NY007 – Kia of Middletown
NY021 – Burdick Kia
NY022 – Northtown Kia
NY023 – Dorschel Kia
NY027 – F.X. Caprara Kia
NY030 – Cooper Kia
NY031 – Garvey Kia
NY039 – Major Kia of Long Island City
NY040 – Eagle Auto Kia
NY044 – West-Herr Kia
NY051 – Kia of the Bronx
NY058 – Kia of East Syracuse
NY061 – Steven's Kia
NY066 – Auto World Kia
NY068 – Vision Kia
NY069 – Country Club Kia
NY073 – Matthews Kia
NY076 – Smithtown Kia
NY078 – Lazare Kia
NY079 – Giuffre Kia
NY080 – Atlantic Kia
NY082 – Fuccillo Kia
NY085 – Kia of Jamestown
NY089 – Kia of New Windsor
NY090 – Fuccillo Kia
NY092 – Transitowne Kia of West Seneca
NY093 – Fuccillo Kia of Clay
NY095 – Kia of West Nyack
NY096 – Maguire Kia
NY097 – Nemet Kia of Jamaica
NY098 – Prestige Kia
NY099 – Dutchess Kia
NY100 – Vision Kia of Canandaigua
NY101 – Durocher Kia
NY102 – Manfredi Kia
NY103 – Paul Brown Kia
OH003 – Halleen Kia
OH007 – Jeff Wyler Kia
OH011 – Bill Doraty Kia
OH016 – Waikem Kia
OH023 – A&B Kia
OH025 – Taylor Kia
OH026 – Hatfield Kia
OH028 – Ricart Kia
OH029 – Matt Castrucci Kia
OH030 – Chesrown Kia Town
OH031 – Preston Kia
OH036 – Jeff Wyler Kia
OH037 – Crown Kia
OH043 – Kings Kia
OH044 – Taylor Kia of Boardman
OH045 – Jeff Wyler Fairfield Kia
OH048 – Spitzer Kia West
OH051 – Mentor Kia
OH053 – Buckeye Kia
OH054 – Van Devere Kia
OH055 – Kia of Bedford
OH057 – Byers Kia
OH059 – Cronin Kia
OH060 – Montrose Tri-County Kia
OH062 – Coughlin Kia
OH063 – Kia of Alliance
OH064 – Superior Kia
OH065 – Classic Kia of Streetsboro
OH067 – Herrnstein Kia
OH068 – Kia of Dayton
OK007 – Ferguson Kia
OK008 – Cable Kia
OK015 – Milo Gordon Kia
OK016 – Primeaux Kia
OK019 – Big Red Kia
OK020 – Bob Moore Kia
OR002 – Beaverton Kia
OR007 – Kiefer's Eugene Kia
OR008 – Ron Tonkin Kia
OR010 – Butler Kia
OR011 – Power Kia
OR012 – Weston Kia
OR014 – Team Kia of Bend
OR015 – Broadway Kia
PA001 – Ryan Kia
PA002 – Kia of Lansdale
PA004 – Murray Kia
PA005 – Brown-Daub Kia
PA011 – Savage Kia
PA013 – Courtesy Kia
PA017 – Wyoming Valley Kia
PA018 – York Kia
PA023 – Keystone Kia
PA024 – C. Harper Kia
PA037 – Lehighton Kia
PA040 – Sunbury Motors Kia
PA041 – New Motors Kia
PA045 – Morrow Kia
PA047 – McCafferty Kia of Mechanicsburg
PA048 – Value Kia
PA050 – Gateway Kia
PA051 – South Hills Kia
PA053 – #1 Cochran Kia of Robinson Township
PA058 – Alexander Kia
PA059 – Kia of West Chester
PA060 – Gateway Kia of Quakertown
PA061 – Ertley Kia
PA062 – McCafferty Kia of Langhorne
PA063 – Monroeville Kia
PA064 – Baierl Kia
PA066 – Sussman Kia
PA067 – Lancaster Kia
PA068 – Smail Kia
PA070 – Mike Kelly Kia
PA074 – Battlefield Kia
PA075 – Team Kia
PA076 – Lion Country Kia
PA077 – Century III Kia
PA078 – Turner Kia
PA079 – Ladd Hanford Kia
PA080 – Jim Shorkey Kia
PA081 – Kia of Coatesville
PA082 – Tri Star Kia
PA083 – Major Kia
PA084 – Fred Beans Kia of Limerick
PA085 – DeSimone Kia
PA086 – Griffin Kia
RI002 – Metro Kia
RI005 – Bald Hill Kia
SC003 – Stokes Kia
SC005 – Kia of Greenville
SC009 – Galeana Kia
SC010 – Good Kia
SC012 – Quality Kia of Greenwood
SC018 – Farrell Kia
SC019 – Kia Country
SC020 – Kia of Greer
SC024 – Kia of Florence
SC025 – Kia of Anderson
SC026 – Myrtle Beach Kia
SC027 – Superior Kia
SD004 – Billion Kia
SD006 – Billion Kia of Rapid City
TN006 – Harry Lane Kia
TN010 – Grindstaff Kia of Johnson City
TN016 – Cookeville Kia
TN021 – Gary Mathews Kia
TN024 – Russell Barnett Kia
TN027 – Gossett Kia
TN030 – Carnival Kia of Rivergate
TN031 – Hickory Hollow Carnival Kia
TN032 – Rusty Wallace Kia
TN034 – Wallace Kia of Bristol
TN036 – Gossett Kia South
TN037 – Rusty Wallace Kia of Morristown
TN038 – Serra Kia of Jackson
TN039 – Kia of Chattanooga
TX002 – Ancira Kia
TX010 – Joe Myers Kia
TX013 – Crown Kia
TX014 – Mitchell Kia
TX018 – Bert Ogden Kia
TX021 – Dennis Eakin Kia
TX022 – DeMontrond Kia
TX026 – Huffines Kia
TX028 – Kelly Grimsley Kia
TX031 – Bert Ogden Harlingen Kia
TX032 – World Car Kia
TX036 – Miller Kia
TX041 – World Car Kia New Braunfels
TX048 – Central Kia
TX050 – Gene Messer Kia
TX053 – Crown Kia
TX055 – Legend Kia
TX056 – Southwest Kia
TX057 – Barrett Brothers Kia
TX058 – South Point Kia
TX065 – Central Kia of Irving
TX071 – Moritz Kia
TX072 – Capitol Kia
TX073 – Van Griffith Kia
TX076 – Pete's Car Smart Kia
TX079 – Westside Kia
TX081 – Central Kia of Lewisville
TX083 – Classic Kia
TX084 – Viva Kia
TX088 – Southwest Kia
TX090 – Cowboy Kia of Conroe
TX092 – Expo Kia
TX093 – World Car Kia
TX097 – Southwest Kia-NW
TX098 – Community Kia
TX099 – Huffines Kia McKinney
TX102 – Bob Utter Kia
TX103 – Southwest Kia
TX104 – Moritz Kia of Hurst
TX105 – Classic Kia
TX106 – Archer Kia
TX108 – Fredy Kia
TX109 – Cantwell Kia
TX112 – Patterson Kia
TX113 – Killebrew Kia
TX114 – Family Kia
TX115 – Kia of Arlington
TX116 – Sterling Kia
UT005 – Wasatch Front Kia
UT008 – Christopher Kia
UT010 – Christopher Kia, Salt Lake
UT011 – First Choice Kia
UT013 – Doug Smith Kia
VA001 – Pence Kia
VA006 – Greenbrier Kia
VA007 – Hart Kia
VA013 – Dulles Kia
VA016 – Bay Kia
VA023 – Dominion Kia
VA024 – Patrick Kia
VA025 – Steven Kia
VA026 – Lynnhaven Kia
VA027 – Parsons Kia
VA028 – Williamsburg Kia
VA037 – Blackwell Kia
VA039 – Price Kia
VA042 – Berglund Kia
VA043 – Casey Kia
VA044 – Motor Mile Kia
VA045 – Fredericksburg Kia
VA046 – AIC Kia of Manassas
VA047 – Nelson Kia
VA048 – Beyer Kia
VA049 – Falls Church Kia
VA051 – Ourisman Chantilly Kia
VA052 – Koons Kia
VA053 – Charlie Obaugh Kia
VA054 – Pearson Kia
VA055 – Fairfax Kia
VT001 – Berlin City Kia of Burlington
VT002 – Capitol City Kia
WA003 – Auburn Valley Kia
WA005 – Hanson Kia
WA008 – Kia of Puyallup
WA011 – Performance Kia
WA012 – Chuck Olson Kia
WA013 – Overturf Kia
WA014 – Renton Kia
WA015 – Jerry Smith Kia
WA018 – Wenatchee Kia
WA020 – Smith Kia of Bellingham
WA022 – Valley Kia
WA023 – Hoover Kia
WA024 – Spokane Kia
WA025 – Car Pros Kia
WA027 – Dick Hannah Kia
WA029 – Lee Johnson Kia
WI001 – Rosen Kia
WI003 – Ewald Kia of Oconomowoc
WI004 – Capitol Kia
WI006 – Frank Boucher Kia
WI008 – Palmen Kia of Kenosha
WI009 – Russ Darrow Kia
WI010 – Dorsch Kia
WI011 – Russ Darrow Appleton Kia
WI012 – Harms Kia
WI014 – Prestige Kia
WI016 – Russ Darrow Madison Kia
WI019 – Russ Darrow Kia Waukesha
WI020 – Brenengen Kia
WI022 – Russ Darrow Kia of Wauwatosa
WI023 – Dick Brantmeier Kia
WI025 – Kocourek Kia
WV001 – White Kia
WV003 – Warner Kia
WV005 – Dutch Miller Kia
WV011 – Hometown Kia
WV012 – Freedom Kia
WV013 – Cole Kia
WY002 – Kia of Cheyenne
WY003 – Kia of Casper
Comments
comments