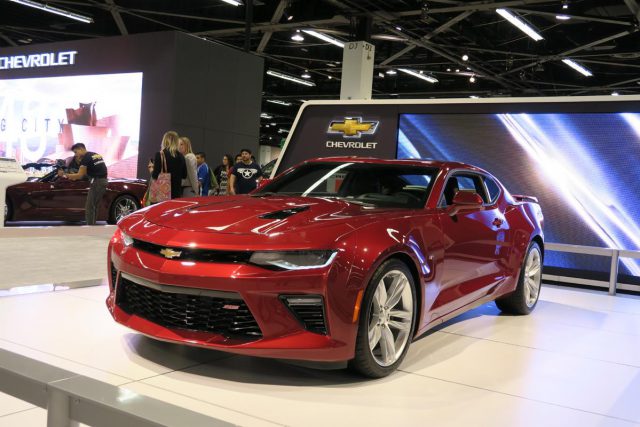 Today in the 2015 Orange County Auto Show, Chevrolet displayed a production version of the all-new, 6th-gen 2016 Camaro SS.
Although they look to be very similar from outside, the 2016 Camaro is totally different than the 2010-2015 Camaro. The former is based on the GM Alpha platform, while the later one is developed on the Zeta platform, a platform designed by GM's Australian subsidiary unit Holden.
Chevrolet claimed the latest Camaro has shed around 200 lbs of weight compared to its predecessor (5th-gen Camaro 2010 – 2015), although this can be partially attributed to more usage of advanced lightweight materials (aluminum alloy) in the body construction and more thoughtful design, another important factor that helped the weight reduction is the 2016 Camaro's smaller dimensions – compared to the 2015 Camaro, the 2016 model has shorter wheelbase, and smaller length/width/height.
Due to various enhancements in its design, the 2016 Camaro has an increase of 28% in the car body's torsional rigidity.
For the 2016 model year, Chevrolet offers a total of 3 different engines on the Camaro: the 275hp turbo 2.0L  I4, the 335hp 3.6L V6 and also the glorious 455hp 6.2L LT1 V8 (you can also see this engine in the Stingray Corvette) . Different than Ford Mustang's approach, which the 4-cylinder EcoBoost trim is sitting higher than the naturally aspirated V6 trim, Chevrolet places the turbocharged 4-cyl as the most base level trim.
We will provide the test drive review once we have the chance to source a test vehicle, stay tuned. At this moment, I invite you to enjoy our exclusive photo gallery below, taken live from today's 2015 OC Auto Show.
Click to view the 2016 Camaro spec
2016 Chevrolet Camaro Preliminary Specifications
Overview
Body style / driveline:
four-passenger, front-engine, rear-drive coupe
Construction:
unitized body frame, one- and two-sided galvanized steel
EPA vehicle class:
coupe
Manufacturing location:
Lansing, Mich.
Engines
2.0L Turbocharged I-4 VVT DI
3.6L V-6 VVT DI
6.2L V-8 VVT DI
Displacement (cu in / cc):
122 / 1998
222 / 3640
376 / 6162
Bore & stroke (in / mm):
3.39 x 3.39 / 86 x 86
3.74 x 3.37 / 95 x 85.6
4.06 x 3.62 / 103.25 x 92
Block material:
cast aluminum w/ cast-in-place iron bore liners
cast aluminum w/ cast-in-place iron bore liners
cast aluminum w/ cast-in-place iron bore liners
Cylinder head material:
cast aluminum
cast aluminum
cast aluminum
Valvetrain:
DOHC, four valves per cylinder, continuously variable valve timing
DOHC, four valves per cylinder, continuously variable valve timing; Active Fuel Management
overhead valve; two valves per cylinder; Active Fuel Management
Fuel delivery:
direct high-pressure fuel injection
direct high-pressure fuel injection
direct high-pressure fuel injection
Compression ratio:
9.5:1
11.5:1
11.5:1
Horsepower (hp / kW @ rpm):
275 / 205 @ 5600*
335 / 250 @ 6800*
455 / 339 @ 6000*
Torque (lb-ft / Nm @ rpm):
295 / 400 @ 3000-4500*
284 / 385 @ 5300*
455 / 617 @ 4400*
*SAE certified
Transmissions
Tremec TR3160 6-speed manual (2.0T and 3.6L)
Tremec TR6060 6-speed manual with Active Rev Match (6.2L)
Hydra-Matic 8L45 8-speed automatic (2.0L and 3.6L)
Hydra-Matic 8L90 8-speed automatic (6.2L)
Gear ratios (:1):
First:
4.40
2.66
4.62
4.56
Second:
2.59
1.78
3.04
2.97
Third:
1.80
1.30
2.07
2.08
Fourth:
1.34
1.00
1.66
1.69
Fifth:
1.00
0.74
1.26
1.27
Sixth:
0.75
0.50
1.00
1.00
Seventh:
–
–
0.85
0.85
Eighth:
–
–
0.66
0.65
Reverse:
3.99
2.90
3.93
3.82
Final drive ratio:
3.27
3.73
3.27 (2.0L)
2.77 (3.6L)
2.77
Chassis / Suspension / Brakes
Front:
MacPherson-type strut with dual lower ball joints, twin-tube struts and direct-acting stabilizer bar; Magnetic Ride Control with monotube inverted struts (avail. on SS)
Rear:
independent five-link with twin-tube shocks and direct-acting stabilizer bar; Magnetic Ride Control with monotube shocks (avail. on SS)
Steering type:
ZF rack-mounted electric, power-assisted and variable ratio
Brakes:
four-wheel disc with four-channel ABS/TCS w/ DRP
Dimensions
Wheelbase (in / mm):
110.7 / 2811
Overall length (in / mm):
188.3 / 4784
Overall width (in / mm):
74.7 / 1897
Overall height (in / mm):
53.1 / 1348
Track, front (in / mm):
62.5 / 1588 (LT)
63 / 1601 (SS)
Track, rear (in / mm):
63.7 / 1617 (LT)
62.9 / 1598 (SS)
Headroom (in / mm):
36.6 / 930 (front)
Legroom (in / mm):
42.6 / 1083 (front)
Comments
comments