We all know full-size flagship sedan is a big deal for any luxury brand. Of course, Lexus treat this really serious. It has been almost half year since our last update on the upcoming 5th-gen Lexus LS sedan.
Today we get more updates from various sources, listed below:
3.5L V6 hybrid powertrain is the same as the one in the LC500h

LS F will debut in 2018, powered by a twin-turbo V8, rated at ~620 ps (612 bhp, same as the upcoming LC F coupe)

A new variant using fuel cell powetrain will be offered in 2018 too

JDM version will be mirrorless (no side mirrors at all), and using a camera-based system acting as the side mirrors; US market version depends on changes in federal regulations

Dimensions (mm): 5,225 (L), 1,900 (W); wheelbase: more than 3000 (118.1 in)

Starting MSRP may be 18% more than the current LS
Here is a rendering of the 2018 LS by the Japanese magazine Best Car, which is said to be very close to the final production vehicle.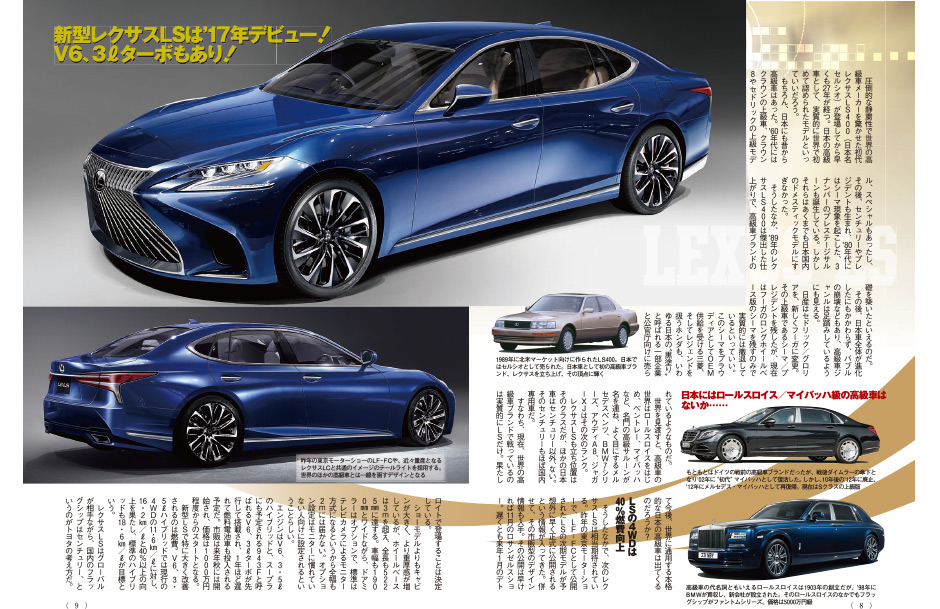 For specification of the new 3.0L twin-turbo V6 (to be used on the base LS), please see our report here.
For your reference, below is the highlights for the 2018 Lexus LS as can be seen in our previous article:
Two powertrain options at initial launch: 5.0L V8 (~460 hp), 3.5L Atkinson cycle V6 + Electric motor
A twin-turbocharged V6 (~350 hp) will be offered later on
Aisin 10-speed automatic transmission (with aluminum-made gearsets) for the non-hybrid trims; ECVT + 4-speed automatic transmission for the hybrid version
Car body torsional rigidity over 45,000 Nm/deg
Major structural components are using ultra high strength steel (UHSS) or high strength steel (HSS)
Front strut tower are cast-aluminum; Front sub-frame, suspension links, bumper, hood, door skin are all aluminum too
Rear sub-frame is steel
Certain non-critical structural parts will use carbonfiber composite
Front suspension: double-wishbone with double-joint upper arm; Rear suspension: multi-link
LS500 RWD curb weight will be around 4,300 lbs
We will keep you updated when more news comes in, so please stay tuned.
Comments
comments