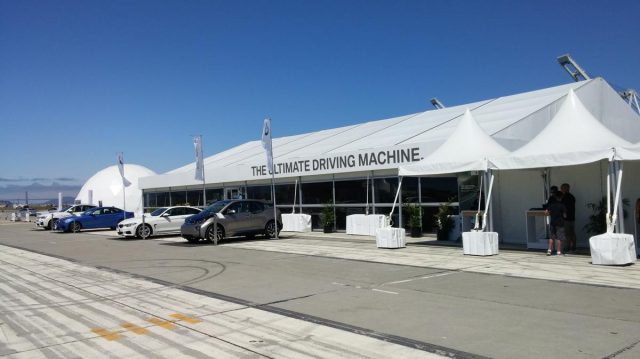 This is the second article in our Car Buying Guide series:
---
If you are buying a BMW, do not simply walk into the dealership and negotiate the selling price. You need to do some homework and due diligence, unless you do not want to save some money.
The first step is to find out what factory/regional official incentives/rebates that you can take advantage of. This type of incentive/rebate is like free money, and you can get it immediately without any negotiation. So it definitely worth your time to find out this information.
Below are major typical BMW incentives/rebates I have known so far. If you find I miss anything, you are welcome to send tips to me.
BMW Ultimate Driving Experience
The BMW Ultimate Driving Experience ("UDE") is an event hosted by BMW, in which you can test drive various BMW models, and even do an autocross session.
The event is completely free. By participating in it, you can get an incentive coupon which is good for purchasing any new BMW models within the United States.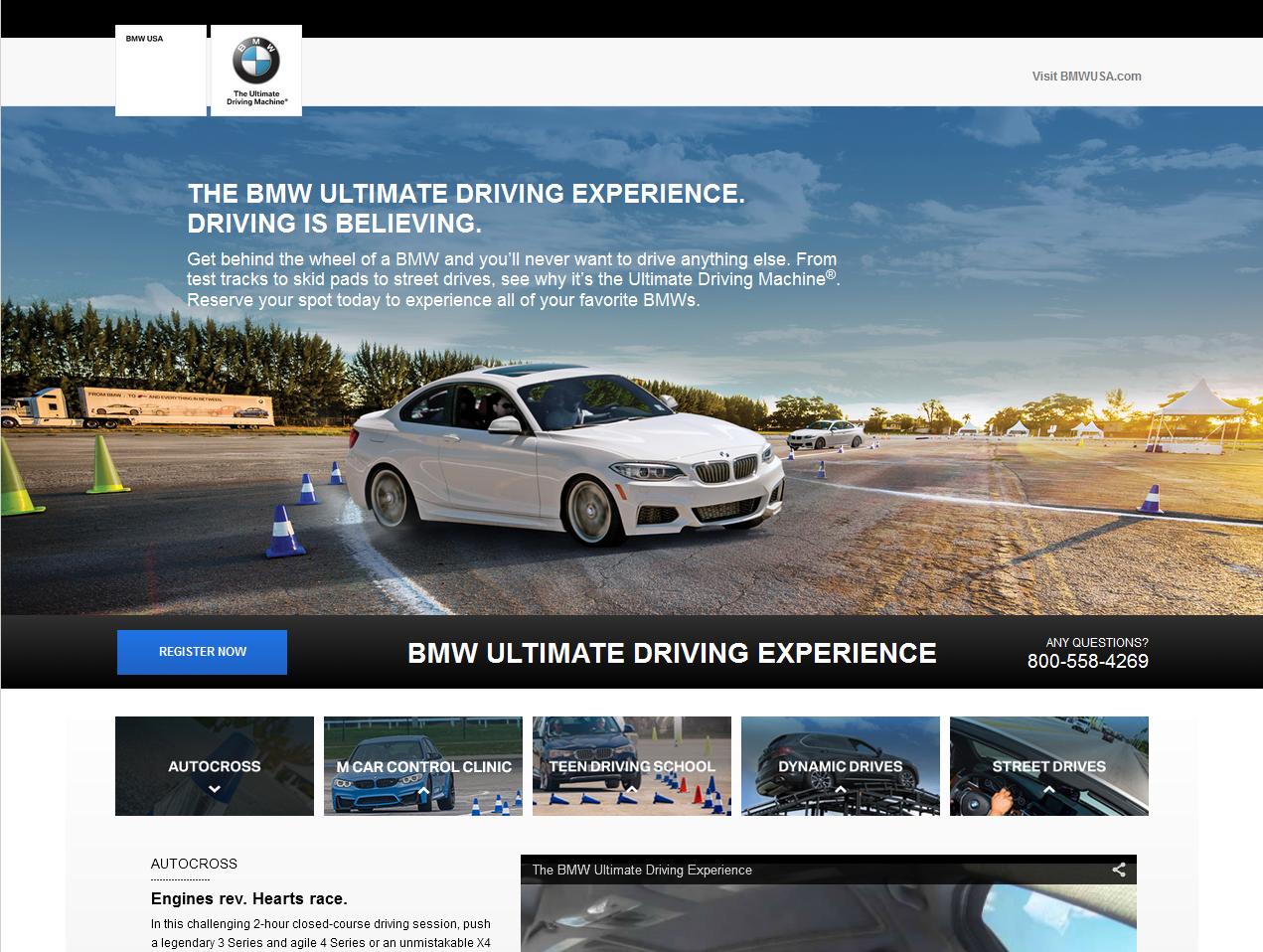 As of 2015, the incentive value is $1,000. The process is simple:
Check and find all upcoming event locations, then register at the BMW official website: BMW National UDE
Go to the event. Remember to check in using your information supplied in step #1
Upon completing the test drive, you will receive the $1,000 coupon code in your email
The coupon code will typically arrive within several hours to 24 hrs. If you do not receive anything, call BMW UDE (800-558-4269) to get your code.
This coupon can be stacked onto almost any other BMW incentives, but please make sure you get and present the coupon code BEFORE purchasing or placing the order.
Here is the fine print from BMW: "Offer not valid for vehicles delivered prior to event attendance or customer orders placed prior to event attendance".
So please keep this in mind. For example, if you placed an order for a new BMW, then after several days you participated the UDE event and get the coupon code, then this $1,000 coupon is ineligible for your order, even if the car you ordered has not been manufactured in the BMW factory!
There are some restriction of using the BMW UDE incentive, for example if you are using the BMW European Delivery program, then you can not use this UDE incentive. And you cannot use the UDE incentive and also the "Drive for Team USA" incentive (see below) at the same time.
BMW Drive for Team USA
This is similar to the Ultimate Driving Experience event, and the reward is also the $1,000 coupon.
The difference between Drive for Team USA and UDE is: the Drive for Team USA event is held at your local BMW dealership.
You can check which local dealership holds this event in the near future at BMW webiste: BMW Drive for Team USA.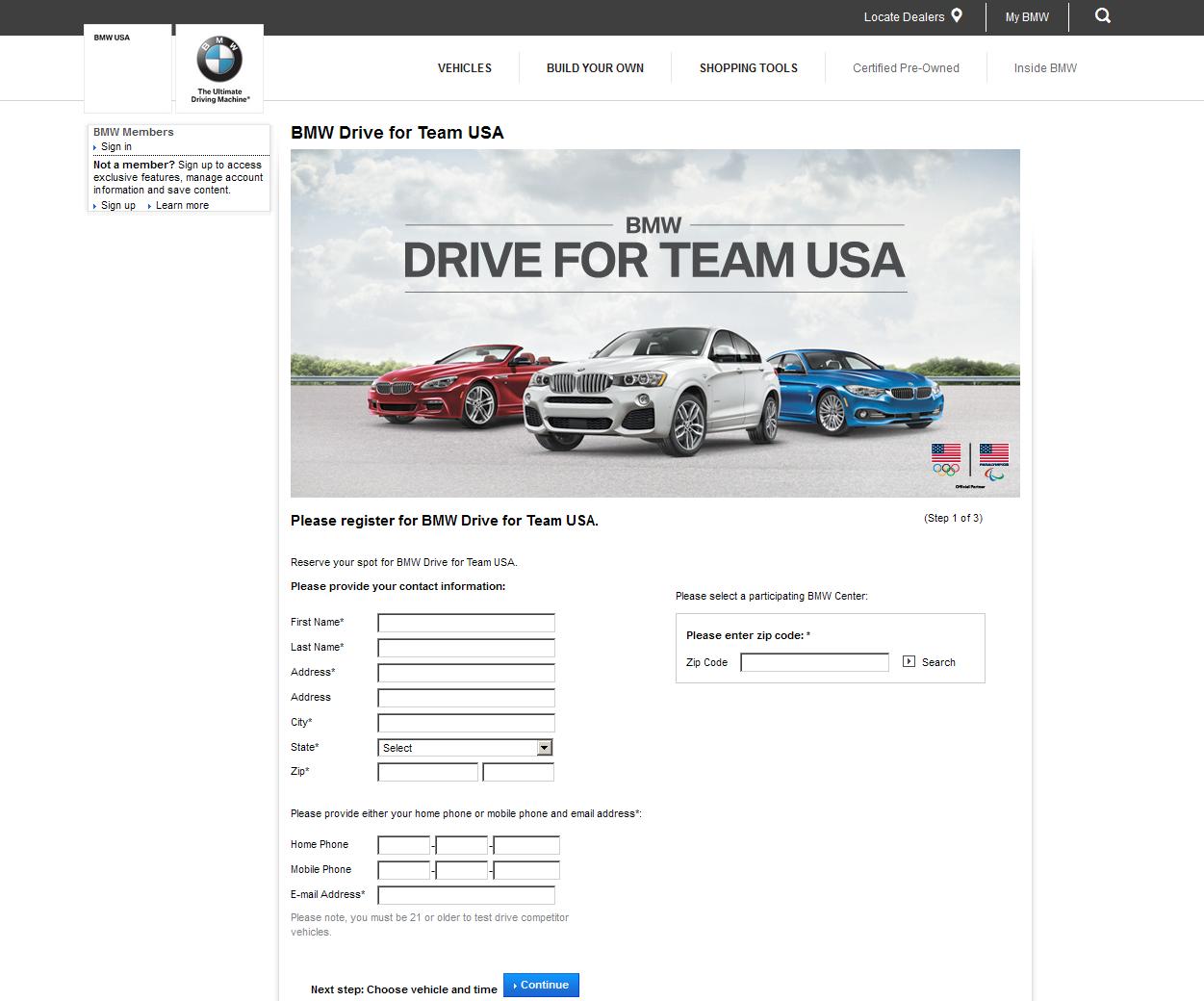 In the above link, no need to fill in the ID Code, simply click "No ID Code" to enter the next page. You can search/register for the event.
After participating in the event, BMW will email you the coupon code. Similar to the above BMW UDE incentive, you need to get it before buying or placing custom order for the new car; this incentive is also NOT stackable with the BMW UDE incentive, and ineligible for European Delivery too.
BMW Group Corporate Fleet Employee Program
Many US companies participated in this program (a.k.a FEP – Fleet Employee Program). If you are unsure, ask your company's HR department and get the Customer Information Form (CIF), which you need to submit to the dealership when you take delivery of your new BMW.
In the CIF, your company's HR staff should has already filled out Section 1. What you need to do is just writing down your information in Section 2.
This Fleet Employee Program is really good from my point of view: it provides extra discounts on top of your negotiated purchase price, no matter you are cash purchasing, financing or leasing.
The amount of the discount is based on different models. If you are leasing, regardless the model, BMW also offers you another 0.0002 discount on the Money Factor (MF), so you get discount on the price, and also a reduced Money Factor for leasing a BMW. Below is the price discount/benefit for 2015: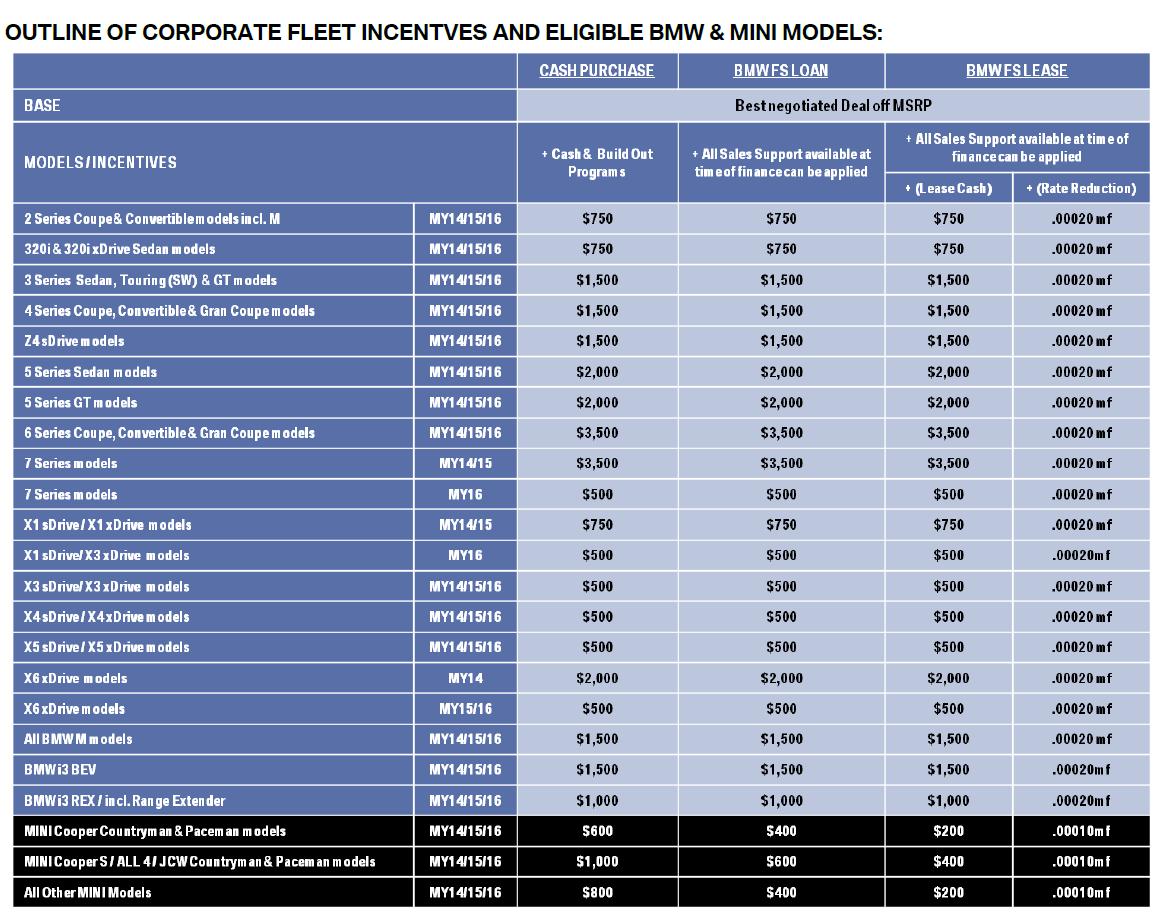 The FEP discount can be used together with the above mentioned UDE or Drive for Team USA incentive. If the dealership refused to let you use them at the same time, politely ask their finance manager to call BMW USA to clarify. Sometimes staffs in the sales department do not know these program well, they may provide you the wrong information. After these efforts if they still insist that you cannot combine these incentives, find another dealership which is easier to work with.
College Graduate Program
You will get $1,000 incentive for purchasing/leasing a new BMW, or $750 for purchasing a Certified Pre-Owned if you satisfy the below criteria:
You've earned an undergraduate, graduate or Associate's degree from an accredited college or university within the previous 12 months

Or, you are confirmed to graduate within the next 4 months and have a verifiable job offer

Please note that the College Graduate Program cannot be used in conjunction with the Fleet Employee Program (FEP).
One thing you should know: negotiating the final price is a psychological game between you and the dealership. Sometimes if you throw out too many incentives/coupons at the time, you may not get a better overall discount than first negotiating without any customized discounts (incentives/coupons that not everyone can get or eligible).
This is what I will typically do: negotiating the price without mentioning any extra "personal" incentive (UDE/Drive for Team USA/FEP etc.), however I will include the "public" incentive that everyone can get (for example the 2015 7-Series has a $5,000 "Build-Out Customer Cash" during Sep. 2015).
After dealership has agreed on the price, I will say: "I have some extra factory incentives that need to put in the contract".
Please be clear that all the above mentioned incentives/coupons are paid by BMW USA, so dealership will NOT lose anything if you use those discounts. If they try to not giving you the best discount citing reasons such as "these coupons will let them lose money", tell them you know the above truth.
BMW Car Club of America Rebate
The BMW Car Club of America ("BMW CCA") provides rebates on some new BMWs, and even Certified Pre-Owned cars.
For detailed discount amount for each model, please refer to BMW CCA's website.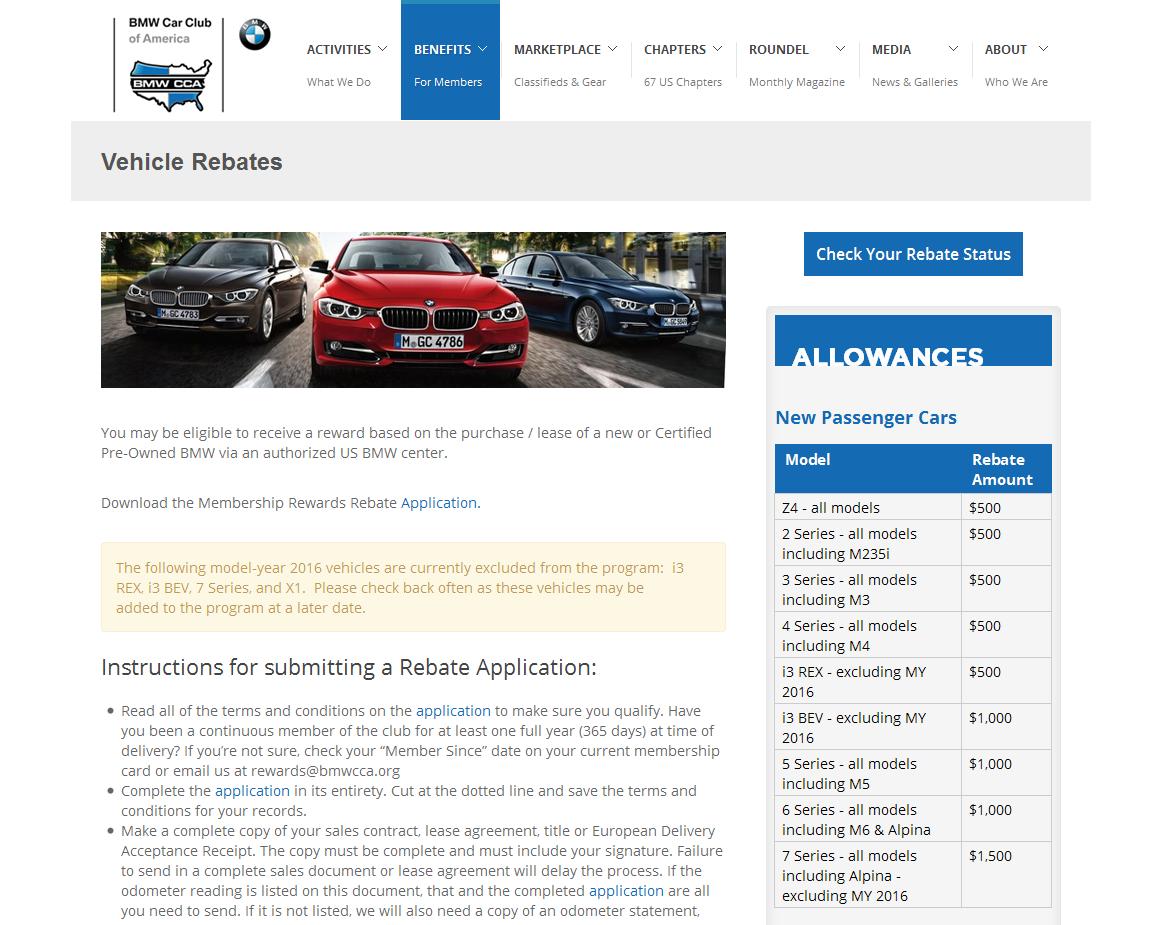 This rebate is not reflected on the purchasing/leasing contract when you take delivery of your new BMW. BMW CCA is a separate entity from BMW USA, you need to submit the required document to them by yourself, within 60 days of the date of delivery.
Please pay attention that you need to join the club for more than one full year to be qualified for the rebate, and there are also rules in when and where you should submit the document to, and the name on the contract document is also important. BMW CCA has very strict rules in these aspects, they will never make any exceptions.
The BMW CCA rebate cannot be used together with the Fleet Employee Program (see above), so for the specific model you are considering, I suggest you to compare the benefit of both programs to see which one will provide a better discount.
Other Incentives and Some Advices
Besides the above mentioned discounts, BMW also runs lots of other program which offers eligible buyer extra benefits. For example:
BMW Group Partner & Family Program
BMW VIP Purchase Program
USAA/Military Sales program
I suggest you try to find out all discount programs which you are eligible. Once you know their existence, it is free money and you do not need to negotiate to get them. They can save you tons of money!
Comments
comments